Saraya Shoots on Wrestling Clickbait: "You Scummy Pieces of @#$%"
Saraya lashed out at a clickbait wrestling news article suggesting she threw shade at WWE star Dominik Mysterio by wearing a t-shirt.
---
AEW star Saraya lashed out at clickbait on wrestling news site Ringside News on Thursday, chastising the site for publishing a post suggesting a t-shirt she wore in a tweet was designed to "throw subtle shade" at WWE star Dominik Mysterio. Saraya posted a photo of herself ahead of AEW Dynamite, asking who was tuning in to the show. In the photo, she is wearing a shirt for Prison Mike, a fictional character created by the fictional character Michael Scott on the American version of The Office.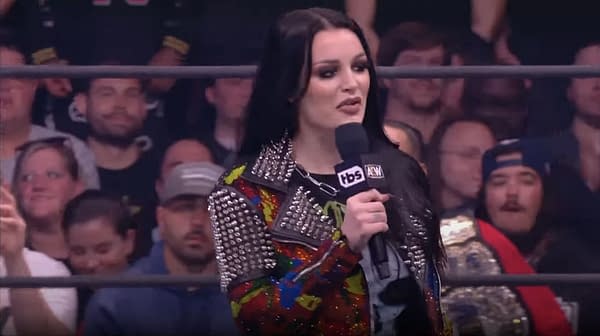 Mysterio has recently been involved in an angle where he rebelled against his father and joined the Judgment Day stable, where he acts as a submissive simp for Rhea Ripley. As part of the storyline, Dominik was arrested for making a scene at his father's house over the holidays, leading to him spending one night in jail. When he returned, Dominik sported a teardrop tattoo and pretended like his time in prison had changed him. It's all very meta, but Dominik's performance is meant to be viewed as cheesy, so it wouldn't really make any sense for Saraya to throw shade at a cowardly and duplicitous heel character acting cowardly and duplicitously.
In any case, Paige didn't appreciate the implication that her shirt was designed to cast shade on the younger Mysterio. She took to Twitter to post:
And followed that up with:
It looks like Saraya threw some not-so-subtle shade at Ringside News for accusing her of throwing subtle shade at Dominik Mysterio. See how we brought it all full circle? Hopefully, we aren't out of line for saying so, as we wouldn't want to feel her wrath on Twitter. At least, not without doing something to deserve it!