Saturday Night Live Hosts Parks and Recreation Poehler/Plaza Reunion
Parks and Recreation stars Amy Poehler's Leslie Knope & Aubrey Plaza's April Ludgate returned for NBC's Saturday Night Live "Weekend Update."
---
Call it a reunion, a mini-sequel, an "exercise in extreme meta," or whatever mix of words you want to come up with. The only thing that fans of Greg Daniels & Michael Schur's hit sitcom Parks and Recreation know is that "Weekend Update" with Colin Jost & Michael Che during tonight's episode of NBC's Saturday Night Live brought the return of Amy Poehler's Leslie Knope and Aubrey Plaza's April Ludgate. Viewers were given a clue earlier in the night during host Plaza's opening monologue segment as Plaza revisited her SNL Page days by offering an impromptu studio tour where Poehler made an appearance.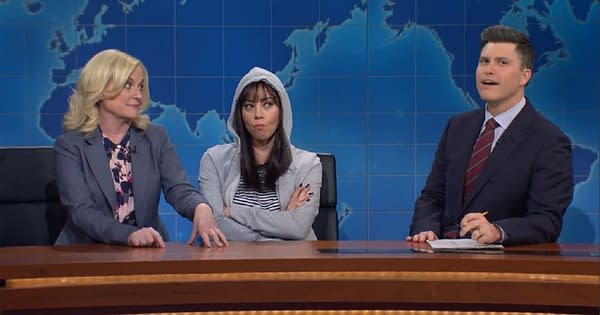 During "Weekend Update," Jost introduced a segment on the importance of local government involvement. And who better to get to speak on that than April, right? Well, it doesn't take long for April to get annoyed with Jost and introduce Knope to offer a better perspective. Except, all Knope wants to do is ask Jost questions about working on SNL (with a great wink & nod to Seth Meyers along the way), with Knope getting to fulfill her dream of telling a joke on "Weekend Update" (and that's where the meta part comes in since Poehler co-anchored "WU" for years, alongside Meyers and Tina Fey) before April wraps up the segment. Here's a look at the segment that we're sure will get fans on social media campaigning for a return (because you can always find a way to work around time jumps if you really want to):
And here's a look at Plaza's opening monologue, with the host and Poehler meeting up at around the 4:25 mark:
NBC's Saturday Night Live Season 48 includes Michael Che, Mikey Day, Andrew Dismukes, Chloe Fineman, Heidi Gardner, Marcello Hernandez, James Austin Johnson, Punkie Johnson, Colin Jost, Molly Kearney, Michael Longfellow, Ego Nwodim, Sarah Sherman, Cecily Strong, Kenan Thompson, Devon Walker, and Bowen Yang. Executive produced by Michaels, SNL is directed by Liz Patrick, with alum Darrell Hammond announcing. Based out of Studio 8H in Rockefeller Center, the long-running late-night sketch comedy/music series is produced by SNL Studios in association with Universal Television and Broadway Video.