Saturday Night Live, Jenna Ortega & The 1975 Go Out In Style: Review
With Saturday Night Live heading into a three-week break, Jenna Ortega and The 1975 helped SNL leave things on a fun & freaky note.
---
First off, props to Saturday Night Live host Jenna Ortega (Wednesday, Scream VI) and musical guest The 1975 for what they were facing heading into this weekend's show. They were following up on last week's strong showing from Travis Kelce & Kelsea Ballerini while also having to deal with the leftover stink from the Woody Harrelson/Jack White debacle. Add into that mix that their show would be the final one for March, with a three-week break leading to Quinta Brunson & Lil Yachty on April 1st. And that's not even taking into account the spotlight that comes with being Ortega or The 1975 as they perform on a very large and very live stage. So how did they do? Pretty damn fine, actually.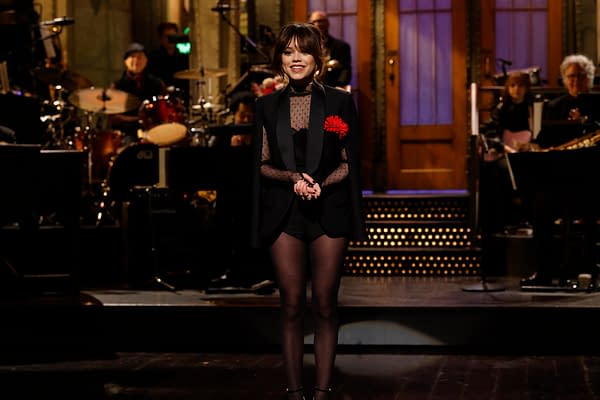 While it might not take the belt for being the best show this season, Ortega & the SNL team has me smiling from start to finish, with at least one quality laugh per sketch. And it worked because the host, as we've mentioned with others, gave herself over to the SNL process and clearly worked at her sketches. The best compliment to offer Ortega? If you didn't tell me this was her first time hosting, I wouldn't have guessed it. And by the time the credits rolled, it's safe to say that anyone who watched will see Ortega in a much different light that's not solely defined by typecasting her in Wednesday Addams-type roles. As for The 1975, we had probably two of the best performances this season in "I'm In Love With You" and "Oh Caroline." The best compliment to offer the band? They actually got me to stop writing so that I didn't miss a visual beat – and that's rare.
Saturday Night Live Season 48: Jenna Ortega & The 1975
Okay, so some random thoughts about what worked, what didn't, and what caused our brains to venture into random thoughts. First up, I'm appreciating how SNL finds different ways to cover a number of current topics in the cold open, rather than just always make it FOX "News" or CNN-focused. Ortega had a solid, tight opening monologue (with the toothbrush horror commercial a fun highlight). It was nice to see Fred Armisen return to support Ortega and appear in a sketch ("The Parent Trap"). Colin Jost & Michael Che were in razor-sharp "don't give a f**k" mode with "Weekend Update," daring the audience to groan so that they could show them that was another joke waiting around the corner to groan even louder over. Molly Kearney's Tennessee Lt. Gov. Randy McNally and James Austin Johnson's mini-impressions were perfect accents to what WU was putting out there. The "Exorcism" sketch could've used more Ego Nwodim and dialed everyone else back a little bit. And "Jingle Pitch" worked because Ortega, Johnson, Bowen Yang, and Andrew Dismukes hit this perfect back-and-forth comedic stride that actually left us singing that damn song (that's a good thing).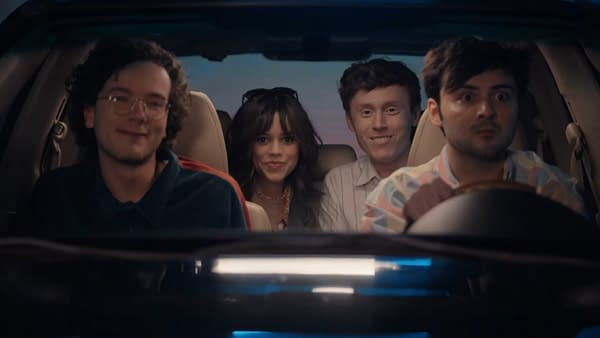 But if we're looking at the sketches that we could see ourselves revisiting, then it would be these four. In "School vs. School," Ortega, Kearney, and Mikey Day got to channel their inner "X-Men" in ways that will have comic books fans dissecting who they were supposed to for the next few days (though the Ortega/Rogue connection is pretty much in-your-face).
With "Ridiculousness," Day, Kenan Thompson & Chloe Fineman proved that they definitely do their homework when it comes to who they're going to impersonate, with Ortega perfectly torching their efforts to keep things running smoothly with elevated offerings into the twisted and absurd.
"Waffle House" fed into my twisted love of "background humor" as Ortega and Marcello Hernández deal with their relationship reaching a crossroads while things take some serious turns inside the Waffle House in the background. I've watched the sketch twice now, and I still can't keep my attention on what Ortega & Hernández are saying. Seriously… a dude comes out with a flaming torch!
And Ortega decides to join Please Don't Destroy (Ben Marshall, John Higgins & Martin Herlihy) on their "Road Trip" as they look to check out America and help Ortega relax. Do we really need to tell you that it doesn't quite go as "lovingly perky & pleasant" as the song that they sing would have you believe? Because a cheap passenger, a Slurpee-slurper, an inattentive "shotgun" co-pilot who lies about their dad having a stroke, and a driver with a growing need to harm his fellow passengers don't exactly make for a fun adventure (especially when things go "I Know What You Did Last Summer"), But for the viewers, they made for what be the best sketch of the night in a night filled with fun vibes. See you in three weeks, SNL!