This article contains spoilers for the Shannara Chronicles season two episode – Wilderun.
.
.
.
.
.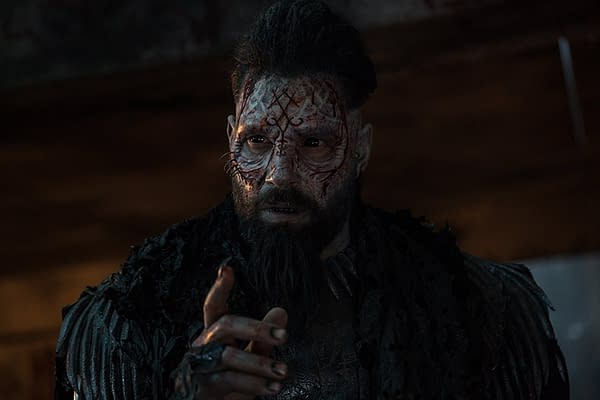 The Penultimate episode is an important one and it shows just how off from the books they've gone. This whole season has been a departure from the novels by Terry Brooks, but since it's coming off the second book in the original trilogy, you kind of assumed certain people were safe based on where the third book goes even if it is fifty years in the future. Yeah, turns out that's not the case. The episode starts with Lyria and Eretria going with Cogline for safety. The Warlock Lord trying to take over Eretria. He asks Bandon what he truly desires and we learn that Bandon wants power so no one can ever hurt him again. The Warlock Lord shows him the Codex of Paranor that tells how power can't be shared and he understands. Then attacks the Warlock Lord only to discover he is not powerful enough and Bandon is killed. Jax, Slanter, Mareth and Allanon arrive at Graymark too late to discover the bodies of Riga and Bandon. Allanon sends Jax and Slanter to go guard the well while he and Mareth head to protect Lyria. Upon arriving at Leah, Jax presents the head of Riga to the Captain of the Crimson and convinces them to join in protecting Heaven's Well.
It all boils down to a battle at where Cogline and his people live. He has a place to protect Lyria from the wraiths but the problem was they put Wil and the possessed Eretria into the area, allowing her to attack them and take out Wil, getting what the Warlock Lord needed. Meanwhile we get the confrontation between Allanon and the Warlock Lord… but since it's in the second to last episode and we've already lost Bandon and General Riga, there are no more villains. The odds are not good for Allanon. Even when he's joined by Cogline, who is an interesting amalgamation of science and druidic magic. Mareth also joins in, but none of them are enough to defeat the Warlock Lord with the Sword of Shannara. The Episode ends with the Warlock Lord getting the upper hand and things looking very bleak for our heroes.
The episode is filled with a lot of shocking moments and fighthing, but in the end it's a connector and setup for the season finale. No time to waste as the season finale aired just after this episode. Check back here in an hour for my recap of that.
Enjoyed this article? Share it!