"She-Ra and the Princesses of Power" Season 3 Has Dropped – Here's What You Need To Know [SPOILER PREVIEW]
The wait is over! Season 3 of She-Ra and the Princesses of Power, from Netflix and Dreamworks Animation, is finally available to view. Only six episodes long, this third season follows Adora (Aimee Carrero), Glimmer (Karen Fukuhara), Bow (Marcus Scribner), Catra (AJ Michalka), and Scorpia (Lauren Ash) as they travel the barren and dangerous Crimson Waste. Last month, She-Ra's San-Diego Comic Con panel dropped some interesting footage and serious spoilers. Adora, and her alter-ego She-Ra, are in for a rough season of self-discovery. Just like any superhero's origin story, Adora may not like everything she learns. Adding stress to pressure, not only does Adora have a date with her own destiny, but Catra is hot on her heels. And from the looks of it, Catra has nothing left to lose.
Put up your magical shields, spoilers ahead.
Adora is chasing her She-Ra destiny:
Ever since the first episode of She-Ra, Adora has struggled to understand her own history and why she is the She-Ra. Raised by the Horde from infancy, Adora remembers nothing of her previous life or her parents. Shadow Weaver (Lorraine Toussaint), who raised her, has never been very chatty regarding Adora's origins or how she ended up with the Horde. Now, Shadow Weaver is out of the hands of the Horde and trying to win the Alliance's favor. Maybe she will finally share some of her secrets with Adora?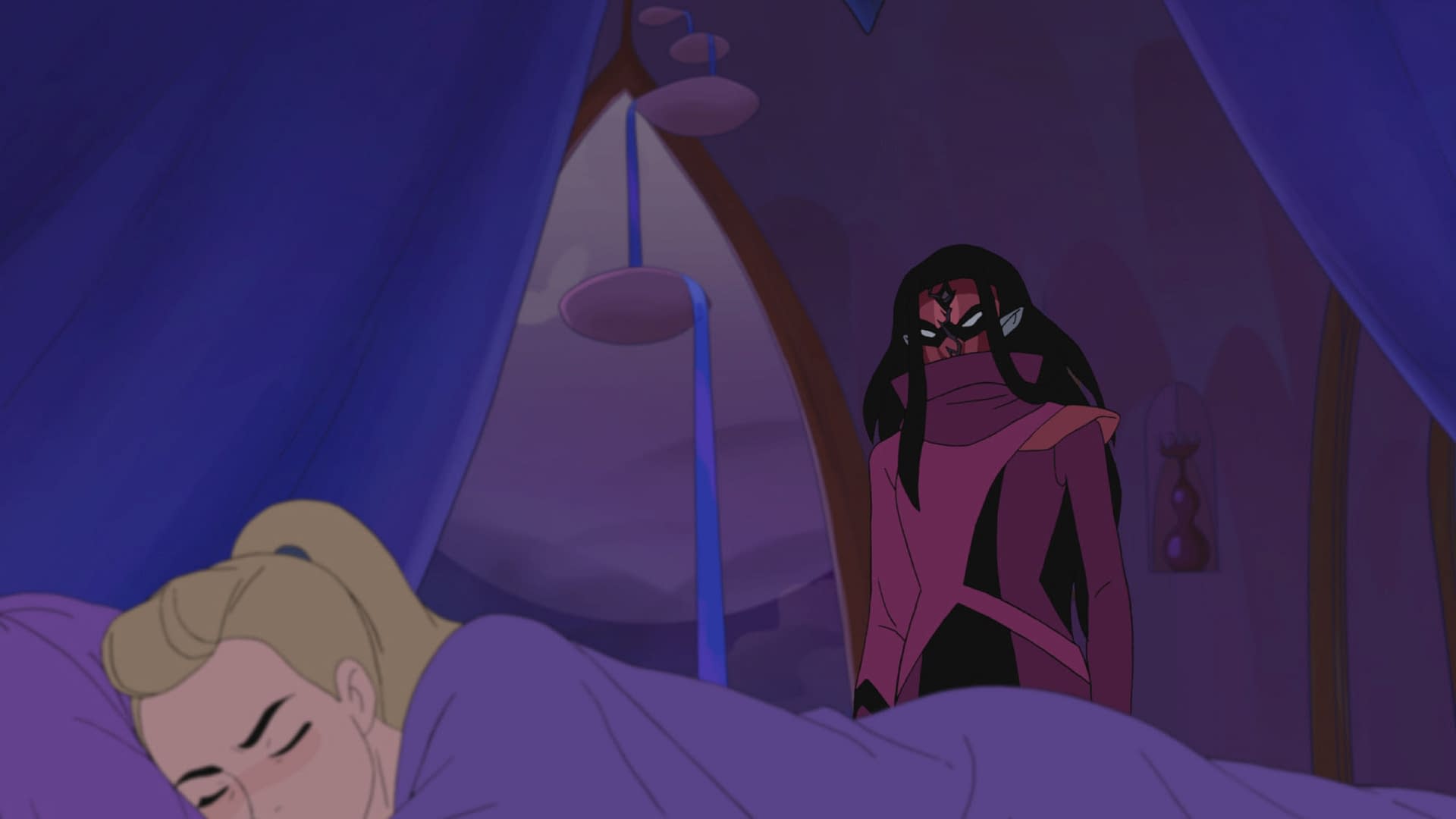 From the SDCC panel, we know that a major part of Adora's journey this season will be her struggle to come to terms with the knowledge that she is a First One. After a frustrating conversation with Light Hope, Adora learns that she was not born in Etheria, and is a descendant of the First Ones. Adora's ability to wield the Sword of Power and become She-Ra is due to her First Ones origin. But don't count on that reveal being the end of the story. Aimee Carrero made it clear at the Comic-Con panel that every time Adora thinks she has accepted her past, she will learn something new that changes everything. In my opinion, it is very likely that we will meet the ill-fated Mara at the end of this season, or the beginning of the next.
The Best Friend Squad is not in Brightmoon anymore:
She-Ra and the Princesses of Power show-runner Noelle Stevenson commented at SDCC that Season 3 takes all of the main characters out of their comfort zones. Everyone was previously fighting it out on their home turf, or nearby. Now they are all on unfamiliar ground. Used to having the might of the Horde army behind her, Catra now only has Scorpia to watch her back. Glimmer grew up a Princess of Brightmoon, eventually becoming an Alliance general. Now, she and Bow accompany Adora to a place where they have no allies, only potential enemies.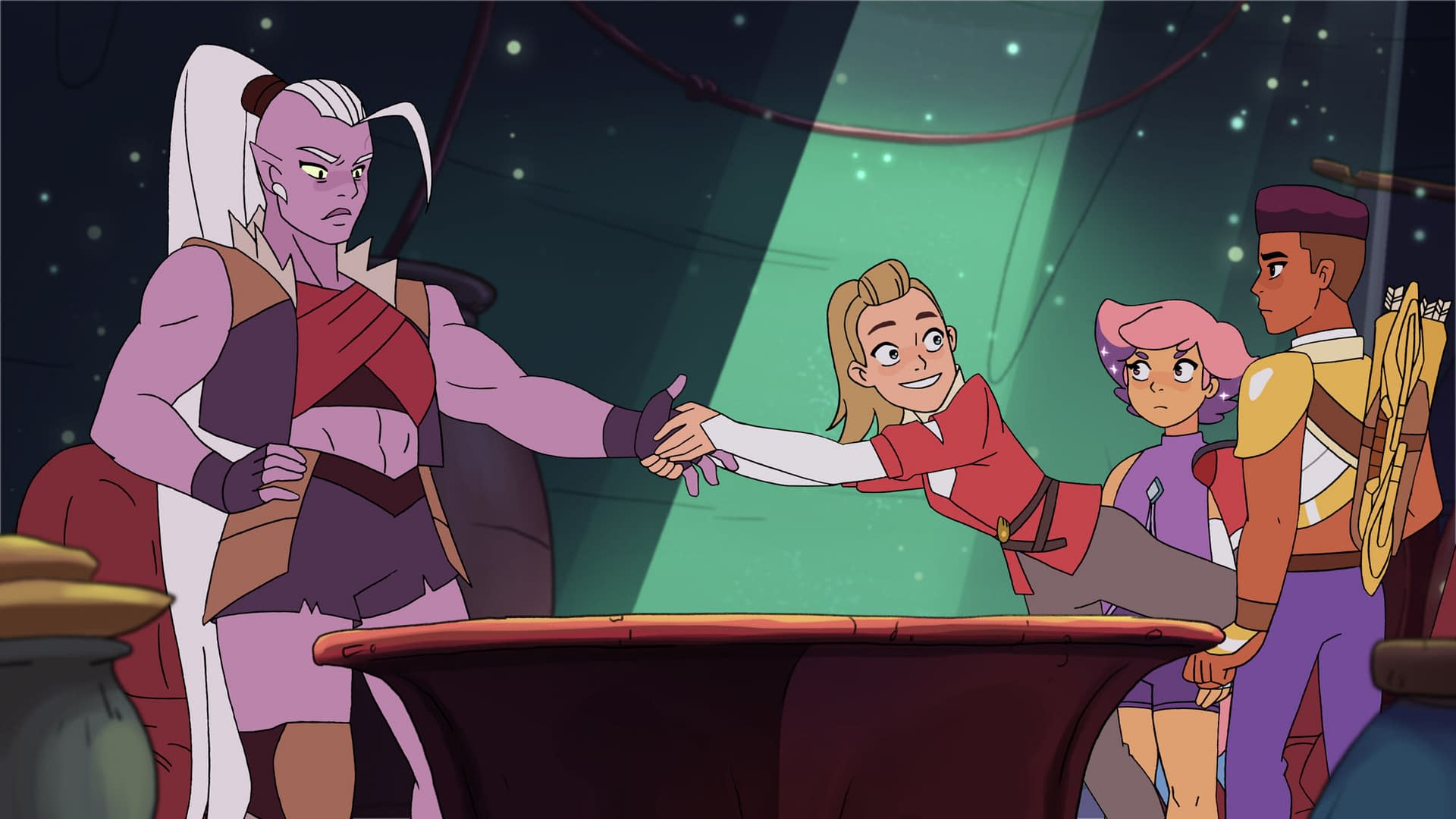 Early in their journeys, the Best Friend Squad meets Huntara (Geena Davis), the self-professed Princess of Crimson Waste. Formerly the big fish in a dry and sandy pond, Huntara is not happy to see a procession of Princesses and their friends entering her territory. Adora, who has an affinity for powerful older women, finds the gruff and tough Huntara fascinating and lovely. Bow and Glimmer are…less enamored. But out of their element and in a foreign land, the squad needs any help they can get.
Catra has nothing left to lose:
Betrayed by Shadow Weaver, stripped of her military position, and sent by Hordak (Keston John) on a dangerous mission to the Crimson Waste, Catra is in a bad place. Accompanied by the endlessly positive Scorpia, Catra enters the Crimson Waste with nothing left to lose and a need to prove herself. After years of holding herself back, playing politics, and attempting to gain the best position she can in the Horde, Catra is now free to be her whole self. She can finally explore the full extent of her power, and the Crimson Waste has never seen anything like her.
From the clips we have seen, Catra makes friends as quickly as she makes enemies, and assembles her own personal army in no time. It is difficult to tell from the clips we have seen if Catra has increased confidence or just a complete lack of fear. While she is meeting with success, she seems to be going off the rails. Determined to defeat Adora and find First Ones technology to take back to Hordak, Catra will accept nothing less than success. She may claim that she has nothing left to lose, but that's not really true. Catra still has her life and her mind, both of which are in serious danger in the Crimson Waste.
The rest of the Princess Alliance:
Adora and Glimmer – and Scorpia – are the only Princesses that head into the Crimson Waste. So, what are all of the other Princesses up to? They appear in the She-Ra and the Princesses of Power Season 3 trailer, but without much context. From the scenes, it appears that the Princess Alliance faces at least one battle, but Glimmer is also present, indicating that it happens after Glimmer and Adora return from the Crimson Waste. So what are the Princesses doing while the Best Friend Squad is searching for the mysterious signal about Mara?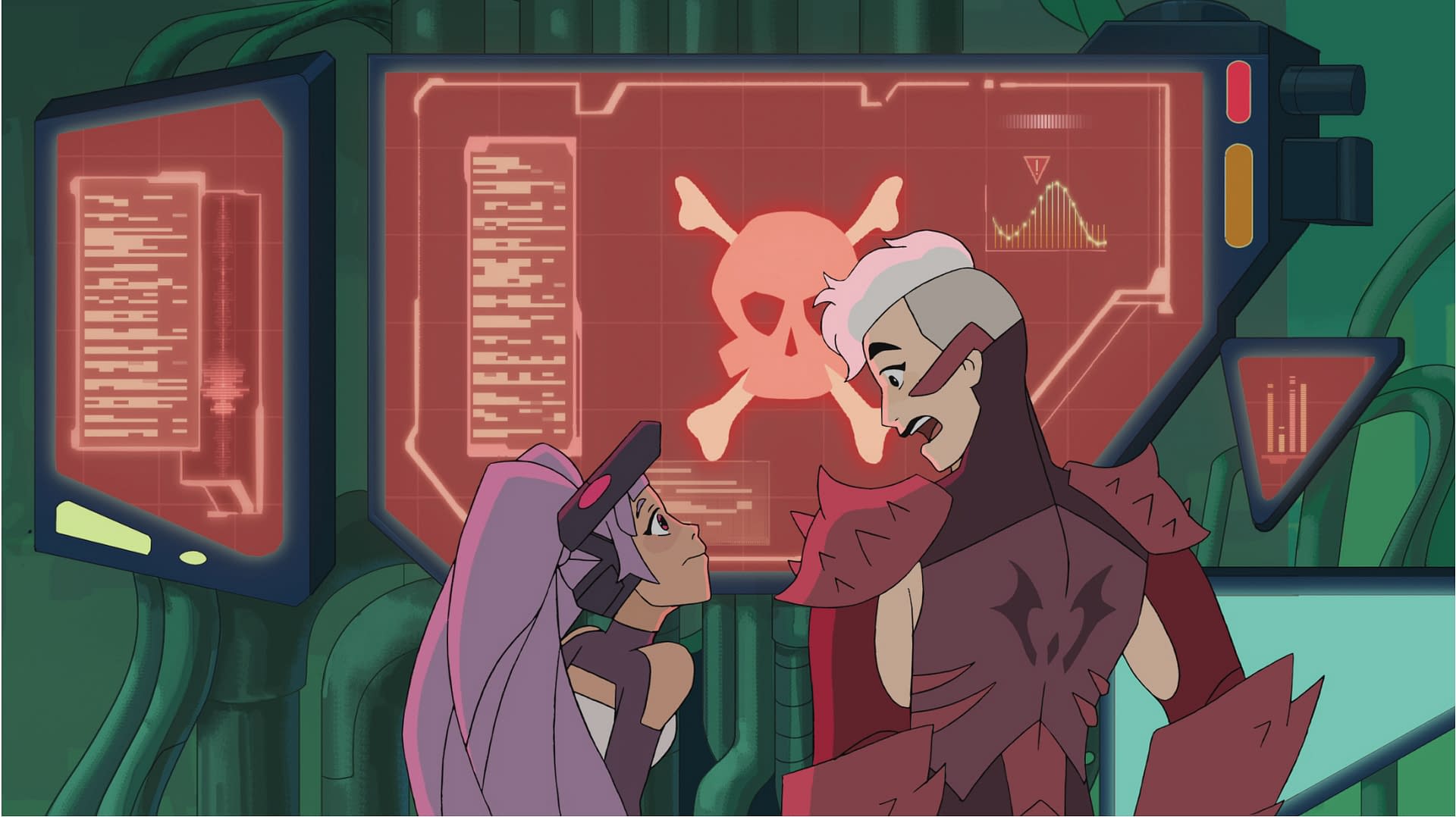 Entrapta (Christine Woods), however, is right where she wants to be. Hordak's new favorite Princess, and right-hand woman, Entrapta can finally think about her First Ones research and nothing else. At the SDCC panel, Stevenson shared that Hordak and Entrapta's friendship would lead the Horde leader to finally reveal some of his secrets. Maybe, just maybe, he will finally revel his end-game. After all, how can you defeat someone if you don't even know that his goals are?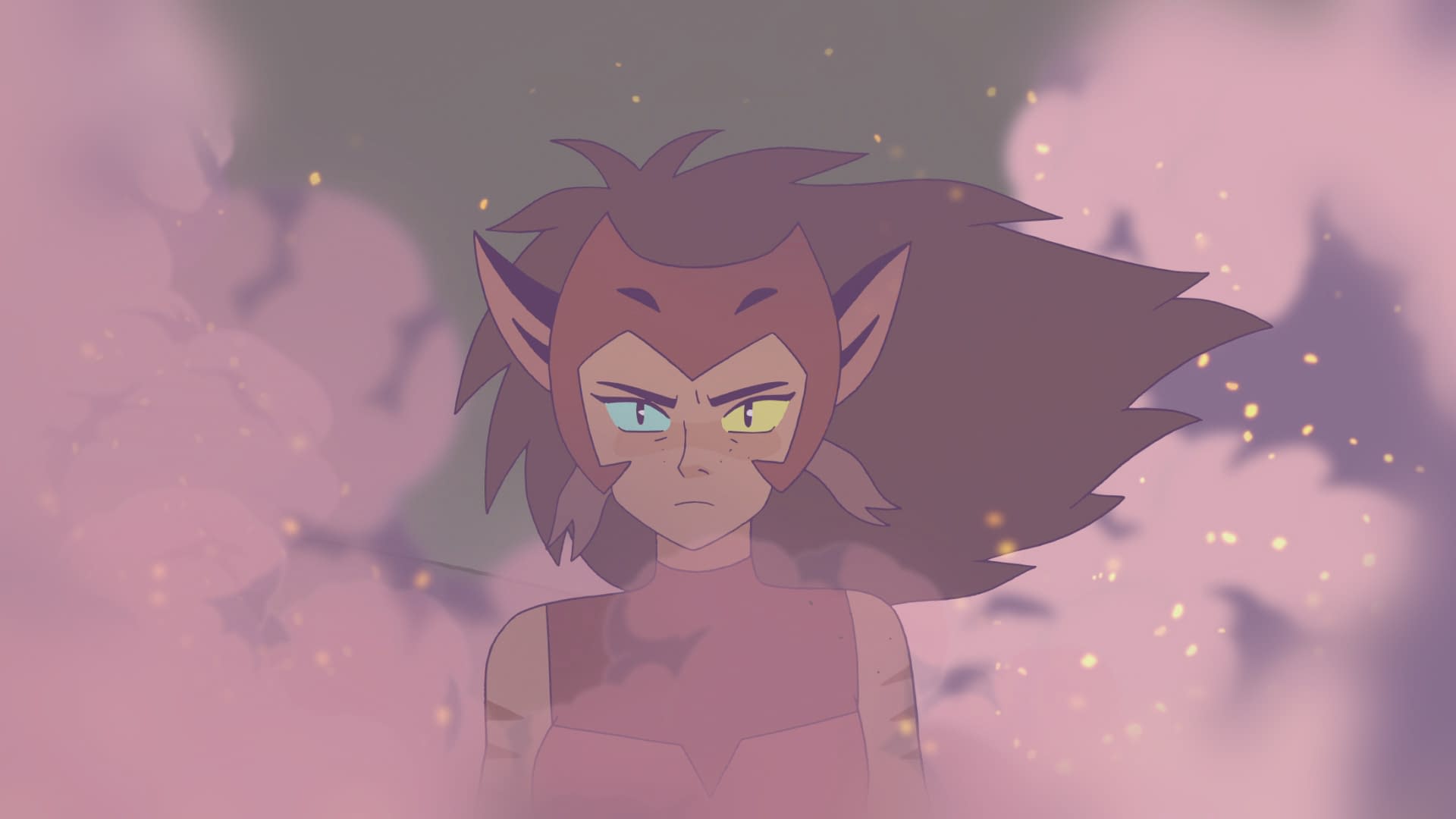 Season 3 of She-Ra and the Princesses of Power is available now on Netflix.
Season 3 finds Adora learning that many things in her past are not what they seem, leading her to embark on a journey of discovery to the desolate Crimson Waste where she meets Huntara. Punished by Hordak for Shadow Weaver's escape, Catra and Scorpia also find themselves sent to this land of cutthroats and criminals on a mission to aid Hordak and Entrapta's master plan. Feeling pushed aside, Catra will stop at nothing to bring Adora and the Princess Alliance down as the fate of Etheria hangs in the balance. – via Netflix