Silo: Apple TV+ Releases Teaser, Images for Hugh Howey Series Adapt
Apple TV+ released a teaser & images for its upcoming 10-episode drama series Silo, based on bestselling author Hugh Howey's dystopian novels.
---
Imagine you're one of only 10,000 people left remaining on earth, protected by the dangers of the world outside by a mile-deep home. You might consider yourself one of the lucky ones. And yet, why doesn't anyone seem to know when or why their new "home" was built? And why are folks being kept from discovering the truth? That's the premise behind Apple TV+'s upcoming 10-episode drama series Silo, based on New York Times bestselling author Hugh Howey's trilogy of dystopian novels. Created by series showrunner Graham Yost (Band of Brothers, Justified), the series features an ensemble cast led by Rebecca Ferguson (Dune, "Mission: Impossible" films), with Morten Tyldum (Defending Jacob, The Imitation Game) directing the first three episodes. Now, we have a first-look teaser to pass along, as well as preview images and an overview of what viewers can expect – take a look: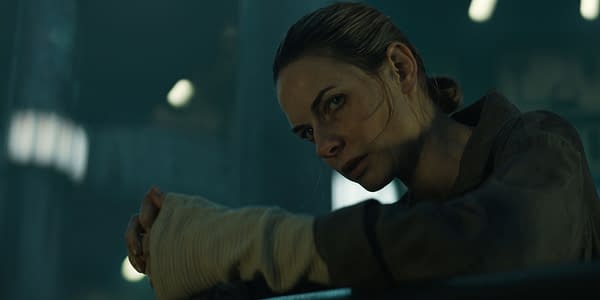 With the streaming series set to make its global premiere on Friday, May 5, 2023, with its first two episodes (with subsequent episodes dropping weekly every Friday through June 30th), here's a look at the official teaser for Silo:
Apple TV+'s Silo is the story of the last ten thousand people on earth, their mile-deep home protecting them from the toxic and deadly world outside. However, no one knows when or why the silo was built, and any who try to find out face fatal consequences. Ferguson stars as Juliette, an engineer who seeks answers about a loved one's murder and tumbles onto a mystery that goes far deeper than she could have ever imagined, leading her to discover that if the lies don't kill you, the truth will.
Joining Ferguson in the cast are Common (The Chi), Emmy-nominee Harriet Walter (Succession), Chinaza Uche (Dickinson), Avi Nash (The Walking Dead), Critics Choice Award & NAACP winner David Oyelowo (Selma), Emmy-nominee Rashida Jones (Parks and Recreation), and Academy Award-winner Tim Robbins (Mystic River). The streaming series is produced for Apple TV+ by AMC Studios and is based on the novels by Hugh Howey. The series is executive produced by Yost, Howey, Tyldum, and Ferguson, alongside Nina Jack, Fred Golan, Rémi Aubuchon, and Ingrid Escajeda.