South Park: Casa Bonita Announces 500 New Jobs Ahead of Reopening
South Park-favorite Mexican restaurant Casa Bonita looms closer to its reopening and they'll need 500 positions to be filled in Colorado.
---
Colorado's arguably most popular Mexican-themed restaurant, at least the only one owned by South Park masterminds Matt Stone and Trey Parker, in Casa Bonita looms closer to its May grand reopening. To make that happen, Executive Chef Dana "Loca" Rodriguez, along with Governor Jared Polis, announced they'll have 500 new job opportunities. Stone and Parker own the popular establishment through their company, The Beautiful Opco, when the original owners filed for bankruptcy. The restaurant was featured in the South Park season seven episode "Casa Bonita."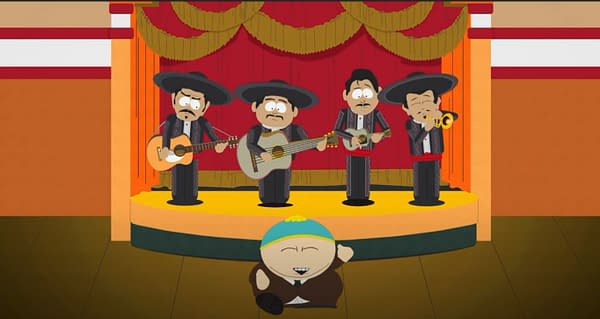 South Park: "Casa Bonita" Recap
In the episode, Cartman (Parker) is looking forward to celebrating his frienemy Kyle's (Parker) birthday at his favorite establishment. Unfortunately, Kyle spurns him in favor of Butters, Stan, and Kenny (all voiced by Stone). While the core consists of Stan, Kyle, Cartman, and Kenny, Kyle singles out Cartman due to his incessant cruelty, bigotry, and abrasive nature but does offer him a sliver of hope in the off chance Butters can't make it, and he can have his spot. Cartman cooks up a plan that gaslights Butters thinking that South Park has gone through some nuclear holocaust and their only salvation is the local junkyard; he guides him to locking him up in a makeshift shelter until the birthday trip is over.
While the town feverishly looks for Butters, it's becoming harder for Cartman to keep up the ruse up to its ultimate epic climax. With his plan exposed, Cartman's friends and authorities give chase as he enjoys a condensed version of the attractions like the mariachi band, Black Bart's Cave, cliff divers, and novelty prison photograph. Located in Lakewood, the jobs available are the standard ones like arcade attendant, wet and dry entertainer, bartender, cashier, table attendant, cook, security, and more. Sadly there is no position where you can dress up as any South Park character. You can apply here.