South Park: HBO Max Killed These 5 Episodes! Those Bastards!
The animation machine that is Trey Parker and Matt Stone's South Park has been having a pretty good twelve months. Recently renewed on Comedy Central through 2022 and soon to be the centerpiece of the network's renewed push into original adult animation, the tales of Stan, Kyle, Cartman, and Kenny have also found a new home at WarnerMedia's new streamer HBO Max. This means that for (reportedly) around $500 million, all 23 seasons are at their disposal. Well, all except for five that is.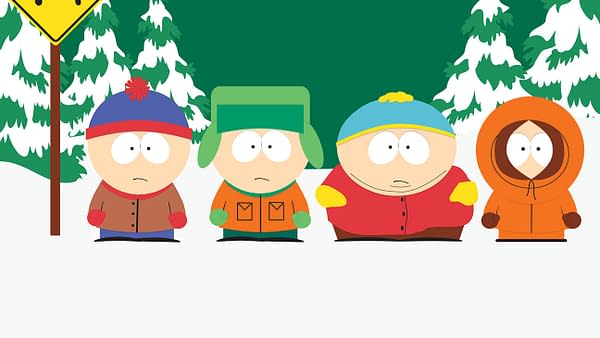 Fans who've been watching the episodes on Comedy Central and on Hulu won't be surprised to learn that fifth season episode "Super Best Friends," tenth season episodes "Cartoon Wars" parts I and II, and fourteenth season episodes "200" and "201" are the ones missing in action. That 's because they weren't available on either of those, either: all five episodes were pulled because they depicted a character based on the Prophet Muhammad. South Park Studios was in agreement on the decision, with the discussion and agreement to hold the episodes taking place before Viacom licensed the series to HBO Max last year.
Speaking with The Hollywood Reporter in 2016, then-Comedy Central head Doug Herzog explained that the decision to pull "200" and "201" as a result of threats and concerns for the team's safety: "We were protecting everyone who works here. That was the decision we needed to make. That was the hardest we've ever pushed back [over the show's content]. Though the network blacked out the character and bleeped his name when the episodes air, the Prophet Muhammad was featured as a member of the Hall of the Super Best Friends, a Justice League-like "superhero" team of religious deities. For Parker, the episodes' fate was something that cut him to his creative core: "What pissed me off about episodes '200' and '201' was that I thought the episodes ended up being really good. We were so exhausted by it all, we were like, 'Fuck it, just get on to the next episode.'"