"Spider-Man: Into the Spider-Verse": Chris Miller Says Marvel U Series Projects Will Be "Something Really Special"
It's been a little more than three months since writers-producers-directors Phil Lord and Chris Miller (Spider-Man: Into the Spider-Verse) signed a major five-year deal with Sony Pictures TV. Under the terms of the deal, Lord and Miller will create and devlop comedy and drama comment for broadcast, cable and streaming as well as supervise other writers' projects.
The other part of the deal that really lit up a lot of eyeballs is that the duo will help develop a suite of television series based on Sony's Marvel Universe characters, including: Spider-Man (and all his villains, like Green Goblin); Venom (with a live-action sequel to the Tom Hardy-starrer directed by Andy Serkis in the works); Morbius (with a live-action feature in the works starring Jared Leto); Black Cat and Silver Sable (both in development on the feature side); and possibly characters from Spider-Man: Into the Spider-Verse.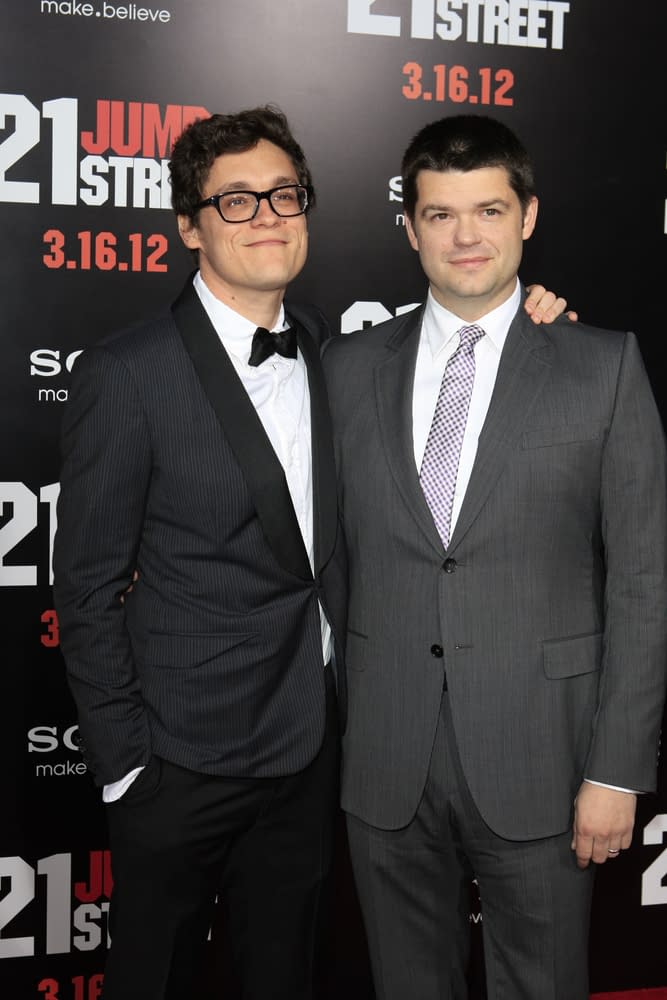 Which brings us to today's Television Critics Association (TCA), where Miller took a break from promoting FOX's upcoming animated series Bless the Harts to offer an update on how things are developing on that front:
● Miller says they are currently combing through the catalog of Sony's Marvel characters, looking for projects that have their own unique story to tell – while also alluding to a need for a "commonalty" between them:
"We are developing a handful of live-action shows using Sony's Marvel characters, of which there are like 900 characters. We're figuring out a way to develop the shows so that each are their own unique experience but are also related."
● Miller remained mum on any story info, but does want it known that the live-action shows has resulted in quite a few conversations with interested creative folk – and that when the project's finally revealed, it woll definitely be something unique:
"We've been talking to a lot of potential teammates for trying to do something not like anything else that's been done on television. It'll be a little while before it all comes together and is on the air, but I think it is going to be something really special," he added with a literal wink.
● As for where the projects might end up – broadcast, cable, or streamer, Miller's asking us for a little patience: "Hopefully we'll know in the next few months where it'll be and what the schedule will be."
Select television projects related to Sony's Marvel characters will be produced in partnership with former Sony Pictures Entertainment co-chairman Amy Pascal. Lord and Miller's projects will run through their Lord Miller Productions banner and supervised by Aubrey Lee, who will make the move to Sony and continue as vp TV development and production.
"This is a significant milestone for our television business, having the opportunity to work with two of the most creative forces in the industry in both our film and television businesses. Building on our strong IP and creating new franchises has been a key focus for SPE, and the best way to do that is to invest in remarkable storytellers like Phil and Chris. We are thrilled to welcome them to the SPT family, and I want to thank [SPT co-presidents] Jeff [Frost], Chris [Parnell] and Jason [Clodfelter] for all their hard work in pulling this deal together."

– Mike Hopkins, Chairman, Sony Pictures TV