Star Wars Resistance is running strong on the Disney Channel, and this weeks episode "Fuel for the Fire" will have an added treat for fans. Elijah Wood joins the voice cast in this episode, playing Jace Rucklin, a sky racer who befriends Kaz and pusheds him to do some things he ,might not have done other wise. You know, bad stuff. Check out a gorgeous clip from the episode below:
"Fuel For The Fire"

Air Date – October 21st

Kaz befriends a sky racer named Rucklin who pressures him to take some rare and dangerous hyperfuel hidden in Yeager's office.

*Elijah Wood (The Lord of the Rings trilogy) guest stars as Jace Rucklin.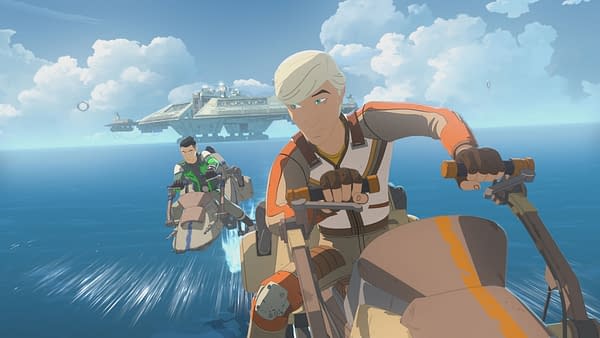 The show has been really solid so far, and adding a talent like Wood to the cast can only be a good thing. I will be curious to see if he sticks around for more appearances or if this is just a one-off appearance. The nature of the show is to have characters come and go, so I can see him returning pretty easily. this episode is also giving me serious Star Wars Rebels vibes, and that can only be a good thing.
Star Wars Resistance airs Sundays at 10 PM EST on the Disney Channel and also streams on the Disney Now app, sometimes even earlier than the airtime. "Fuel for the Fire" airs this Sunday, October 21.
Enjoyed this article? Share it!