"Stumptown" Pilot: Cobie Smulders, Strong Ensemble Combine for Promising Opener [SPOILER REVIEW]
ABC's Stumptown premiered its season-opener in the actual "Stumptown" at Rose City Comic Con (RCCC). The episode was met with cheers and great applause by the guests and residents of Portland who were on hand to see Greg Rucka's comic book series make the jump to television series. Set in Portland, Oregon the episode introduced and followed Dex Parios as she tries to get rid of her gambling debt by taking the job of finding the granddaughter of the casino owner to whom she owes the debt, loosely based on the first mini-series/graphic novel.
https://www.youtube.com/watch?v=HwynrxEPSQk&t=48s
The premiere episode "Forget it Dex, It's Stumptown" adapts its storyline from the first mini-series/graphic novel from Oni, and keeps some elements of the original story but takes its own approach, emphasizing certain elements that will be returning week to week. The episode cuts from scene to scene with few smooth transitions giving the episode a jarring feel at times, but this approach also makes it feel like the comic itself, not taking a "decompressed" approach to its storytelling. The "mystery" of the episode will not be a surprise to readers of the comic, but for first time entrants into Dex's world all the elements to figure out the who, what, and why are there if you pay attention.
The main emphasis in the episode is not the mystery, per se, but character moments and character interactions. Dex's relationship with her brother is introduced, and while at certain points in the episode Dex treats her brother Ansel as a burden to be kept somewhere safe, Ansel as a character has several moments to show his personality and usefulness.
The interaction with her friend Grey McConnell, bar owner and babysitter often of Ansel is shown as being clearly established and is a bit brushed over, something to focus on in later episodes apparently. Tookie, a short order Taco cart owner, is given a brief but memorable introduction and comes off as a character you really hope is used more.
The main characters who get the best scenes and interaction are Lieutenant Cosgrove and Detective Miles Hoffman, who despite being kept out of the investigation by Dex and tribal leader Sue Lynn Blackbird, are given very full personalities in the scenes they receive.
Cobie Smulders portrays Dex very well, and the scenes showing her PTSD serve the character well. However, the first episode does not show Dex being that different a character from how Smulders played Robin Scherbatsky on How I Met Your Mother mixed with the serious side of Maria Hill from the MCU. Dex is a distant character though in the graphic novels, so this portrayal isn't out of character, but hopefully as the show goes on Smulders will get to show more range and really make Dex a very different character from her previous roles.
The true stars of the first episode though were the supporting characters. Tantoo Cardinal as tribal leader Sue Lynn Blackbird plays the wise, stern leader very well, but her utter joy at making the police jump through her hoops to help, and the lengths she goes through to get her granddaughter back give the character great depth, with not a lot of screen time.
The two police officers played by Michael Ealy and Camryn Manheim are also given great scenes, and the actors use those scenes to great effect – showing off humor, vulnerability, and power as Portland police. Ealy in particular makes you want to see much more of him as the series continues, as his back-and-forth with Smulders is a highlight of the episode. Adrian Martinez as Tookie also stands out and provides great comic two-thirds through the episode, and as someone you hope to see a lot more of in the series.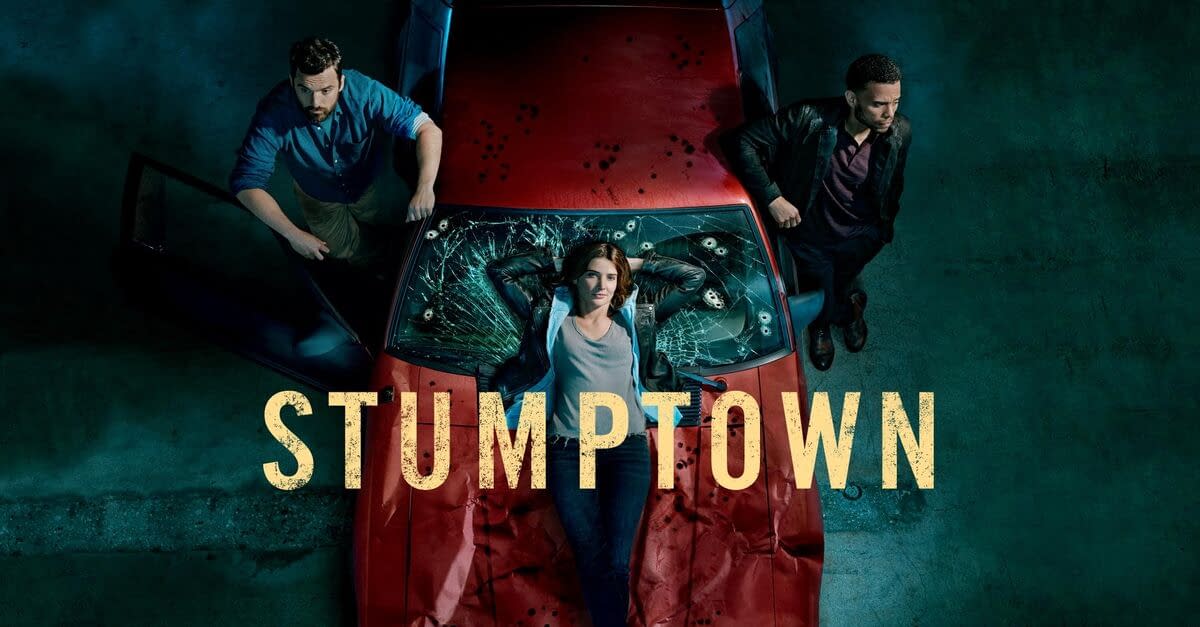 Stumptown's first episode overall does what a pilot needs to do most, establish a world, show us characters we want to come back to see more of, and tell a good story. The plot isn't great, but the character interactions, some standout performances by secondary characters, and a very intriguing world make me want to come back and see more episodes. A good start, but not a great start, so hopefully as the series moves forward Smulders will be able to make Dex unique and interesting, and the colorful world of ABC's Stumptown with its great secondary characters will get to shine even more.