'Supergirl' Season 4, Episode 13 "What's So Funny About…": Solitude Before the Storm [PREVIEW]
Here's hoping that Kara (Melissa Benoist) got a chance to releax and unwind during Supergirl's two week break, because it looks like the CW series has "The Woman of Steel" hitting the ground running in this week's episode "What's So Funny About Truth, Justice, and the American Way?". Think we're exaggerating?
Imagine what it would be like if you had to deal with a DEO that wants you under their control or on a slab; the return of Manchester Black (David Ajala) and The Elite; the growth of Ben Lockwood / Agent Liberty's (Sam Witwer) influence as a martyr; and the President of the United States breathing down your neck in the form of Babylon 5's Bruce Boxleitner – now you see what we mean?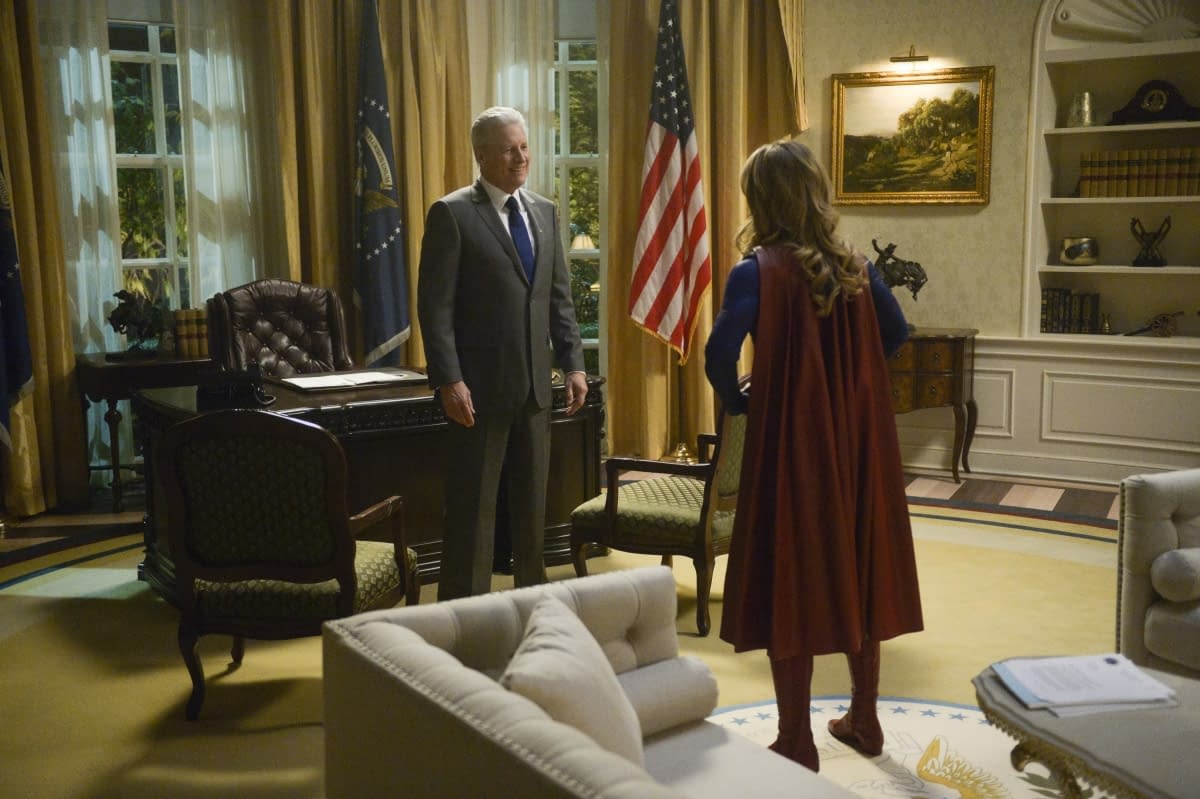 But before things go to holy Hell, Kara gives Nia Nal / Dreamer (Nicole Maines) a tour and use of her home-away-from-home-away-from-home… the ultimate sub-lease courtesy of cousin Kal: The Fortress of Solitude:
https://www.youtube.com/watch?v=pqXldSvqRrc
Supergirl so4e13 "What's So Funny About Truth, Justice, and the American Way?": SUPERGIRL FACES OFF AGAINST THE ELITE — Manchester Black (guest star David Ajala) breaks out of prison with the help of his new team, The Elite, who are set on punishing the anti-alien forces. Supergirl (Melissa Benoist) pulls double duty as she tries to apprehend Manchester Black and his team as well as deal with a shocking new development with Ben Lockwood (Sam Witwer). Alexis Ostrander directed the episode written by Eric Carrasco & Aadrita Mukerji
To go along with the preview, here are some additional images from "What's So Funny About Truth, Justice, and the American Way?" – including one of Jimmy (Mehcad Brooks) striking a very Lex Luthor-like pose. Hmmm…

https://youtu.be/HJYTQFcnGZQ
SUPERGIRL s04: Supergirl is facing a bigger threat than she's ever faced before — a new wave of anti-alien sentiment is spreading across National City fomented by Agent Liberty (Sam Witwer). As Kara mentors a new reporter at CatCo, Nia Nal (Nicole Maines), and tries to use the power of the press to shine a light on the issues, which threaten to tear the city apart, Supergirl takes to the skies to battle the many villains who rise up in this era of divisiveness. But how does Supergirl battle a movement when she, herself an alien, represents one of the main things people are fearful of?

Distributed worldwide by Warner Bros. International Television Distribution, SUPERGIRL is executive produced by Greg Berlanti ("Arrow," "The Flash"), Jessica Queller ("Gilmore Girls," "Felicity"), Robert Rovner ("Crossing Jordan," "American Dreams"), and Sarah Schechter ("Blindspot," "The Mysteries of Laura"). Supergirl is based on the characters created by Jerry Siegel and Joe Shuster and appearing in DC Comics, by special arrangement with the Jerry Siegel Family.