Supergirl Season 3, Episode 10 Recap: Legion of Super-Heroes
This article contains spoilers for the Supergirl season three episode – Legion of Super-Heroes.
.
.
.
.
.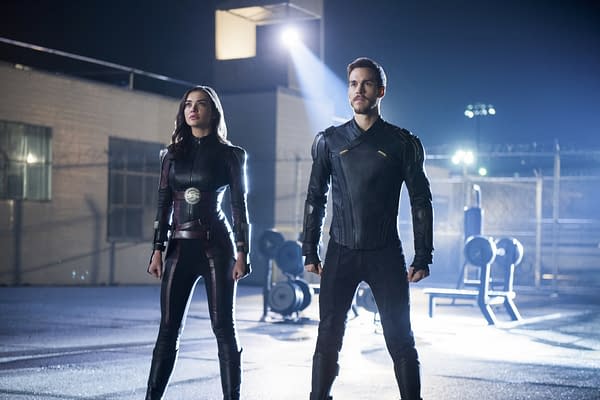 This episode was a bit surprising in a good way. Most of the promos focused on the introduction of Brainiac-5 aka Querl Dox (Jesse Rath), the third member of the Legion of Super-Heroes we've met so far. With that, I would've expected that the majority of this episode would take place in Supergirl's head and would basically be a bottle episode taking place in her loft and with the rest of the cast the the DEO or on the ship. But the episode was much bigger than that, moving the Reign story on quite a bit, having J'onn J'onzz (David Harewood) and the Legion take on Reign (Odette Annable).
We start with Brainiac-5 being let into the loft by Kara (Melissa Benoist). He introduced himself in that crazy, quirky way that TV shows like to portray geniuses. Then we switch to the ship where we see Kara inside a tank healing and everyone trying to decide what to do about Reign. Mon-El (Chris Wood) eventually explains that the Legion can't get involved as they are on a specific mission and can't risk being killed because the secret to save the Earth in the future is embedded in their DNA. J'onn, Alex (Chyler Leigh) and the DEO try to take out Reign using a plan to take out Superman if needed. It doesn't work and Alex gets her leg busted. Inside Kara's head we get to meet her pet cat from when she was young. The cat, while black and not orange, was named Streaky (a nod to the comics). Seeing the cat puts Kara on the path to finding her way out.
James (Mechad Brooks), while awkwardly trying to cover for Kara with Lena (Katie McGrath), ends saying that Kara is sick. Lena will head there with soup. Which leads to J'onn having to cover as Kara and end up having a conversation with Lena about how good a kisser James is. J'onn is not happy to have been in that situation. Imra Ardeen (Amy Jackson) convinces Mon-El to get into the fight by quoting Bon Jovi. Meanwhile Reign goes after the criminals in prison and comes across Thomas Coville (Chad Lowe), who stuns her by knowing the preaching of Rao. He offers to server her just when she hears Living On A Prayer loudly from outside.
Saturn Girl, Mon-El, Brainiac-5 and Martian Manhunter take on Reign and she seems to be winning. Kara figures out that the key to getting out is accepting that she is Kara Danvers and Supergirl. She gets out in time to jump into the fight and force Kryptonite into Reign's blood. The Worldkiller barely escapes. The episode ends with Kara and Alex having a moment as sisters. James and Lena having a moment of romance… and then Reign, shaking off the Kryptonite finally, learning that there are other Worldkillers and that Coville can help her find them.
The episode ended up giving us a lot. What Mon-El had done in his seven years in the future, move along the Worldkiller story and get Kara moving forward after losing Mon-El. I find it interesting though as we seems to be moving very fast now. This episode had two battles that Reign got hurt in compared to the one from the last episode. How many of these battle can they have until they need to resolve the story line? Will bringing in the other Worldkillers be enough to carry the show for the next 13 episodes of the season?
Next week it looks like Supergirl is going to put together an all girl super team to go up against Reign. Along with Saturn Girl, she recruits Livewire (Brit Morgan) and Psi (Yael Grobglas) to take on the Worldkiller. The other big news of course is the casting of Sarah Douglas as Jindah Kol Rozz. Douglas is a legacy casting, having played Ursa in Superman II (1980). The episode is called Fort Rozz, so some how Douglas' character will tie into the prison ship. The mission Supergirl pulls the group together for is to talk to a prisoner that is supposed to know how to defeat Reign… perhaps that will be Douglas.
https://youtu.be/ge97ScCOO-M