Supergirl Season 3, Episode 12 Recap: For Good
This article contains spoilers for the Supergirl season three episode 'For Good'.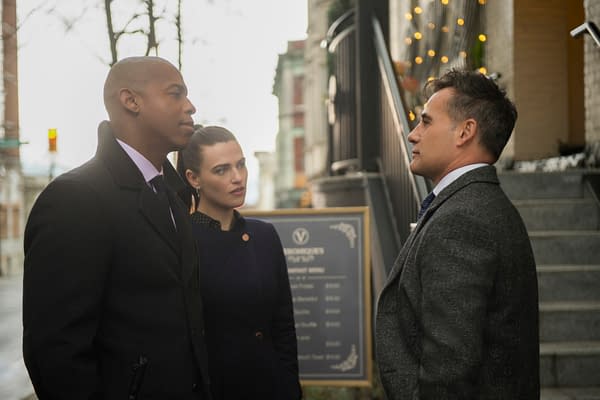 This episode of Supergirl moved the Reign story to the background and focused on the Lena Luthor vs Morgan Edge battle that started in episode one of the season. The A story started with Lena (Katie McGrath) and James (Mehcad Brooks) going out for breakfast and running into Edge (Adrian Pasdar). After a few insults are exchanged, Edge drives away, only to discover that his car is rigged to kill him. He thinks quickly, moving through into the trunk and jumping out the back of the car before it flies out into the ocean, exploding before hitting the water. Edge believes Lena is behind it and accuses her.
Not long after, Lena is given a cup of coffee with poison in it. Kara (Melissa Benoist) flies her to the DEO where she and Alex (Chyler Leigh) save Lena. James tracks down the potential killer in a nice bit of action, only to him the would be assassin killed by a dissolving bullet. Upon recovering and hearing what happened, Lena realizes where the dissolving bullet came from and tracks it back to her mother, Lillian (Brenda Strong). Lillian plans to kill Edge for trying to hurt her daughter. Lena figures out how Lillian is going to do it and enlists Kara's aid to stop it and get a confession out of Edge about poisoning the water and trying to kill Lena. They prevent a drone from killing Edge and get him to confess, but Lillian shows up with Lex Luthor's old battle armor that comes with a Kryptonite blade. They hinted at the suit in season 2, now we get to see it. Supergirl starts to fight Lillian and Mon-El (Chris Wood) races in to help, using the drone that Winn (Jeremy Jordan) hacked against Lillian and taking her down. Lillian and Edge are both arrested and Lena has Edge's confession. She also used her cunning without turning evil.
The B story is about Samantha (Odette Annable) and her missing time/blackouts. We know what they are, but she doesn't. Alex tries to help by running some tests, but they end up finding nothing. She is perfectly healthy. Alex also convinces Sam to tell Lena and Kara what is going on. Sam confesses her fear of not being there for Ruby (Emma Tremblay). The others assure her that she is not alone. The C story is Winn trying to find Reign and the others and how he uses Kyrptonians' unique heat signature to track Kara and her cousin. Kara has a dream featuring Reign, Purity, and a third Worldkiller whose face we can't see. Julia Freeman (Krys Marshall) is Purity and we see her in all black but no mask. Reign is wearing her mask.
The most important thing to come out of this episode may be Lena's willingness to use her cunning again. Not sure how you lock something like that away, but she did. And now that she's using it, she may have figured out that all her friends are lying to her. There is a look on her face when she sees Mon-El with Supergirl, the same guy that used to date Kara. And you can see the pieces to the puzzle taking shape. You see that look again when James shows up at the end after Guardian appeared to stop Edge from running. Coming from the Luthor family, finding out those she cares about are lying to her will likely not go over well. It also still feels like they're setting it up that Ruby is going to end up with Alex once the Reign story is done.
As the episode closes out, Winn discovers a handful of people that could be the missing Worldkillers, and Kara recognizes Purity from her dream. This sets up a big showdown between the two next week, and the trailer makes it seem like Purity has Supergirl's number.
https://youtu.be/BfJcWyVwBTo