Supergirl Season 3, Episode 19 Recap: The Fanatical
This article contains spoilers for Supergirl season 3, episode 19, 'The Fanatical'.
.
.
.
.
.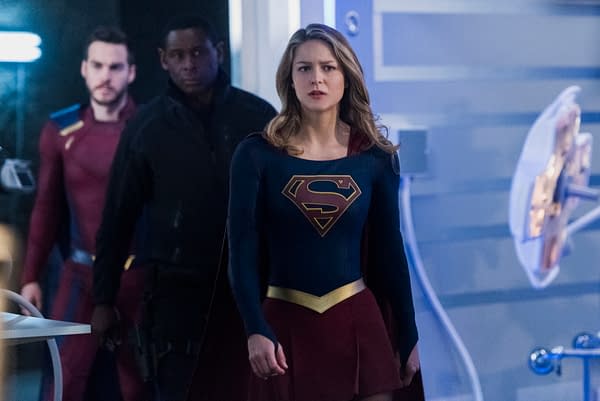 The new episode picked up with Reign (Odette Annable) back inside the lab as Lena (Katie McGrath) tried to find a way to reverse Reign's taking over of Sam's body and putting her friend back in control. The attempt fails and Reign threatens Lena and the planet, so Lena puts up a shield that Kryptonians can't see through, and hurts them when they try to x-ray vision through.
Supergirl (Melissa Benoist) finds it out the hard way and isn't happy that Lena didn't tell her about this technology. Lena's response is rather snippy, and the tension between the two is growing. She goes to talk to James (Mehcad Brooks) about it and how she's worried what will happen if Lena ever finds out that Kara and Supergirl are the same person.
Tanya (Nesta Cooper), the woman who ran from the Church of Rao, arrives and gives James a journal that belonged to Thomas Coville (Chad Lowe). After he got out of prison and started helping the Worldkillers, Coville contacted the church and told them they were worshiping the wrong god. But now they believed he was dead, and the followers were using his journal to build what Tanya believed was a bomb. Tanya is a linguist and can read Kryptonian. Kara takes the book while James promises to protect Tanya.
Olivia (Sofia Vassilieva), the girl from the cult that first turned on Coville, is now the leader and comes to CatCo to find Tanya and take her. James follows in the private elevator where it turns out he keeps his Guardian suit in a special compartment that opens with his thumbprint and voice command of "Coltrane". He goes after the car they're using to get away and forces them to stop with a neat gadget that clamps onto a tire. He chases them into a building being constructed, and one of them shoots him in the face with an armor-piercing round, breaking his helmet in half.
The cops rush in and point their weapons at him and Tanya — the two African-Americans — and ignore the three Caucasians. James uses a smoke bomb to get them out, but Tanya is amazed that Guardian is black and is heartbroken to see the cops react to him as police offers often do to people of color. The church contacts James, showing him they got his unmasking on video — and unless he gives them Tanya and the journal, they'll release the video.
Supergirl and Lena discover that there is a process to create a new Worldkiller, and it involves a special Kryptonian stone that Coville found in a statue of one of the other Kryptonian goddesses. Lena hypothesizes that with the stone she could reverse the process and cure Sam. Supergirl tries to talk to Lena about the tension and their friendship, but Lena tells her that it won't affect their friendship because they don't have one.
James contemplates coming out as Guardian to take away the Church's leverage, and he tells Lena about the time as a kid the cops put him in handcuffs because he was playing outside of a nice hotel and didn't believe he was a guest there. He says that is something you have to deal with when you're black. But before he can make the decision, Tanya tells him she wants to stand up for herself and be used as bait to catch the Church.
She goes to the rendezvous with the journal and is taken, then Mon-El (Chris Wood) gets in the van pretending it's his Lyft ride and gets taken too when he sees the guns. At the base, Mon-El frees himself and watches part of the ritual. He then contacts Supergirl, who arrives in time to see Olivia become a partial Worldkiller. Mon-El and Guardian take the cultists while Supergirl fights Olivia, eventually getting through to her and getting her to give up the stone. But when Supergirl touches the stone it makes her lose control of her powers temporarily.
Mon-El and Supergirl help Olivia give up the stone. And while the ritual burned out the essence that Lena would need to save Sam, she and Wynn (Jeremy Jordan) were able to register the signature of the element and track another piece on an asteroid floating not to far away. Mon-El and Supergirl borrow J'onn's ship and head to get it, as Reign is becoming immune to Kryptonite thanks to Pestilence's powers. And the episode ends with the return of Coville as he checks out the site of the ritual.
A side story going on in the episode had Alex (Chyler Leigh) trying to help Ruby (Emma Tremblay) and eventually taking her to an arcade with J'onn (David Harewood) and M'yrnn (Carl Lumbly) in hopes the games would help M'yrnn's mind. However, the noise and lights in the arcade are too much for him and he loses it, smashing into a game. While J'onn deals with the arcade manager and Alex gets the car, Ruby and M'yrnn talk and end up playing foosball together and helping each other get a bit out of their depression. Ruby is continuing to stay with Alex and we learn that Ruby is worried that she will end up being like her mother.
The Verdict
The episode was interesting as it dealt with a lot of issues, from racial profiling to secret identities and betrayal. The Mon-El undercover scene was important as it brought some levity to the episode that was steeped in important moments and could've been brought down because of it. But they balanced it nicely.
I think the Alex/Ruby storyline was set up with the Alex / Maggie separation story, and if Sam isn't saved by the end of the season, then Ruby may just stay with Alex going forward. Their building up the Supergirl – Lena – Kara story to where it has to come to a head at some point soon. There was also a nice moment where Mon-El advises Kara against revealing her secret to Lena as it would only benefit Kara, and then later J'onn gives Mon-El the same advice about telling Kara about his feelings.
What's Next
Next week things take a massive left turn as Mon-El and Kara discover Argo City and Alura Zor-El (Erica Durance).
https://youtu.be/9QMOtJCJKCo