Supergirl Season 3: Kara and Mon-El are Stranded in Argo City
The CW has released a clip from tonight's new episode of Supergirl season 3, the penultimate episode of the season called 'Make it Reign'. This is the first of a two-part season finale which will prominently feature Erica Durance as Alura Zor-El. Spoilers ahead.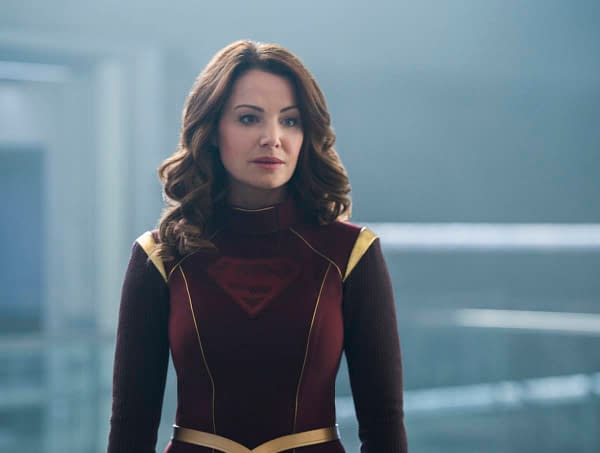 The video shows us Kara (Melissa Benoist), Mon-El (Chris Wood), Thara (Esmé Bianco), and Alura discovering that Serena (Anjali Jay) is the leader of the Daughters of Juru and that she has been the one making the Worldkillers. And now that she has taken their ship, there is no way to communicate with Earth through Argo City's protective barrier. We'll have to see just what they do to work around that… the fact Mon-El went with Kara so he could contact the Legion in the future and let them know to come get him MIGHT play into that some how.
Here is the synopsis for 'Make it Reign':
SUPERGIRL PREPARES FOR BATTLE — Supergirl (Melissa Benoist) learns the true depth of Serena's (guest star Anjali Jay) nefarious plans for Earth. Supergirl, Mon-El (Chris Wood) and Alura (guest star Erica Durance) must devise a plan to stop her before Serena gets to Earth. J'onn (David Harewood) prepares to say goodbye to his father (guest star Carl Lumby). Armen V. Kevorkian directed the episode written by Ray Utarnachitt & Cindy Lichtman (#322). Original airdate 6/11/2018.
Supergirl airs tonight at 8 p.m. ET on the CW.
https://youtu.be/rEy5oshKZG4