Unlike the other Arrowverse series, Supergirl season 3 really didn't have a lot of characters from previous seasons showing up. Mon-El (Chris Wood) returned, but he really wasn't gone that long. Allura technically returned, but they changed from Laura Benanti to Erica Durance. We almost got a return of Winslow Schott Sr. (Henry Czerny), but it was just a photo of him on a screen. We didn't get a return of Superman (Tyler Hoechlin), which fans would've loved… not even a return of Red Tornado (Iddo Goldberg). That said, just because we didn't have a lot of returns doesn't mean we didn't have a good one. Which brings us to Brit Morgan reprising her role as shockjock Leslie Willis and her equally shocking alter ego of Livewire.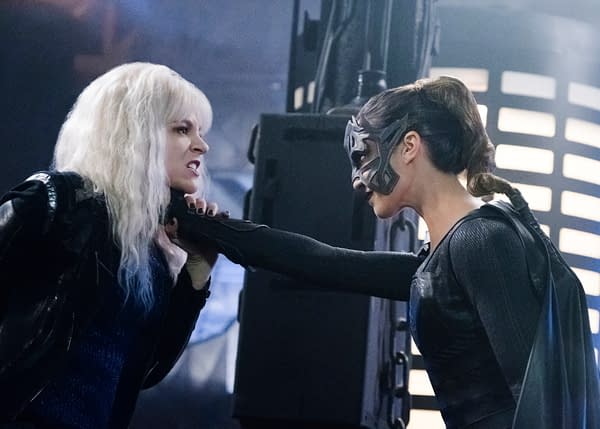 It was a bit of a surprise to see the character return in the episode called Fort Rozz. She was part of the first season of the series that in most cases gets ignored now, i.e. Maxwell Lord (Peter Facinelli), the Kara (Melissa Benoist) and James (Mehcad Brooks) relationship, and the rest of the Fort Rozz escapees. So to see Livewire pop up was surprising and cool.
I liked that she was living under the radar because of Reign and that it continues her season 2 appearance where Supergirl and Mon-El have to save her. It's a nice redemption arc for the character, and the fact she sacrifices herself in the end completes that story.
But Livewire is a being of electricity, and it would seem like the rules for her are different. Since she's appeared in each season in the same way Jonah Hex has appeared in each season of Legends — it is possible they could bring her back for season 4 if they wanted to.
Enjoyed this article? Share it!