Supernatural: Jeffrey Dean Morgan's John Winchester Returning for 300th Episode
When you reach a milestone like your 300th episode (which if you're Sherlock, would take about 327 years to reach), you achieve a certan level of respect and honor where friends and peers from all across the pop culture landscape will make the pilgrimage to pay their respects. If you're the CW's Supernatural, that means getting "Big Poppa" back – and if you're AMC's The Walking Dead, you now know where it was Negan was going at the end of the mid-season finale.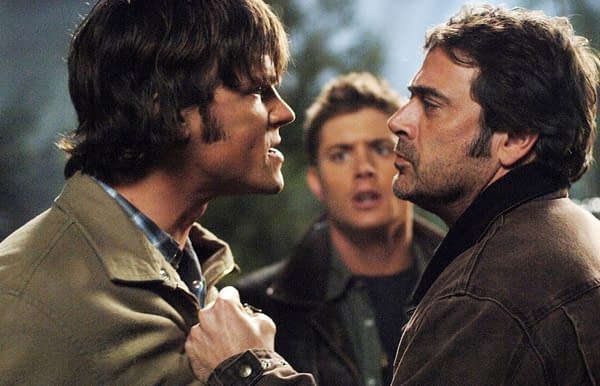 That's right, everyone's favorite Glenn-killer…their favorite Abraham annihilator…Negan is dialing back ten years to 2008 with Jeffrey Dean Morgan resuming his role as John Winchester, father of Dean (Jensen Ackles) and Sam (Jared Padalecki), in the long-running series' upcoming 300th episode. While nothing else has been released regarding the episode or the role Morgan's John will play in it, we do know that the long-awaited Winchester family reunion takes place in the episode titled 'Lebanon' that scheduled to air on Thursday, February 7 at 8 p.m. ET / 7 p.m. CT.
Speaking on behalf of the cast and creative, executive producer Andrew Dabb expressed his excitement over having Morgan back in the fold one more time – and gave Supernatural fans an almost Ryan Murphy / American Horror Story-like tease (high praise around the office of Bleeding Cool) of more "surprise" names to come:
"We're incredibly excited to have Jeffrey back for this milestone episode, and think fans will love what we have planned for his character… and a few other surprise guest stars."

– Andrew Dabb, Executive Producer