"Supernatural" Season 15 "Atomic Monsters": Jensen Ackles Directs Delightfully Meta Episode [LIVE-TWEET TAKEAWAYS]
The CW's Supernatural star Jensen Ackles realizes his action-packed dreams in a gripping and hilarious episode catering to the SPN Family. From a classic monster mystery to fan-favorite Original Funko POPS!, "Atomic Monsters" aims to please longtime viewers while moving Season 15's storyline forward in a very scary way.
"Supernatural" Live-Tweet Reactions [MAJOR SPOILERS]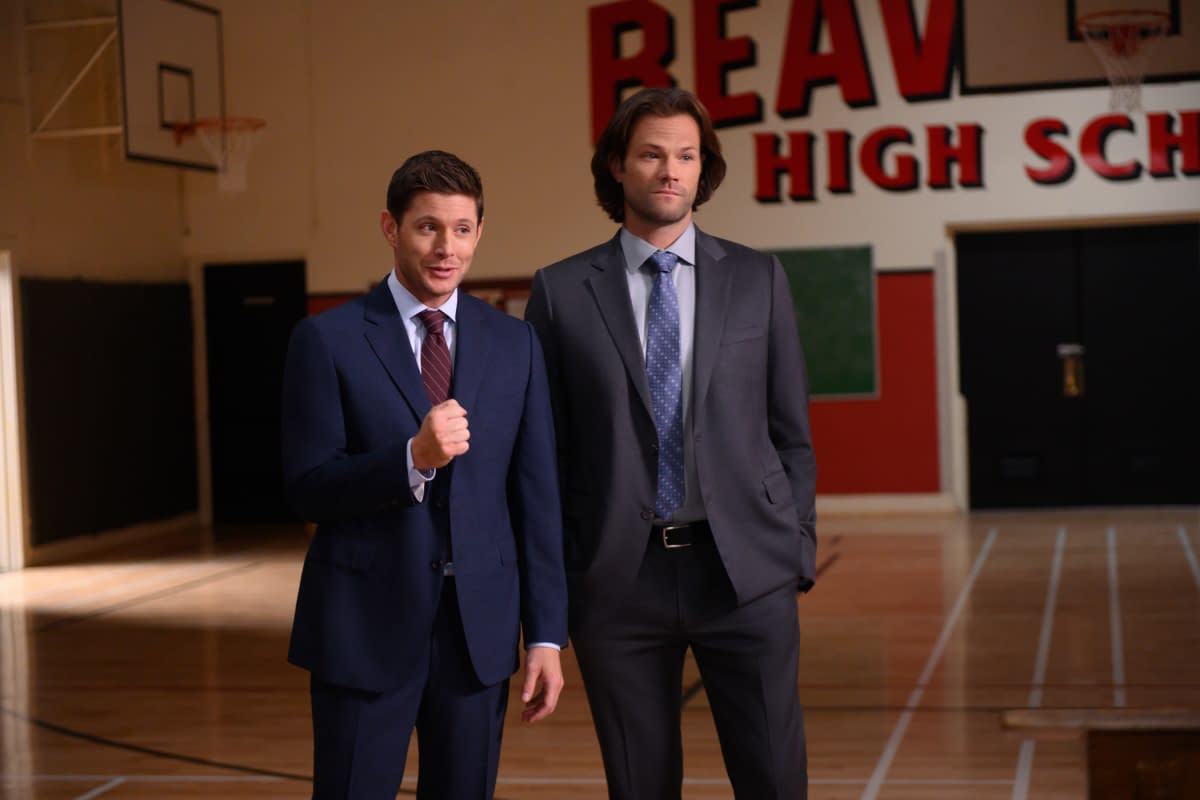 Whoa! "Atomic Monsters" is a wonderful whirlwind. Equally frightening and funny. The "meat man" and "beaver" gags balance out the sadness over Rowena's death, the serious severity of the Winchesters' case, and their "conflict resolution."
Vampire Weekend
Like Sam (Jared Padalecki) and Dean, we are puzzled by the mystery vampire assailant. We narrow it down to a stereo-typically sweet family. As it turns out, Mom and Dad have been protecting their teen vamp. The kid didn't mean to hurt anybody, but he did.
The kicker: This kid assumes responsibility and asks the Winchesters to do their job – kill him before he kills anyone else.
The shocker: The Winchesters actually gank the young vamp! There's no talk of finding a better way. No fake out. The boys just execute him, as requested.
I cringed watching this actually happen. I know – Saving people, hunting things…But there was no emo debate or anything. They just took action and did the deed. It is unsettling, as it should be.
Chuck and the Fangirl
In another blast from the past, we catch-up with the Winchesters' ultimate fangirl – Becky (Emily Perkins). She's come a long way since she cast a spell to make Sam marry her. Now, she's married (for real) with kids. But her Supernatural loving heart still beats strong. She's found a more mature (and sane) outlet for her devotion to the series – and yes, I could relate to the collectibles she's amassed over the years.
Suddenly, Chuck (Rob Benedict) drops in and disrupts her life. He needs a muse and she's the only one who appreciates his work. The writer asks for constructive criticism and inspiration , but what he truly wants is adoration. When Becky digs into his "art," Chuck poofs her into a mysterious plain of existence. WTF?
Where did he send Becky and her family??? Who will curb Chuck's uncontrollable and chilling narrative? I'm scared, SPN Family!
For Chuck's Sake
Ugh, I'm not going to keep repeating myself all season – I promise. BUT I don't understand why the writers choose to depict "God" in this maniacal, meaningless, and dark light. It's not flipping Good and Evil. Or just making the Devil seem alluring and humorous. Or mocking the superficiality of some religious institutions.
By turning "God" into a mindless, purposeless, egotistical, hack writer, they've been demeaning a revered deity, disrespecting believers and crapping on a faith so many Supernatural viewers see as hopeful and loving.
I just don't like it. This will always be my biggest beef with my favorite show (aside from the Leviathan storyline which sucked). It might sound hypocritical or paradoxical, but I can still love Supernatural and the Winchesters, while finding the idea of Chuck-god problematic.
Sleep Is A Battlefield
Ackles directed a badass action sequence – crossing off an item on his Supernatural bucket list and scaring the crap out of us. Although we have a hunch this is all a dream, our mind wanders and envisions all sorts of scenarios. Is this the future, another parallel universe, a monsters/deity's doing…?
With Dean in the starring role, we'd assume he's dreaming about going all Rambo. But then everything takes a turn and Sam wakes up in a sweat. How many of these haunting dreams has he had? What do they mean? Why are they so violent? Most importantly – why are the brothers fighting???
https://youtu.be/vE4lAGsQr8g