The weekend is always the perfect time to marathon a show, and Amazon Studios' Mozart in the Jungle is one of my favorites. Luckily, season 4 just dropped last week, and that means it's the perfect time to talk about each episode.
In season 4, episode 2, 'If I Were An Elf, I Would Tell You', Rodrigo (Gael Garcia Bernal) traveled with Hailey (Lola Kirke) back to her hometown to meet her parents. He got a much better understanding of why she believes "you're the best or you f**king suck," a lesson her dad taught her at a young age. Back in New York, Gloria (Bernadette Peters) somehow managed to get His Holiness The Pope confirmed for a visit to the orchestra, while Thomas (Malcolm McDowell) struggles to find a new direction in his career.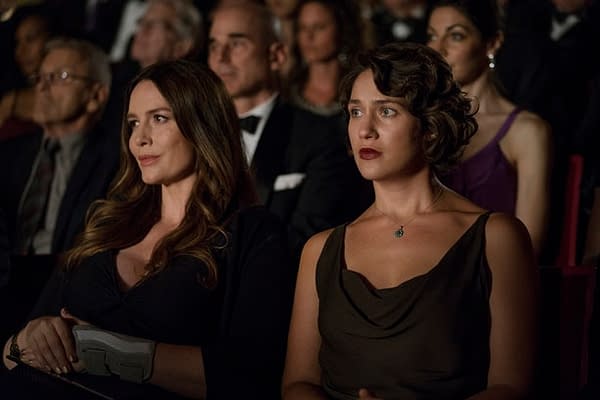 In s4e3 'Significant Lover':
Hailey comes back to the apartment she shares with the other musicians to find a mountain of boxes, and Rodrigo in the middle of it.
"I thought you were a minimalist," she says. "No, I'm a maximalist, I just didn't have a place to put everything."
Hailey admits she can't find a female composer to let her premiere their piece with her ensemble.
Rodrigo gives Hailey his grandmother's necklace and says he wants her to come with him to the orchestra.
He introduces her to everyone as his girlfriend, and she's noticeably nervous.
Boyd and Union Bob are both shocked and pleased by this.
Hailey gets introduced to her current favorite female composer, and it doesn't go so great.
Gloria greets people, and it's revealed that tonight is the Pope's visit.
We see His Holiness sit on a red throne, and Gloria soaks in what she sees as her ultimate triumph with getting the Orchestra funded, the lockout succeeded, and a pretty positive set of reviews.
Rodrigo greets the audience, and dedicates the evening's performance to an already mortified Hailey, calling her his "Significant Lover." Her face, if you pause right after the mention, is heartbreakingly relatable in its cringeworthy pose, but Cynthia is right there with her.
"She deserves to belong."
"And also, to you Il Papa, you've been doing really great. So far."
The performance begins in earnest, and the damn ceiling starts to fall down as Gloria gets a phone call that their funding may be gone.
Looks like Pavil was right — the contractors start pointing out the various breeds of rats responsible for the roof falling in.
Gloria meets with the new majority shareholder of the company that was funding the orchestra, Mr. Fukumoto (played by Masi Oka).
Turns out Fukumoto is in awe of Betty Cragdale (Debra Monk), and she speaks fluent Japanese.
Thomas goes to Queens to check out the philharmonic he's agreed to direct.
Fukumoto requests that Rodrigo perform Mozart's Requiem, which Rodrigo has never performed and is hesitant to do.
Rodrigo agrees to do it, with gentle pushing from Gloria, and Fukumoto requests that Betty has dinner with him in the future.
Egon (John Cameron Mitchell) calls Rodrigo to his ballet studio to experience a small part of his Faust idea.
This is one of those super special moments in the show that you FEEL the emotion in the dancers. Combined with Bernal's complete surrender to the scene and JCM's beautiful presence, it's just amazing.
Egon asks who the first person was that Rodrigo was sexually attracted to, and the dancer interprets the answers into motions.
This may actually be my favorite moment across the series yet — inspired and passionate like the rest of show but the timing is just so, so perfect. The scene then cuts into Thomas conducting at his new gig.
"Every great orchestra has a sound, and right now it's like you're shitting Beethoven out of your instruments."
In a last ditch effort to get the attention of the composer Hailey wants to give her a piece for her ensemble to do, she has her group set up outside Caroline's apartment to show off her ability.
It looks like it didn't work, until Caroline gives in, and sends down a manila envelope saying "Okay fine, you've won, it's a new piece. Also, my neighbors called the cops."
Also now I have a life goal of having a hotdog with JCM and talking about Faust.
Back in bed, Hailey asks Rodrigo why he's never done the Requiem, and he says he's not quite sure, but he thinks he's ready.
Mozart appears to Rodrigo again, this time telling him NOT to perform the Requiem with his last breath.
Rodrigo tries to rouse Mozart, but to no avail, and the episode ends with some of the choral pieces from the Requiem.
How will Rodrigo deal with his visiting friend Mozart being really gone? Will be magically finish the Requiem?
Enjoyed this article? Share it!