Ten Thoughts About Doctor Who: Fugitive Of The Judoon (Massive #Spoilers)
A new Doctor Who, with the Judoon appearing – but they are not the only blast from the past in tonight's episode, that just aired on BBC One. I mean, bloody hell, yes? Who's mind wasn't blown by this one? Time after time after time? And talking of time.
1. Remains Of The Day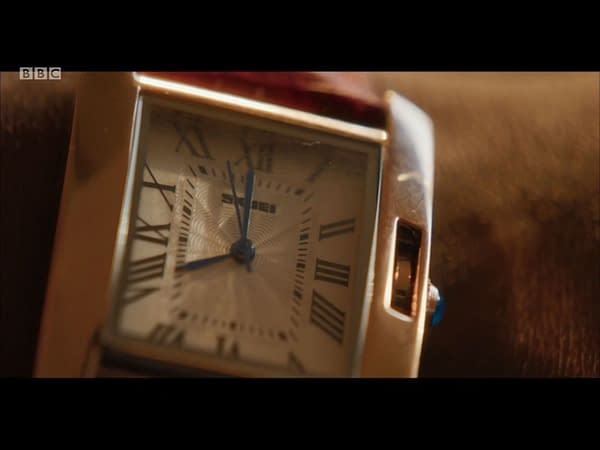 Time and birthdays. Clocks tick, the day begins, the cycle returns. It certainly makes for a better look than a fob watch right? It's the key to time. And Lee doing a great job as a Martha-substitute. Time to watch Paul Cornell's Human Nature again for all the feels, just substitute Gloucester for a private boys school in the early twentieth century.
2. Home Alone.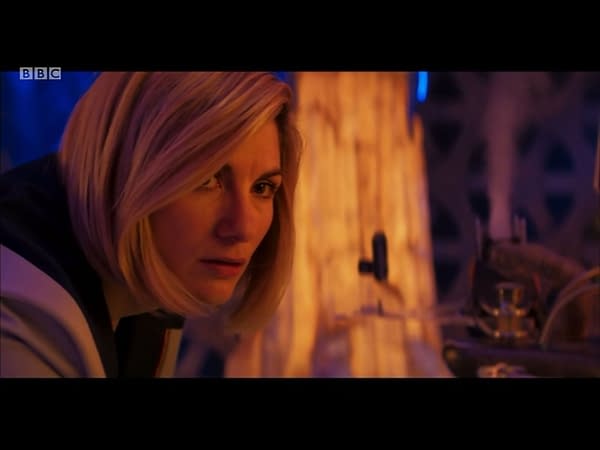 We have a still-depressed Doctor. A Doctor who is working in secret against her companions. Who steals away form them to go home to Gallifrey. To search for the Master. To do something. And for all that looking, it will be what she stumbles onto tonight that might have a chance of answering those questions. Or asking new ones.
3. Doctor Foster Went To Gloucester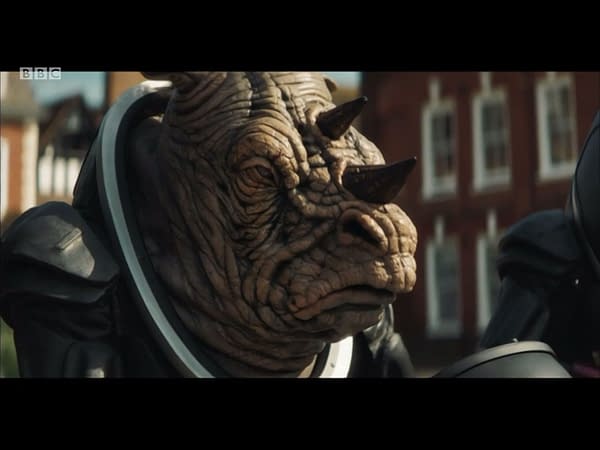 It's the return of the Judoon… or rather a Platoon of Judoon near the moon, and also a lagoon. Turns out the Doctor can rhyme as well as the Judoon. It's a nice. silly beginning that belies what is to come. Also never be an old lady in front of Judoon. It won't end well. Just don't shove them or run away, okay? By the way, the muppetry is spectacular on the one Judoon head the production crew have, reminiscent of the Vogons on the Hitch-Hiker's movie. There's no doubt at any point that they aren't speaking or emoting, and beats CGI any dead. And handy for Yasmin to invoke local law…
4. Oh Captain, My Captain.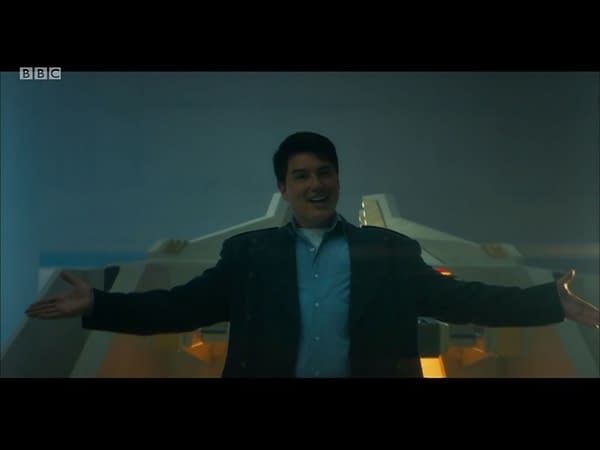 You hear his voice. You start to get excited. You wonder if it's him. And oh yes it is. Captain Jack Harkness, who hasn't appeared on the TV series for years. We haven't seen him in Doctor Who since 2010 or in Torchwood since 2011. Three Doctors later, he's back. One of a number of former Doctor Who surprises we were promised. Didn't realise we'd get them all in one episode. And once again, Graham is mistaken for the Doctor by those more familiar with his former form. Of course they were going to keep the Doctor and Jack apart as long as possible – but not just from the beginning of the episode to the end – this will be only revisited in many episodes to come. Filming this all inside, in studio, was a rather clever way to keep this secret.
5. The Message
Beware the Lone Cyberman? We know we have a Cyberman episode coming – looks like Jack will be back for that. The Alliance has sent it across time and space, but Jack says that the Doctor must not give it what it wants. At all costs. When he gets this far this feels like the big thing. The big moment of the episode. The Bad Wolf that will link the series together. But by the end we will know it is only a tiny part of the whole thing.
5. Getting The Horn?
You saw what happened when someone shoved a Judoon, What happens when you rip one of their horns off? Well, we find that out too. A weakness also gives them even more of a Sontaran-like nature.
6. The Next Doctor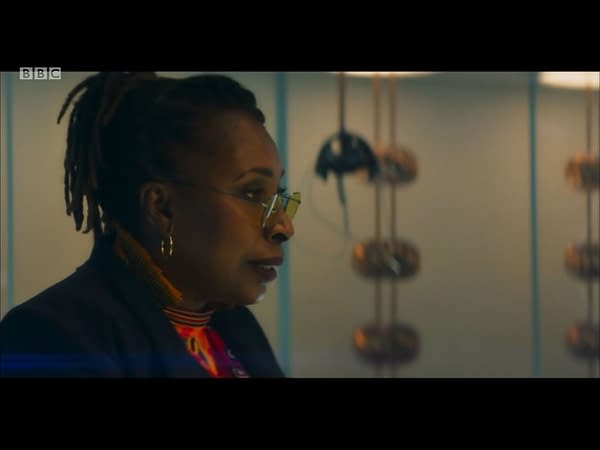 It's not just the Judoon and Captain Jack that give us David Tennant vibes. We also get a flashback to the Next Doctor, with the Doctor meeting herself, and a Chameleon Arch to boot. And, yes, the Doctor is a black woman for the first time. But how? And why do the Doctors not remember each other? In The Next Doctor, the David Morrissey Doctor was a man who had got the memories of the Doctor by mistake. This Doctor does not seem to have that explanation. My best guess is that she is an alternate version of the Doctor, one who never built a sonic screwdriver – we saw different potential futures last week in Orphan-55, remember? And in Spyfall, there was a mention of multiple Earths? Could these be warring versions of the Doctor's timeline? If these are the new rules of Doctor Who, they could apply here as well? Or… it's the Doctor, all the other Doctors will have to shuffle along, and the current Doctor is the second female Doctor all along. But where would this Doctor fit in? After the Day of The Doctor we have finally seen all his and her regenerations… but also, well played for throwing another massive surprise into the mix. Next up, we'll discover she's the Valeyard.
Oh and look, she's even got the brainy specs.
7. The Next TARDIS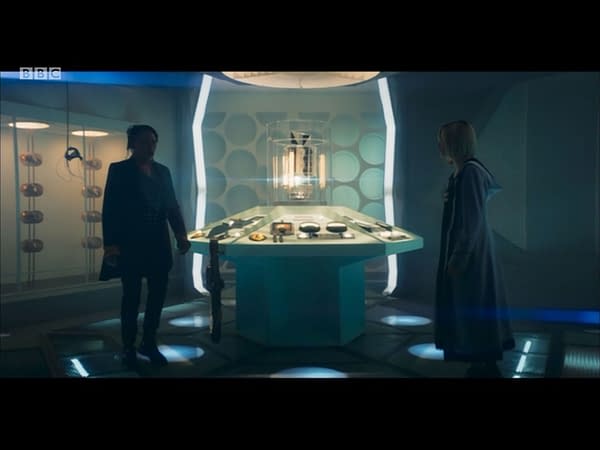 Subdued. Darker. JJ Abrams light flare. Still got the roundels. But it smacks of an earlier, less grand age. Is there any way, is there any chance, that this could be the First Doctor? The Zeroeth Doctor? And everyone will have to shuffle back? It does have a smaller, more cramped console room…
8. The Doctor With A Gun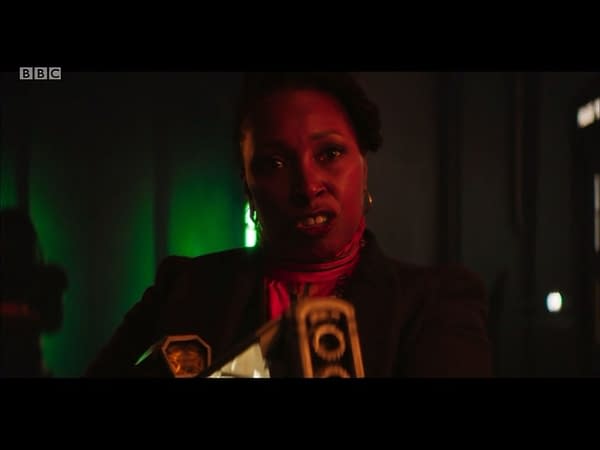 The Doctor with a gun is always wrong. This Doctor seems to know that – but still seems rather trigger happy. The last Doctor to pick up a gun was also David Tennant. They really are leaning into the Russell T Davies days here, with a structure that's a bit more Moffaty. this is probably the best Doctor Who since Heaven Sent, right? And it just happens to be set in Gloucester….
9. Gat Back To Where You Once Belonged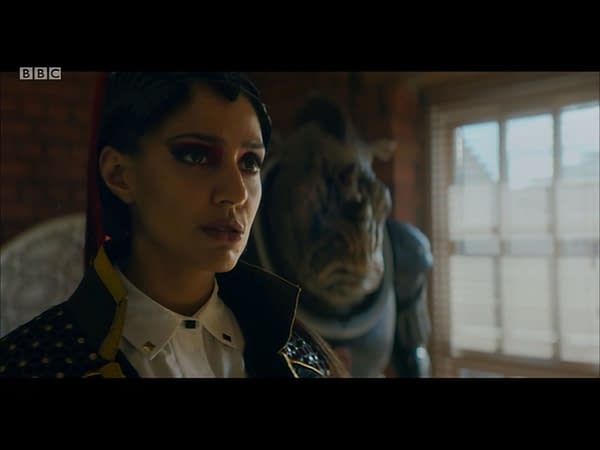 Gat is a Time Lord from this New Doctor's reality – and who don't know about the Thirteenth Doctor's Gallifrey reality. So is this multiple Earths and multiple Gallifreys rather than separate timelines? Oh also there's a lot of discussion from their reality about the same Time Lord being present multiple times causing big problems – but the Doctor has done that many times before. Different rules for different realities?
10. Something's Coming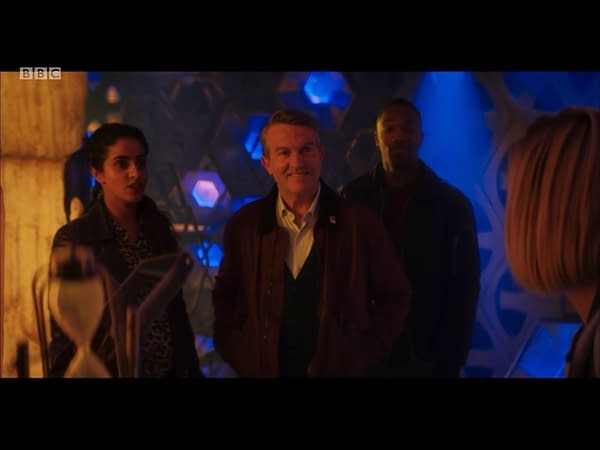 A Timeless Child perhaps? This is not a one-off episode. This is not part one of two. This is the first part of the rest of the season. It's the Key To Time… tick tick tick.
Trigger-happy space police the Judoon are targeting 21st-century Gloucester, so the Doctor, Yaz, Ryan and Graham race back to Earth in order to prevent them doing too much damage to the cathedral city. But who are the Judoon looking for and what did they do to incur their wrath? Guest starring Neil Stuke, Jo Martin and Ritu Arya.
The Doctor Jodie Whittaker

Graham O'Brien Bradley Walsh

Yasmin Khan Mandip Gill

Ryan Sinclair Tosin Cole

Lee Clayton Neil Stuke

Ruth Clayton Jo Martin

Gat Ritu Arya

Director Nida Manzoor

Executive Producer Chris Chibnall

Writer Vinay Patel

Writer Chris Chibnall
And not on the list but, yes, John Barrowman as Captain Jack Harkness. And Jo Martin? She's The Doctor… add her to the list.