The Baby-Sitters Club Review: Heartfelt, Cheese-Free Reboot Impresses
In case you're new around here, let me fill you in. I've been hyped for the Netflix reboot of the classic franchise, The Baby-Sitters Club since they announced it last February. Though, let's be really real: I've been hyped about "The Baby-Sitters Club" franchise for decades. So, welcome aboard the hype train – it's just pulling into the station because The Baby-Sitters Club has finally made it to Netflix! Now, it was originally a television series that aired in 1990 but was based on the book series of the same name that started in 1986. It's about young entrepreneurs who start a club out of necessity – parents in the area who need a babysitter can make a single phone call and get a qualified kid to watch their children. It's a wholesome, simplistic childcare solution that's perfectly retro, but hey, if it still works, why make it more complicated?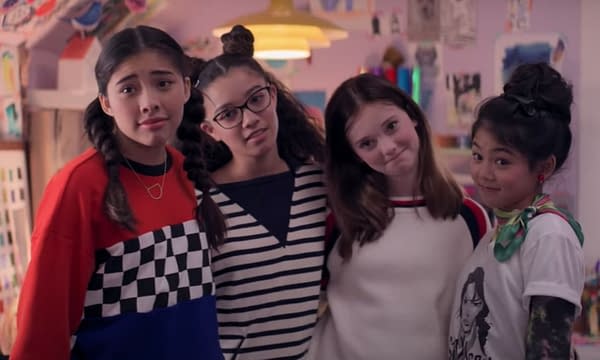 Speaking of retro, the show blends its classic 80s and 90s flair with the modern world the girls of today live in, and it is absolutely perfect. I mean, references to Gossip Girl, social media marketing, and Google docs all while still delivering the same heart-to-heart coming of age stories and lessons we know, love, and expect from the series? I am all in, sign me up. Of course, my sisters and I have been fans of the series for forever, so I am admittedly an easy sell. But what about the up-and-coming generation, like my 12-year-old niece? She's all for it too, which surprised me a little because it can be really hard to get kids that age to care about something their parents like and want them to like.
Yes, the stories get a little dramatic and are full of childhood problems, like the girl who used to be your best friend not hanging out with you as much, but honestly? As an adult, I still feel that. Though getting upset at your mother marrying her boyfriend and your brothers being self-absorbed jerks is a distinct childhood problem, but what did you expect from a show about children? At least they're not showing children and teenagers hiding bodies, partying in the woods, and fighting bears (yes, Riverdale, I'm looking at you).
But it's updated so beautifully that it really does stand the test of time and can endear itself to a whole new generation. It's similar in tone to Amazon Prime's adaptation of the book series "Just Add Magic," though I think The Baby-Sitters Club not only does the series justice but opens itself up to a wider audience, making it a truly a show for the whole family. All in all, it's a delightful slice of adolescence for both the up-and-coming generation and those nostalgic for their own childhood.