The Essential Bourdain: A Cook's Tour Season 1, Vol. 3
In my process of saying goodbye to author and personality Anthony Bourdain, I decided to rewatch all of his various travel shows and create a list of what I believe to be the essential viewing guide for his episodes. First on the list was A Cook's Tour, a series that aired on the Food Network for two seasons between 2002-2003.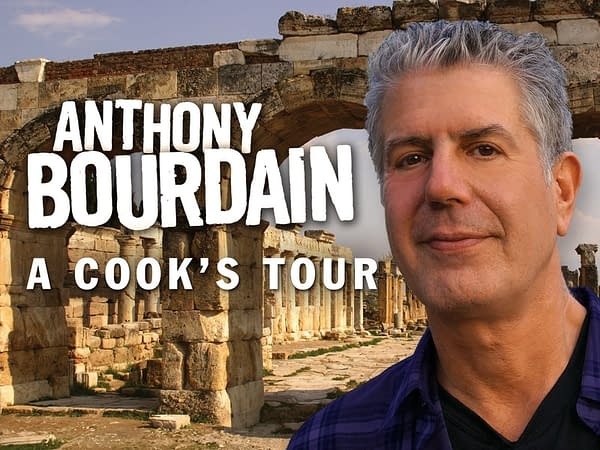 (I'll be splitting this series up into volumes of five episodes each, as the seasons are 20+. You can read about vol. 2 here.)
A Cook's Tour Season 1, Vol 3: Episodes 11-15:
Epi 11, Morocco (Sahara)
Tony says he came to Morocco for the desert, and that he wants to eat camel, and sheep's eyeball
He says he wants to be able to stand in a place in the desert, turn in a full circle and not see anything. "I want to be the farthest away from a McDonalds that I've ever been."
Disappointingly, Tony's search for "traditional Moroccan food" isn't going so great as he gets closer to the desert border
Man these tagines are making my mouth water
He's on a mission- to find roasted lamb. A whole lamb. Which becomes a quest in itself, to find a damn lamb for purchase in the local market
The halal preparation of meat is observed, and Tony gets waaaaaay into the situation.
"When Tony gets hungry, things die."
"I must have done something right to end up in a place like this," he said. A once in a lifetime thing, to stand there on the dunes at sunset and looking out over the horizon
FINALLY- the lamb is inside the clay oven, and Tony's excitement is adorable
He's getting his lamb testicles, and he says they're tender, almost like sweetbreads
Semi-essential: Some spiritual elements to Tony's quest make this an interesting one, but on the whole his frantic hunt for lamb without diving deep into the "why" leaves me wanting more.
Epi 12, Morocco (city)
The episode begins at the Bar Casablanca, filled with iconic movie posters featuring Bogart
Kefta is first up on the menu, meatballs
He calls the local bakery a "narcotic experience", the fresh baked bread I'm sure smelling amazing
His little aside about Morocco being a paradise for chefs due to the lack of set "Martha Stewart
step one"s for recipes, more as you want it
The couscous preparation alone is fascinating, and the amount of simultaneous dishes going at the
same time is impressive
Where is my damn smell-o-vision
Semi-essential: About the same as ep. 11, wherein the two should just be one long presentation. Seeing Tony around the home and interacting with the cooks is as always a highlight, and seeing him stop in the marketplace for a snack before going to dinner because it looked good tells you so much about him.
Epi 13, Saint Petersberg
Tony admits that due to his age, he grew up in fear of things Russia would do, and the
impacts it would have
The production value in this is already pretty hilarious, handheld cams and choice black and white
shots
This is the very first time we meet longtime personality Zamir
Zamir is awesome, and terrible, and fans of the series will no doubt attest to the staying power of
Zamir's personality
Wooo, kossak dancing
Tony compares the typical Russian fare to the cuisine of the American Midwest, the meat and potatoes
And the vodka starts flowing. "I think this is the start of a beautiful friendship."
The pair share some reindeer, and you start to see the humor bubble back. Talk of how NYC families would react to the dish on the menu
"When I started this show, my three rules were no karaoke, no dancing, and no funny hats. Well, one down."
On a tour of the palatial home of Catherine the Great, Tony says he could understand why the uprising happened
In the home of one of Zamir's friends, Bourdain gets put to work helping make dumplings
Even MOAR vodka
Absolutely essential: This one episode really puts forth the tone and style of the Bourdain we know from his future shows. The editing style as well as the presentation of facts and asides probably some of the best examples of why audiences have enjoyed Tony's shows for so long. Also. Zamir.
Epi 14, even more Saint Petersberg
More Russia, more Zamir, MOAR VODKA!
Bourdain says the first person he knew who really helped him get into food was a Russian he knew named Alexi, and that's why he wanted to get 'really into' Russian food
Ah yes, a dreaded fishing segment! Thus begins a long tradition of Tony talking to the camera as fishing happens
Tony goes on the hunt for a specific fish pie dish
Holy crap, that pie is RIDICULOUS. A bottle of vodka and a dish of tea, Tony attempts to eat as much of it as he can
The next day, Zamir takes Tony to the banya
After 30 minutes in a hot as hell steam room, Tony and Zamir break for snacks and beer
Also, a lady beats him with birch branches before he jumps into the ice
Vodka and horseradish? Ok, I'm interested as long as I can have the cucumber chaser.
"Caviar is one of those things that you should gorge yourself on, eat it with your hands, you should be aware that this isn't a normal thing," Tony says while layering slabs of the roe
Essential: As a continuation of ep. 13, this one goes hand in hand with setting the tone of future Bourdainisms.
Epi 15, Oaxaca Mexico
Tony starts off the episode saying that the normal American version of Mexican cooking is crappy, and no where near what the real thing is.
Another market that I'm sure smells insanely good.
Grilling your own meats, Tony loves the chorizo
While walking into the chili section, Tony says "This is where I get really turned on"
"Since I was at the beach, I decided to go snorkeling, which seemed like a good idea at the time."
Every part of his narrative for this attempted fishing scene is Tony when he's on a roll- self depreciating, honest, and humourous
The iguana tamale sequence is….difficult
The mill sequence is mesmerizing- the corn into cornmeal, the peppers into mole
Ohhhhh my god I would kill for these mole tamales
The mescal shots with sangrita chasers sequence almost ends poorly, Tony going shot or shot with his guide for the episode.
Semi-essential: Specifically, the market section where Tony starts to talk about chilis, and how he wishes he could do 22 episodes just about them. Also, those damn mole tamales. Yes.
***
We'll continue with A Cook's Tour season 1 with vol 4, episodes 16-22, which will finish out the first season.