The Flash: The CW Deprived Legends of Tomorrow Fans of Another Finale
The Flash Showrunner Eric Wallace planned a wrap-up for Legends of Tomorrow in Season 9, but the reduced episode count kept it from happening.
---
Showrunner Eric Wallace has been making the press rounds heading into this Wednesday's premiere of the ninth & final season of The CW's Grant Gustin (Barry Allen/The Flash), Candice Patton (Iris West-Allen) & Danielle Panabaker (Caitlin Snow)-starring The Flash. And in the process, we've learned a lot of interesting & personal details about the long-running Arrowverse series' past, what went into formulating the show's final run, and what could've been. Today, it's the "what could've been" theme that we're running with, and it's one that may not make Legends of Tomorrow fans too happy (especially with next month marking the one-year "anniversary" since the series finale). That's because "Legends" fans believe they were ripped off by The Powers That Be at The CW, depriving their series of a proper send-off (and it would be hard to argue that they're wrong). Over the past year, they've waged a campaign to get their heroes the ending they deserve… and that included pinning a lot of their hopes on The Scarlet Speedster's final season as a way of "backdooring" some kind of closure. But then, it was announced that Season 9 was being reduced to only 13 episodes, not leaving a lot of Arrowverse fans feeling too confident.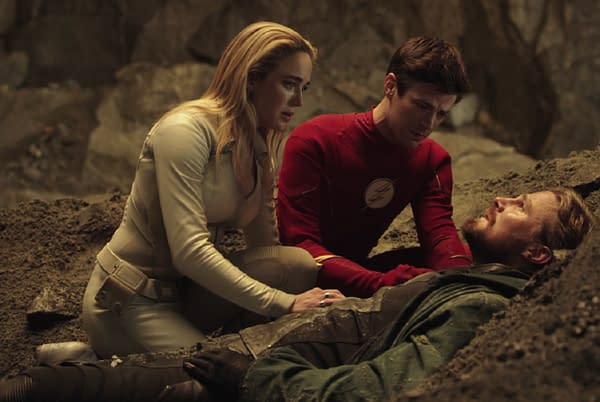 During an entertaining & informative interview with Swara Salih from The Nerds of Color (check it out here), Wallace confirms that the original plan was "to have at least one — if not a two-parter — that wrapped up 'Legends of Tomorrow.'" Unfortunately, the reduced episode count didn't leave Wallace & the writers enough "bandwidth" to finish telling the show's story and include the kind of Arrowverse involvement they were hoping for.
"There was originally when I had hoped that we'd had 20 episodes, but my original concept was to have at least one — if not a two-parter — that wrapped up 'Legends of Tomorrow," Wallace revealed. "And you know, there will be a little crossover we get them back, we get them out of time jail, all these good things, Booster Gold, etc., etc. When we found out we only have 13 episodes, that was no longer possible. We barely have enough time to wrap up things with Barry and Iris' upcoming family, let alone who is Danielle Panabaker playing now, so there wasn't enough time. So unfortunately, we're not going to be able to wrap up the 'Legends' storyline, which I know is very disappointing to the fans. It's disappointing to me. But we just don't have the bandwidth."
The Flash S09E01, S09E02 & S09E03 Overviews & More!
The Flash Season 9 Episode 1 "Wednesday Ever After": SEASON PREMIERE – Barry (Gustin) creates a map book to guide him and Iris (Patton) throughout their future in order to keep her safe, but the results are not what he expected, and instead, they relive the same day over and over again. Joe (Jesse L. Martin) has a heart-to-heart with Cecile (Danielle Nicolet). A new big bad is introduced to Team Flash, and friends and foes, old and new, begin to descend upon Central City. Vanessa Parise directed the episode with the story by Eric Wallace and teleplay by Thomas Pound & Sarah Tarkoff.
The Flash Season 9 Episode 2 "Hear No Evil": NEW KID IN TOWN – Barry (Gustin) feels guilty for what happened to Caitlin, and Mark (Jon Cor) comes up with a plan which makes everyone skeptical. Meanwhile, Red Death looms in Central City and commands that failure is not an option. Joe (Martin) asks Cecile (Nicolet) to make a choice which leads Cecile to think about the greater good. Allegra (Kayla Compton) and Chester (Brandon McKnight) take a step in a new direction. Lastly, old friends pay an unexpected visit to S.T.A.R. Labs. Eric Wallace directed the episode written by Jonathan Butler & Kristen Kim.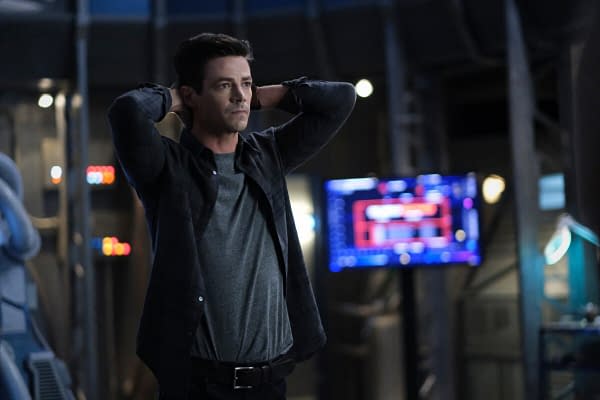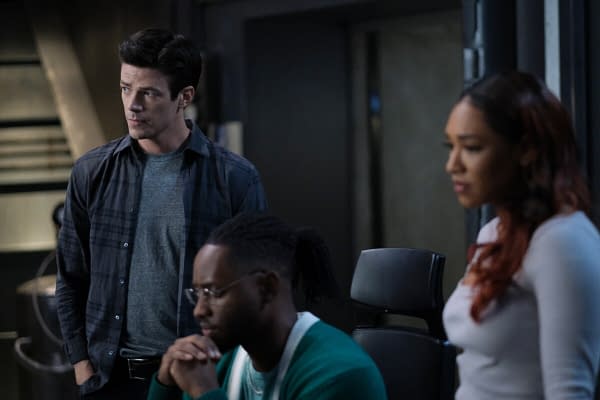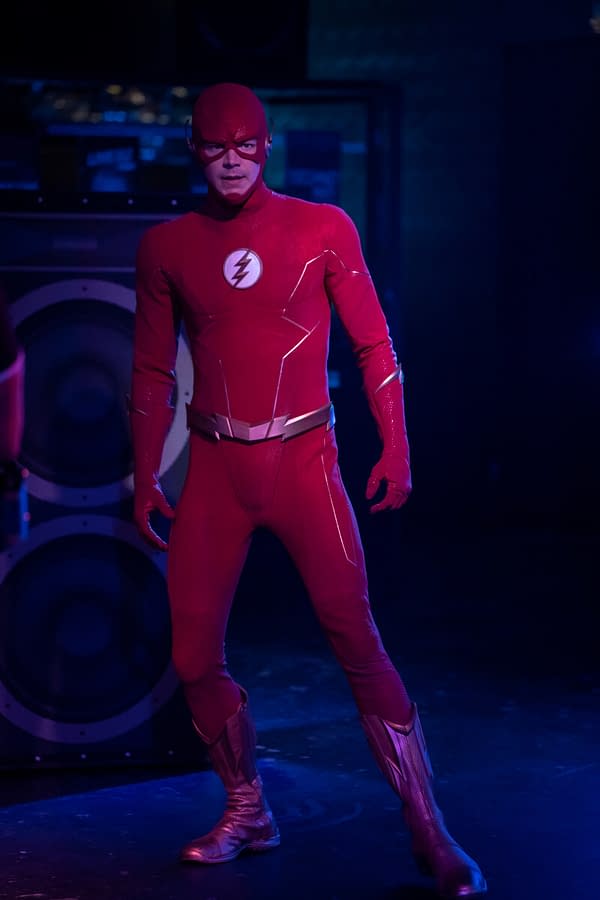 The Flash Season 9 Episode 3 "Rogues of War": ON THE MOVE – Barry (Gustin) and Iris (Patton) start to put together the pieces of what's happening in Central City and believe they know what the Rogues are after. Team Flash works together and recruits some unlikely allies to help, and the plan does not go as Team Flash expects. Meanwhile, Allegra (Compton) does her best to avoid having a conversation with Chester (McKnight). Brenton Spencer directed the episode, with a story by Sam Chalsen and written by Jeff Hersch & Jess Carson.
After defeating the Reverse Flash once and for all, the 13-episode Season 9 picks up one week later following their epic battle, and Barry Allen (Gustin) and Iris West-Allen (Patton) are reconnecting and growing closer than ever before. But when a deadly group of Rogues descends on Central City led by a powerful new threat, The Flash and his team – Caitlin Snow (Panabaker), Meta-Empath Cecile Horton (Danielle Nicolet), the light-powered meta Allegra Garcia (Kayla Compton), brilliant tech-nerd Chester P. Runk (Brandon McKnight), and reformed cryogenics thief Mark Blaine (Jon Cor) – must once again defy impossible odds to save the day. But as The Rogues are defeated, a deadly new adversary rises to challenge Barry Allen's heroic legacy. And in their greatest battle yet, Barry & Team Flash will be pushed to their limits to save Central City one last time.
Joining the cast for the show's final run are Javicia Leslie (Ryan Wilder/Batwoman), Nicole Maines (Nia Nal/Dreamer), Keiynan Lonsdale (Wally West/Kid Flash), David Ramsey (John Diggle/Spartan), Sendhil Ramamurthy (Ramsey Rosso/Bloodwork), Stephen Amell (Oliver Queen/Green Arrow), Rick Cosnett (CCPD Det. Eddie Thawne), Matt Letscher (Eobard Thawne(s)/Reverse-Flash), and Jessica Parker Kennedy (Nora West-Allen/XS).