Earlier today, actress Emilia Clarke published a pretty detailed piece via The New York Times, where she revealed her brush with death during the first season of Game of Thrones. It's a harrowing read, and it's nigh impossible to imagine the terror that came with the situation.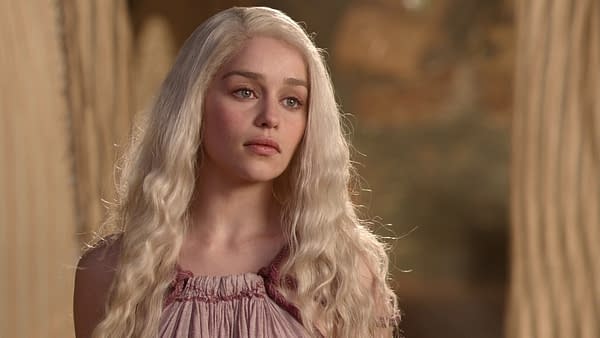 Ever the epitome of grace and professionalism, Clarke also in the same piece, explained her audition experience and how she landed the role of Daenerys Targaryen with the help of the Funky Chicken and Robot dances:
In the spring of 2010, my agent called to say that auditions were being held in London for a new HBO series. The pilot for "Game of Thrones" had been flawed and they wanted to re-cast, among other roles, Daenerys. The part called for an otherworldly, bleached-blond woman of mystery. I'm a short, dark-haired, curvy Brit. Whatever. To prepare, I learned these very strange lines for two scenes, one in Episode 4, in which my brother goes to hit me, and one in Episode 10, in which I walk into a fire and survive, unscathed.

I read for "Game of Thrones" in a tiny studio in Soho. Four days later, I got a call. Apparently, the audition hadn't been a disaster. I was told to fly to Los Angeles in three weeks and read for Benioff and Weiss and the network executives. I started working out intensely to prepare. They flew me business class. I stole all the free tea from the lounge. At the audition, I tried not to look when I spotted another actor––tall, blond, willowy, beautiful––walking by. I read two scenes in a dark auditorium, for an audience of producers and executives. When it was over, I blurted out, "Can I do anything else?"

David Benioff said, "You can do a dance." Never wanting to disappoint, I did the funky chicken and the robot. In retrospect, I could have ruined it all. I'm not the best dancer.

As I was leaving the auditorium, they ran after me and said, "Congratulations, Princess!" I had the part.
Thinking about both Clarke's and the character's journey over the past several years is it's own measure of awe and respect, for sure, and one we'll be sad to see end this year. Game of Thrones 8th and final season is set to premiere on HBO on April 14th, 2019.
Enjoyed this article? Share it!