Less than three months after its fourth season wrapped, The Last Kingdom has learned that it will be returning to Netflix for a fifth season. Series star Alexander Dreymon and more from the cast posted a video to social media on Tuesday revealing the green light for a 10-episode return (similar to the previous two seasons). Based on Bernard Cornwell's "The Saxon Stories," the series (originally a BBC Two series until the third season) follows Uhtred of Bebbanburg (Dreymon), a warrior born a Saxon but raised as a Dane, in ninth and tenth-century England. Uhtred becomes an unlikely ally of King Alfred of Wessex (David Dawson) and his family as the king seeks to unite all the kingdoms of England under one ruler as Vikings continue ravaging the country.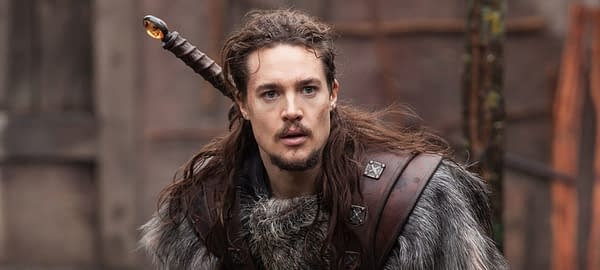 Created by Stephen Butchard, The Last Kingdom will focus its Martha Hillier-written fifth season on the books "The Warriors of the Storm" and "The Flame Bearer," which sees Uhtred realizing his destiny lies beyond just Bebbanburg: it is tied to the future of England itself. Charged with training King Edward's first-born son Aethelstan as a warrior, Uhtred's ambition will have an even higher purpose. But to achieve this destiny, Uhtred will have to face down his greatest enemy and endure his greatest loss. Emily Cox, Ian Hart, Eliza Butterworth, Arnas Fedaravičius, Mark Rowley, Millie Brady, Timothy Innes, Eva Birthistle, Jeppe Beck Laursen, Toby Regbo, Finn Elliot, Ruby Hartley, James Northcote, and more, starred in the series' fourth season. Butchard executive produces along with Nigel Marchant, Gareth Neame, and Jessica Pope. Carnival Films is set to produce, with the series distributed by NBCUniversal Global Distribution.
View this post on Instagram
For Marchant, the news speaks volumes for the series' growing global support: "We are really proud of 'The Last Kingdom,' which continues to entertain audiences all over the world. We had such a tremendous response to the last season, so are thrilled to be bringing it back for season five on Netflix. With such a loyal fanbase, we're excited to give viewers a chance to follow Uhtred on the next stage of his quest."
Enjoyed this article? Share it!