'The Last Kingdom': Season Four has Started Filming, Coming to Netflix in 2020
The Last Kingdom, the now-Netflix produced fantasy drama based on the historical novels by Bernard Cornwell, has started filming its forth season. The show has three excellent seasons already on the streaming service, whose first two seasons were produced by BBC Two before Netflix took it over solely starting with season 3.
The series follows Uhtred of Bebbanburg (Alexander Dreyman), a legendary warrior born a Saxon and raised by Vikings. He struggles with his allegiances to both worlds, while fighting not just to unite England, but reclaim his home. Season four will debut on Netflix in 2020, and the synopsis sounds pretty epic for this one. ALSO SPOILERS FOR THOSE NOT CAUGHT UP FULLY BELOW!: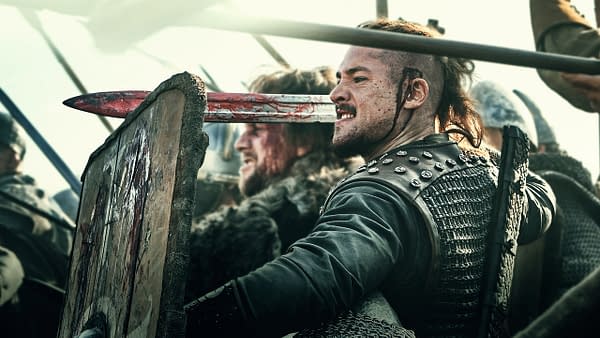 Alexander Dreymon reprises his role as Uhtred, joined by new cast Stefanie Martini (Doctor Thorne, Prime Suspect 1973) who takes on the role of Eadith, Aethelred's new love conquest, and Aethelred's new right-hand man Eardwulf, played by Jamie Blackley (The Halcyon, If I Stay).

After the death of Alfred, the alliances between the kingdoms are fractured. Uhtred believes the timing is right to challenge his uncle Aelfric, played by Joseph Millson (Casino Royale, Banished), and take back his ancestral home, Bebbanburg. However fate shifts in a different direction, leading Uhtred to realise that his destiny is tied to Alfred's dream of a united land. This, and Uhtred's feelings for Aethelflaed, drive him back into the politics that threaten to break out into war.

Returning cast include Ian Hart (Father Beocca), Toby Regbo (Aethelred), Emily Cox (Brida), Timothy Innes (Kind Edward), Eliza Butterworth (Aelswith), Mark Rowley (Finan), Millie Brady (Aethelflaed), Magnus Bruun (Cnut) and Jeppe Beck Laursen (Haesten).

The Last Kingdom is written by Martha Hillier, and executive produced by Gareth Neame, Nigel Marchant and Jessica Pope with Vicki Delow producing. The series is produced by Carnival Films. Season 4 will launch on Netflix globally in 2020. It will be released at a later date across Africa, Belgium, China, Greece, Israel, Italy, Middle East, the Netherlands, the Nordics and Poland. The series is distributed worldwide by NBCUniversal International Distribution.