It's been no mystery that Disney+'s live-action Star Wars spinoff series The Mandalorian has been having a good run of things, especially when you consider the COVID-19 world we've all been living in over the past several months. With series creator Jon Favreau confirming the second season's October premiere, it appears fans have Rosario Dawson, Timothy Olyphant, Temuera Morrison, Katee Sackhoff, and Michael Biehn to look forward to, with Favreau, EP Dave Filoni, Peyton Reed (Ant-Man), and Robert Rodriguez (Sin City) helming episodes and Extraction director Sam Hargrave on hand as second unit director to boost the action levels to a Spinal Tap-loving "11."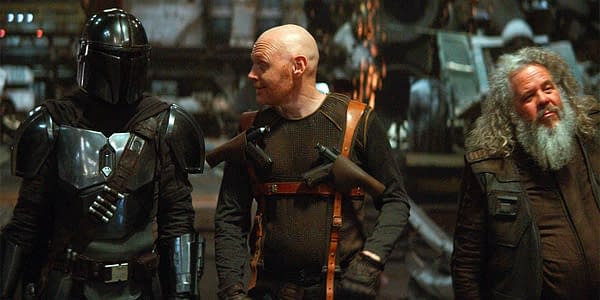 Unfortunately, one name that doesn't look to be returning with the series this fall is Bill Burr. The actor/comedian earned strong buzz among the fans for his portrayal of Mayfeld, mercenary and crew leader who tries to betray The Mandalorian (Pedro Pascal) and even worse? He drops The Child! Surprisingly, our anti-hero allows Mayfeld to live (though locking him aboard that prison transport could be considered a close second), which would leave him ripe for a return. Unfortunately, it doesn't look like that's in the cards (unless he's pulling a serious spoiler cover move). Speaking with Vulture in support of the newest season of Netflix's animated F Is for Family and his role in Pete Davidson's The King of Staten Island, Burr was asked if another run on the Disney+ series (or AMC's Better Call Saul) was in the cards. It's not: "No, none of that. Once these two things [King of Staten Island, F Is for Family] come out on the same day, the well is dry. I got nothing. So we shall see."
Set between the events in Return of the Jedi and The Force Awakens, showrunner Favreau and Dave Filoni's (The Clone Wars) The Mandalorian takes place after the fall of the Empire and before the emergence of the First Order and follows a lone gunfighter in the outer reaches of the galaxy far from the authority of the New Republic. Disney+'s The Mandalorian stars Pedro Pascal, Gina Carano, Nick Nolte, Giancarlo Esposito, Ming-Na Wen, Carl Weathers, Emily Swallow, Omid Abtahi, Werner Herzog, Taika Waititi, Bill Burr, and Mark Boone Jr. star.
Enjoyed this article? Share it!