"The Mandalorian": Kuiil's Never Met a Mandalorian… But He's Read the Stories [PREVIEW]
The Walt Disney Company is looking to keep the streaming momentum as Disney+ gears up for its November 12 launch. While the new service is expected to have 10 original series on launch, all eyes are on the first live-action Star Wars television/streaming series, Jon Favreau's The Mandalorian. With only days to go, viewers are getting a first-look
Earlier this week, viewers got their first-look at Ming-Na Wen's (Marvel's Agents of S.H.I.E.L.D.) brutally-successful assassin Fennec Shand.
Thanks to the fine folks at Vanity Fair and a great profile they presented on Wen and the series, we have a new teaser that introduces Shand as well as an official image (both below). Following the teaser and promo image, Wen gives fans some clues as to what to expect from Shand and as well as what it's like to work in the Star Wars universe (and make sure to check out the full article here):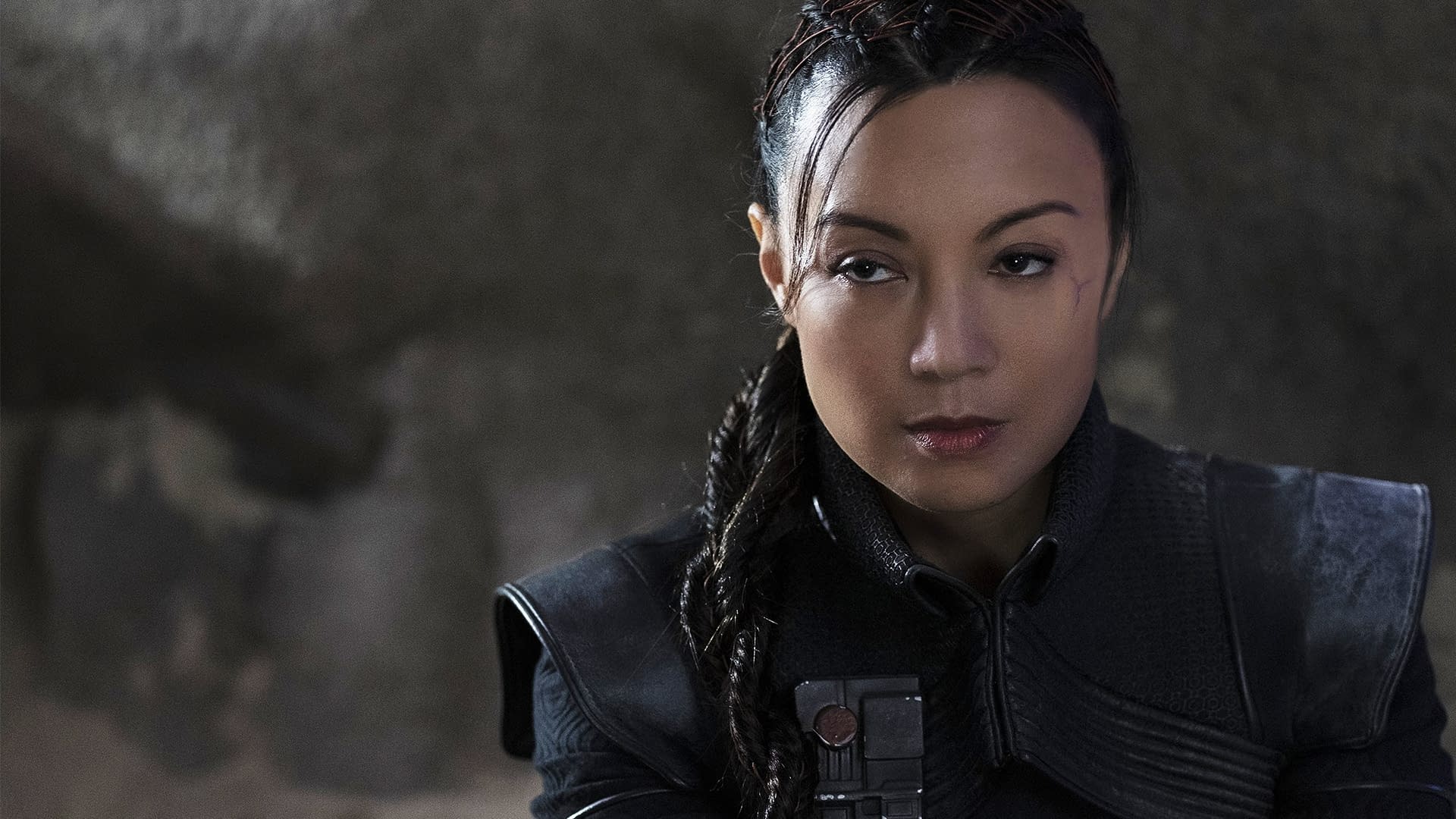 ● On the "animalistic" nature of the name:
"We got our inspiration really from the name. The idea of a fennec fox came to mind. She's tricky, and yet she's able to maneuver and survive, and be stealthy—so very graceful and agile. I just love that whole image with the name."
● Like any self-respecting assassin, Shand has a backstory to tell… just don't think you're getting it any time soon:
"It will evolve, it will change. I mean, I think that's what's so wonderful about creating a new character. I think she has a good sense of humor about it all as well, which is also fun. You can't really pinpoint which direction she's going to go."
● Wen's connection to the Star Wars universe goes back years and was very personal to her:
"It's definitely a film that has had such an impact in so many people's lives, including my own. As an Asian kid in Pittsburgh, and especially in Mount Lebanon, sometimes you feel very alone and very isolated. And I think for me, with Star Wars, I connected so much with Luke having these dreams and wanting something bigger and better than being a little farmer in Tatooine. Just that image of him looking at the binary suns and wishing for more, it always stays with me."
● Wen also had a major influence on Shand's final look:
"At first, the idea was maybe just have her hair be loose, unkempt kind of thing. And I thought, Well, she's going to be wearing a helmet and she's this stealth assassin. How great would it be if her hair has a bit of the fennec fox architecture to it? So the hairstylist came up with this great braiding system, that just gives an idea of these triangular points. Like her ears."
With that look comes some promised major fire power:
"She has quite a few weapons because she's a very skilled fighter. Just her body is a weapon in and of itself. And she does carry…a big, big gun. A big boy."

Earlier, the cast shared their reaction to seeing the trailer for the first time: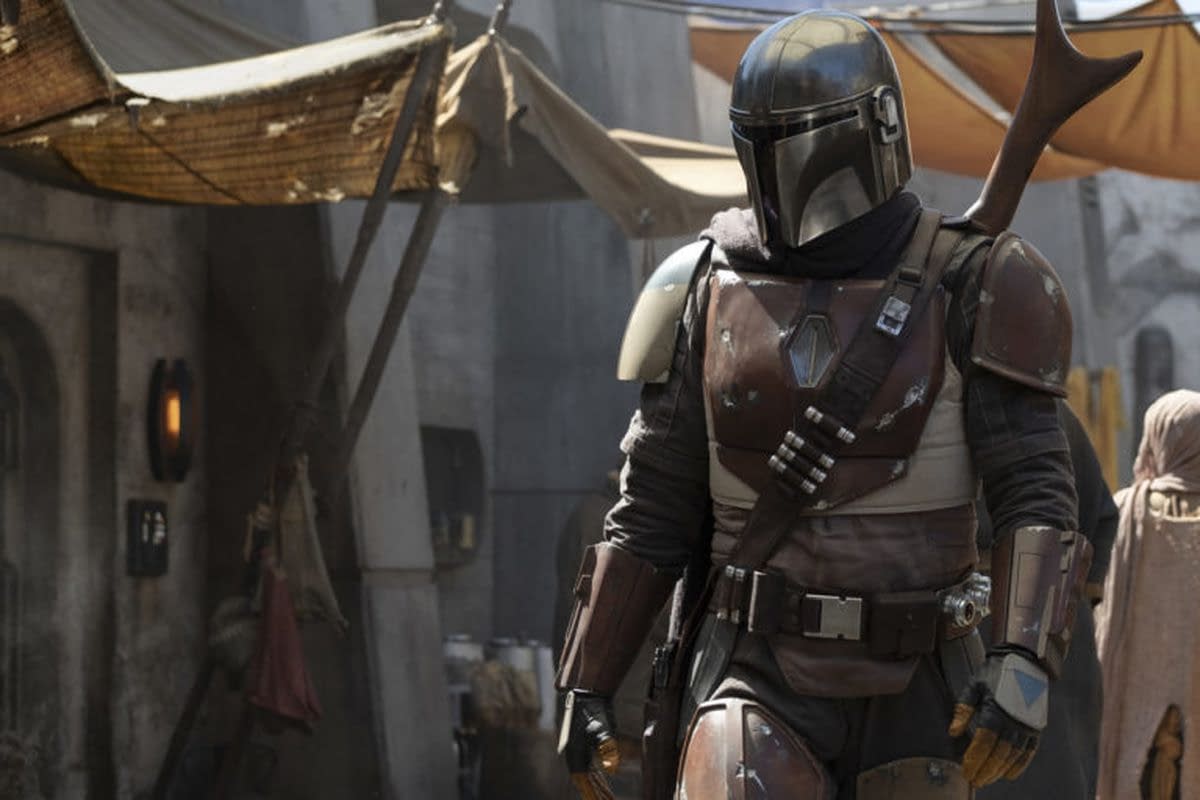 ● In a profile of the streaming service, The New York Times revealed that a "dramatic Star Wars-universe spoiler" will happen in the series opener:
"The Mandalorian, which contains a dramatic Star Wars-universe spoiler in the first episode and will be available the moment Disney Plus starts, has been as heavily promoted as a traditional feature film, with billboards, 30-second television commercials, radio spots, and digital ads."
● Maybe that might explain the next news, then: in order to keep "any surprises and plot twists" from being spoiled, advance screeners will not be made available before the series premiere. Translation? Sites like Bleeding Cool won't be able to give you a "yay" or "nay" about the series until it drops – which we're guessing is also a pretty good way to avoid any potential pre-premiere critical reviews that could hurt launch day traction.
Asking for a friend…
Here's a look at the recently-released character profile key art for the series: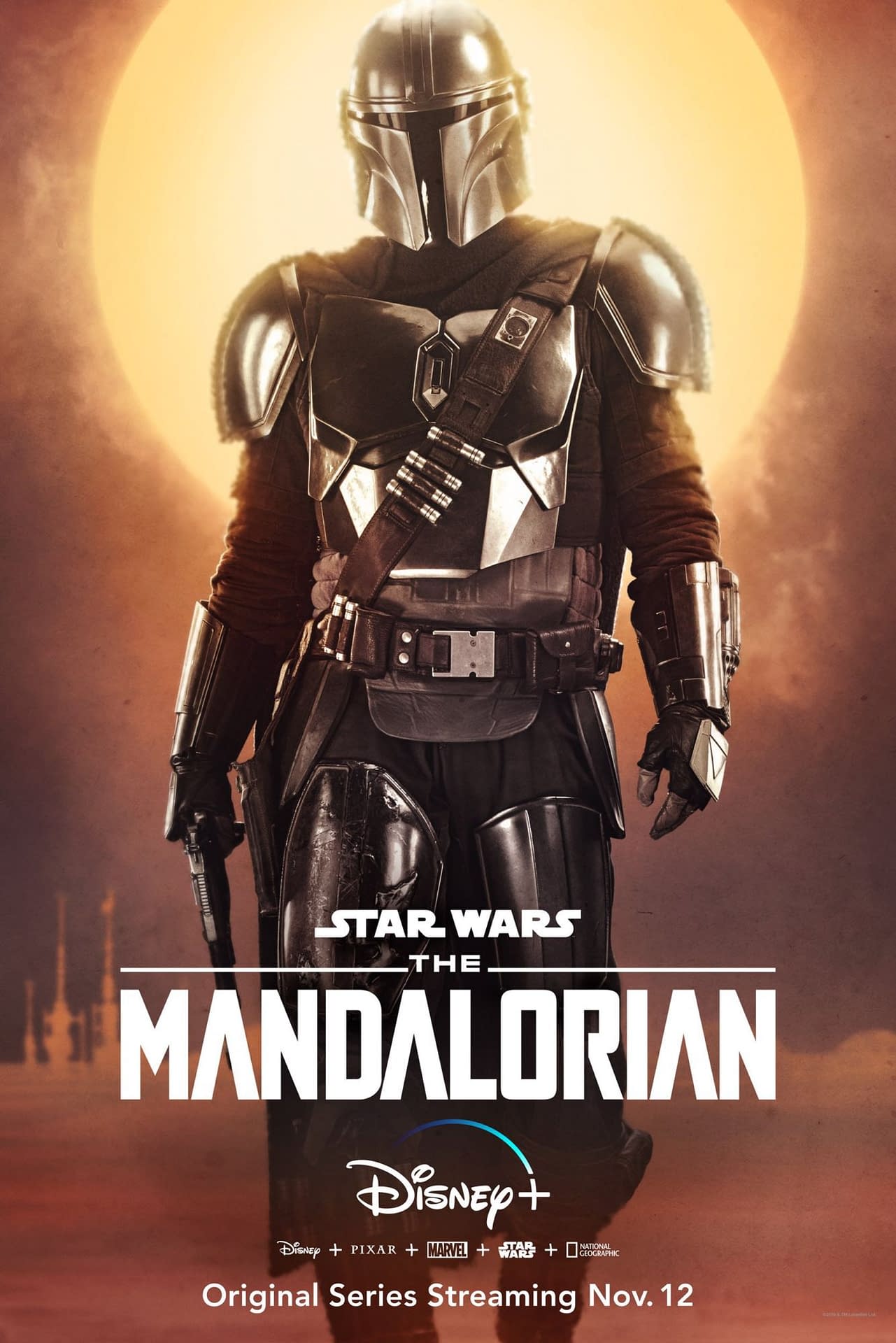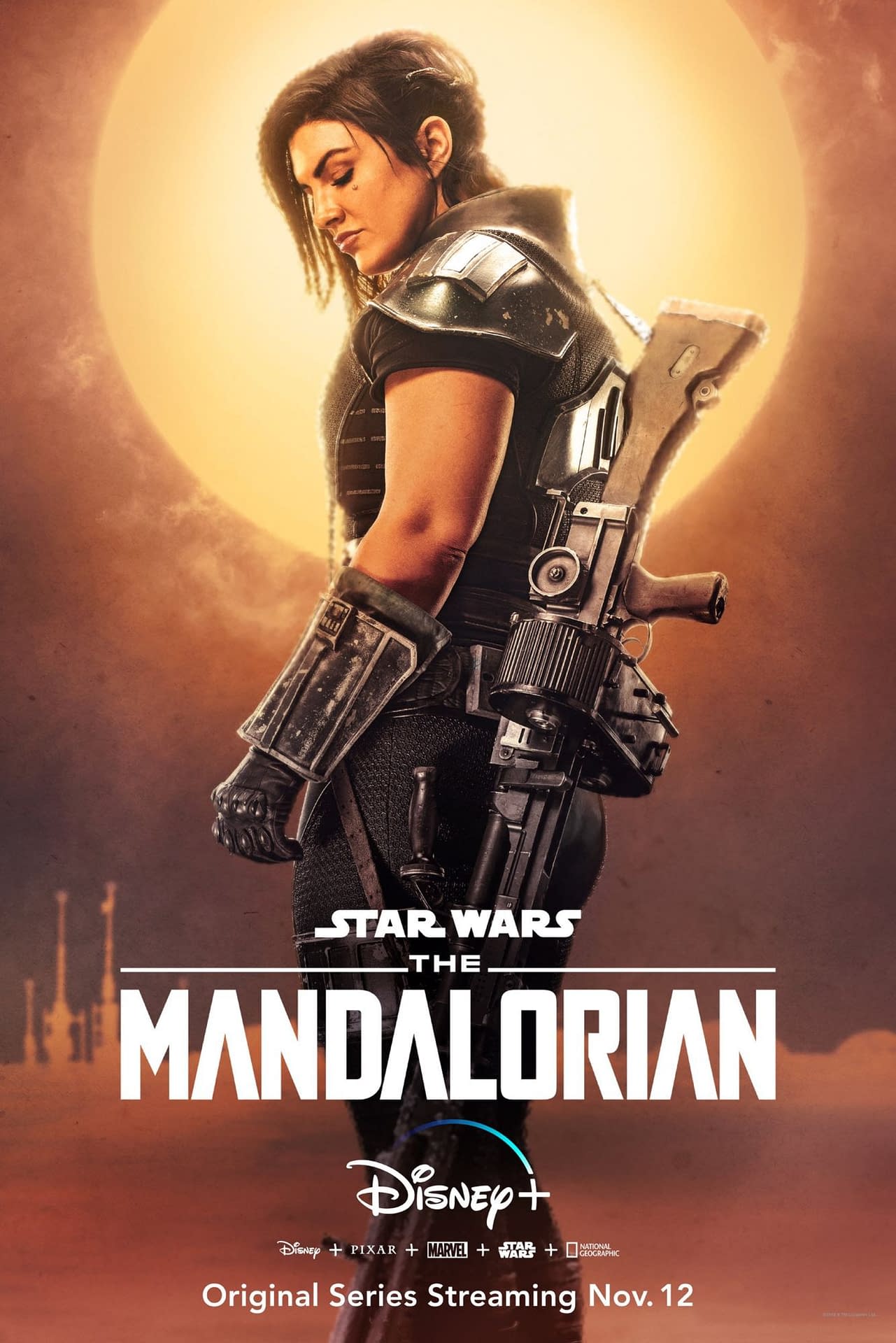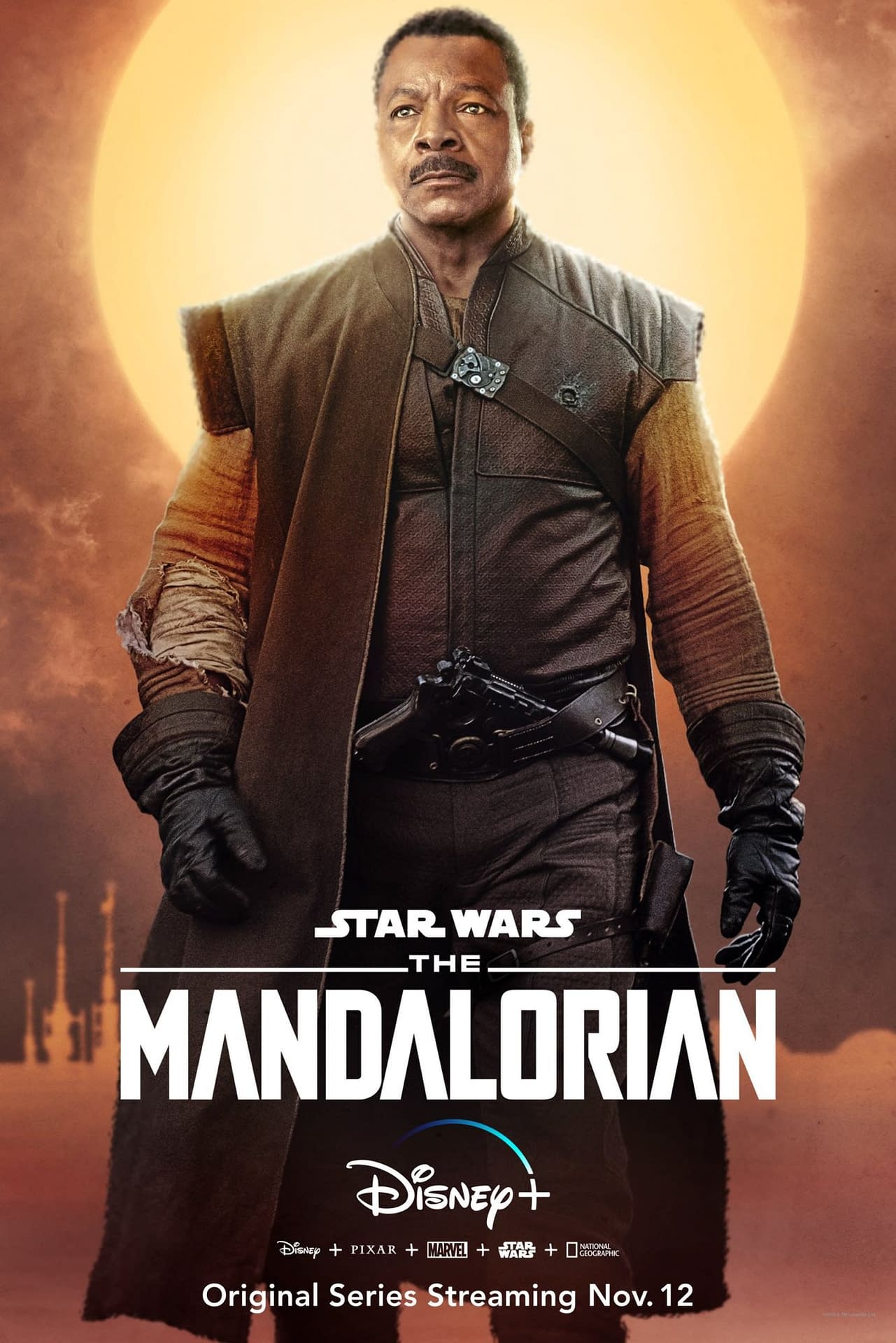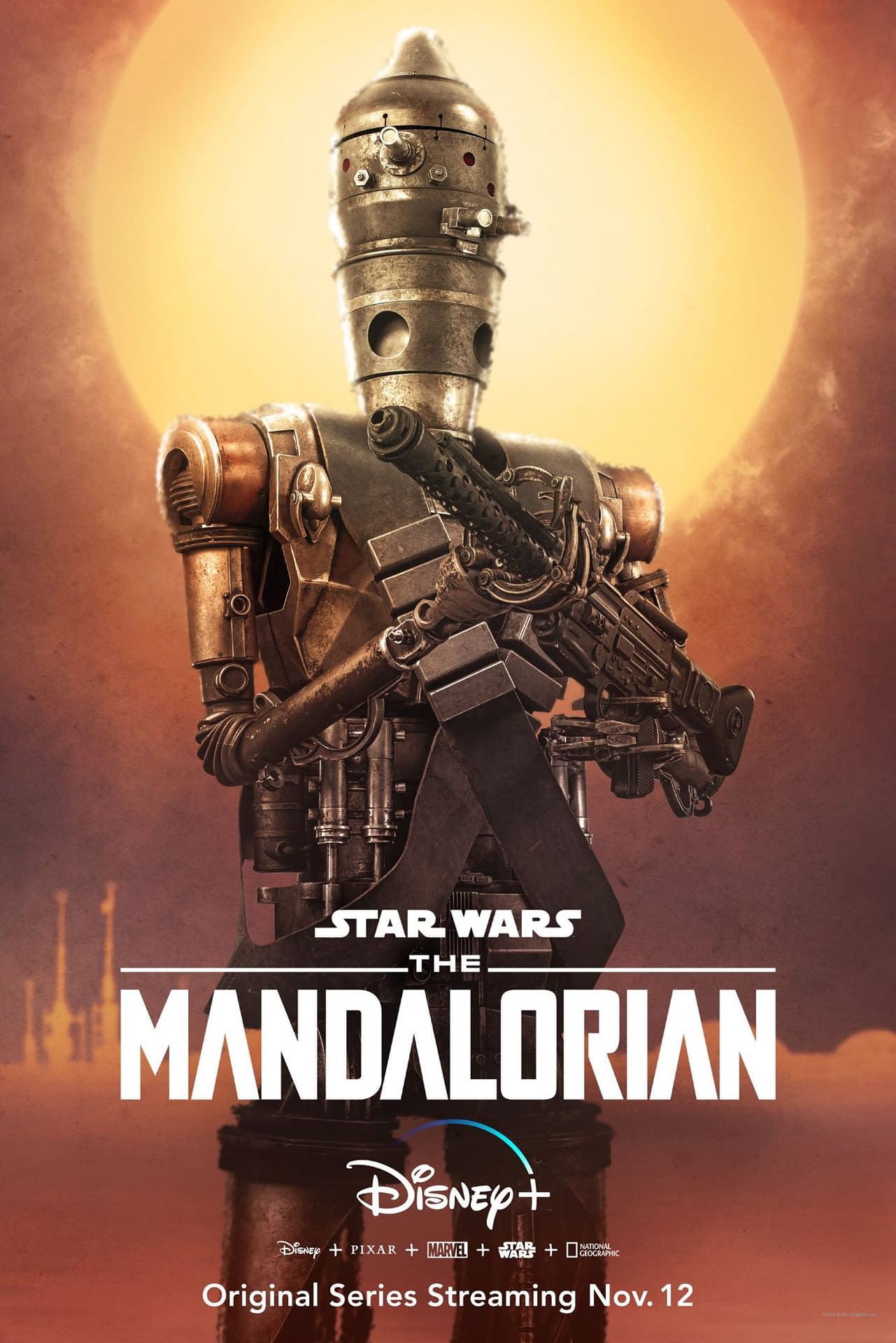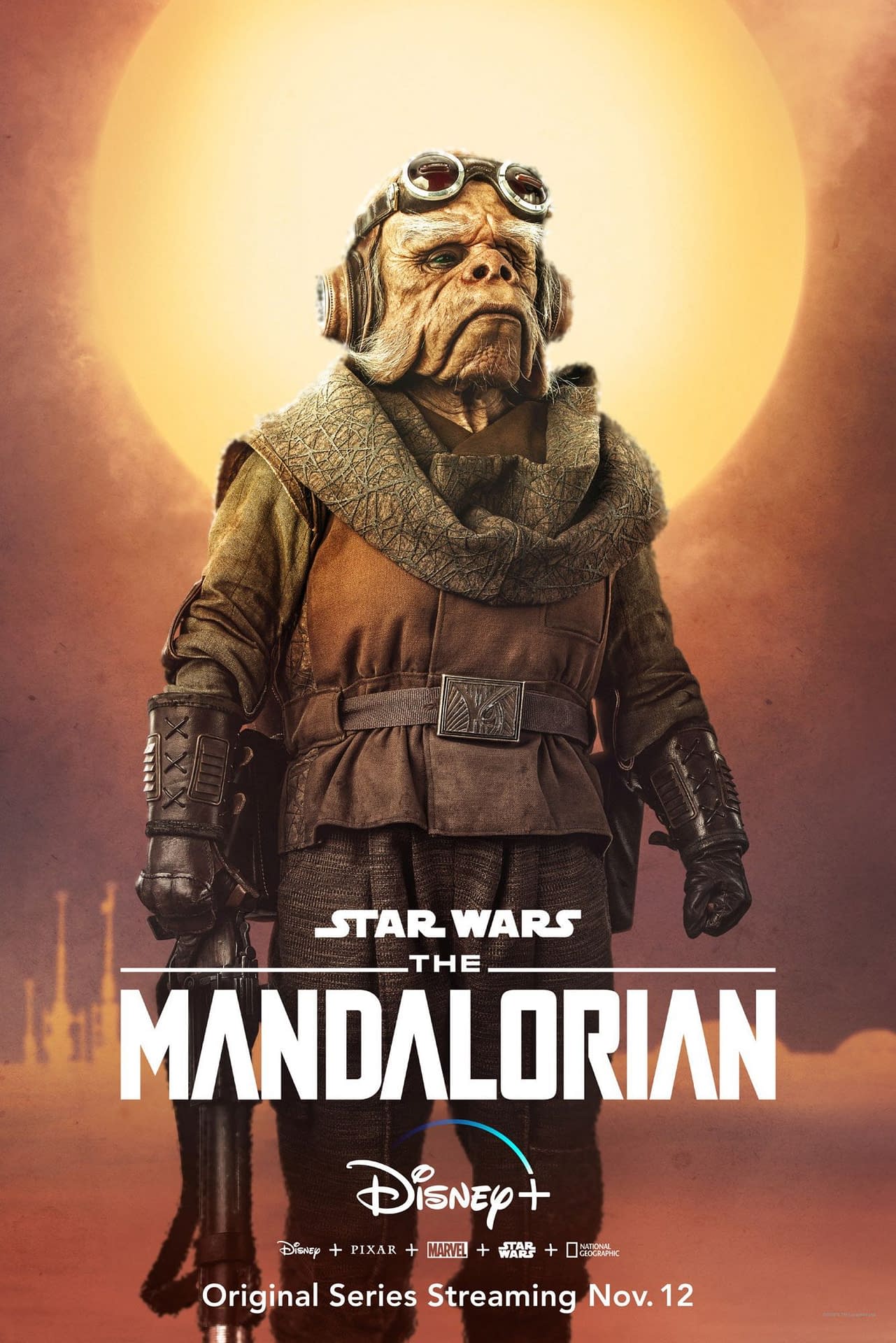 If Disney "big cheese" Bob Iger is to be believed (not that he's not trustworthy – it's just that the show is coming from his company sooo…), fans have every right to be excited by what they've seen so far.
Why? Because he's screened the first episode – and from what's being reported by The Hollywood Reporter, it sounds like the reported $15M per episode budget was more than worth the investment:
"[There's] nothing like it on the air. If you're going to do a live-action Star Wars series, this is the way to do it."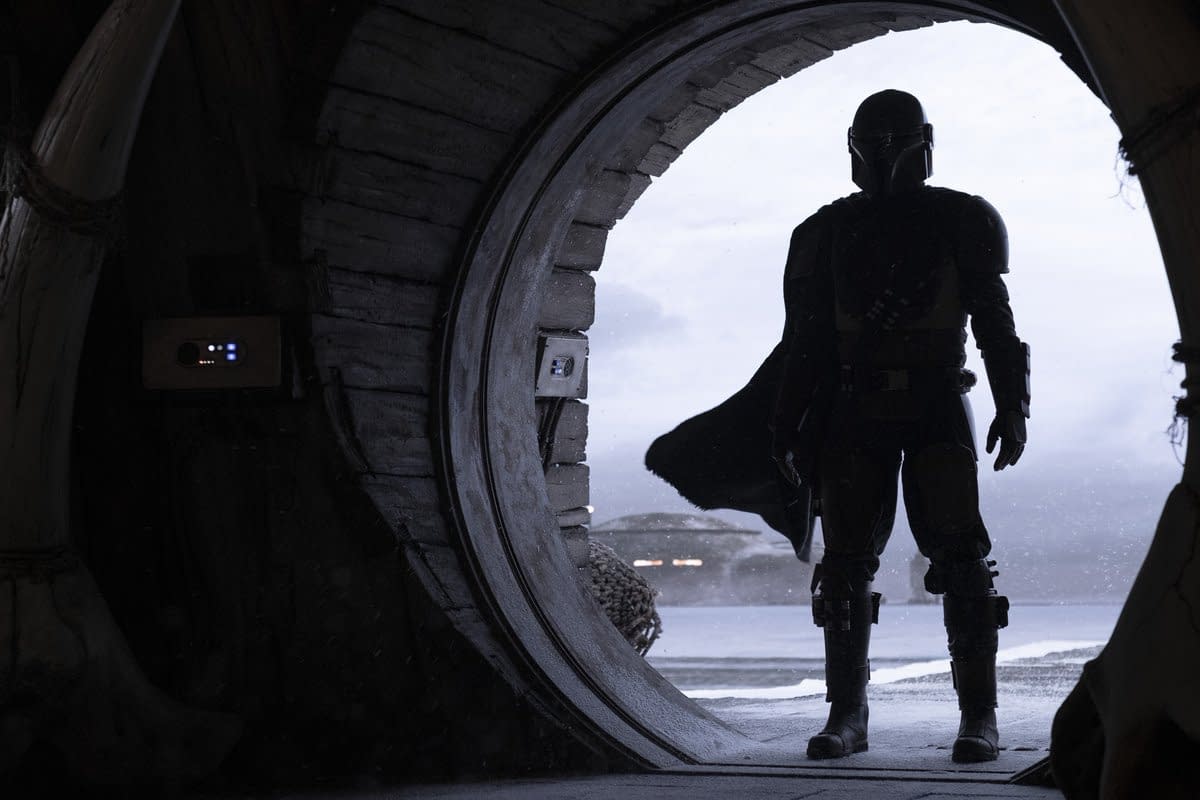 Set between the events in Return of the Jedi and The Force Awakens, the drama from showrunner Favreau (The Lion King) and Dave Filoni (The Clone Wars) takes place after the fall of the Empire and before the emergence of the First Order and follows a lone gunfighter in the outer reaches of the galaxy far from the authority of the New Republic.
Pedro Pascal, Gina Carano, Nick Nolte, Giancarlo Esposito, Ming-Na Wen, Carl Weathers, Emily Swallow, Omid Abtahi, Werner Herzog, Taika Waititi, Bill Burr, and Mark Boone Jr. star – and here's a look at what's in store:
Here's a look back at the upcoming series' official panel from Star Wars Celebration 2019, where momentum for the series really began to build: