The Not-Too-Late Show with Elmo: Preview HBO Max's Late-Night Take
HBO Max is getting into the late-night talk show business, and they actually found a way to do it without a white guy named "Jimmy". Okay, so maybe it's more "not too late" than late-night. In fact, it's The Not-Too-Late Show with Elmo, set to launch with the streaming service on Wednesday, May 27 – but you don't have to wait that long because we have the first episode ready for your eyeballs' approval below. In the free preview premiere episode, the Jonas Brothers appear as both guests and the musical act before knocking out "Brushy Brush" to remind everyone to brush before bed (hey, it's still primarily a kid's show). The first three episodes of The Not-Too-Late Show with Elmo will be available on HBO Max at launch, with new episodes rolling out once a week starting Thursday, June 4.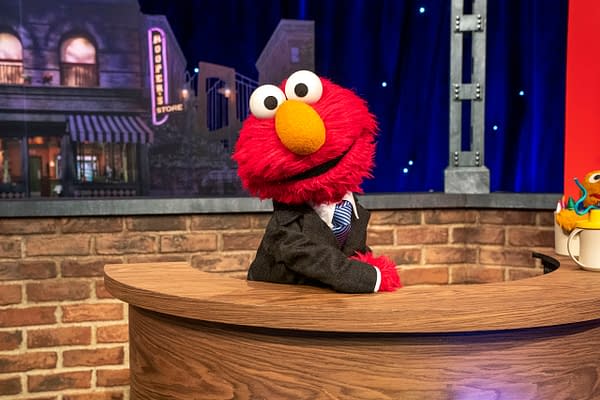 With sidekick Cookie Monster, stage manager Rosita and his own house band, Elmo welcomes an exciting lineup of guests to entertain audiences with music, games, and fun. Don't think for one second that the guests aren't lining up for a little couch time, either. Schedule to appear are John Mulaney and Olivia Wilde getting competitive with tricycle races and a teddy bear dress-up competition; Jonathan Van Ness giving out "monster makeover"; visits from Jimmy Fallon, Hoda Kotb, John Oliver, and Andy Cohen to offer Elmo hosting advice (though with Fallon, probably asking for some tips on more hard-hitting questions); and performances from Lil Nas X, Dan + Shay, H.E.R., the Jonas Brothers, and more as they put their spins on some very familiar songs. Best part? They get to hang around and help Elmo get ready for bed: putting on his pajamas, brushing his teeth, and choosing the right bedtime story.
Sesame Workshop is the nonprofit educational organization behind Sesame Street, the pioneering television show that has been reaching and teaching children since 1969. Today, Sesame Workshop still stands as an innovative force for change, with a mission to help kids everywhere grow smarter, stronger, and kinder. The organization is present in more than 150 countries, serving vulnerable children through a wide range of media, formal education, and philanthropically-funded social impact programs, each grounded in rigorous research and tailored to the needs and cultures of the communities they serve.