The Rookie Season 5 Ep. 16 Preview: Comparing Valentine's Day Notes
With a new episode only hours away, here's a Valentine's Day-themed preview for ABC's Nathan Fillion-starring The Rookie S05E16 "Exposed."
---
With the team facing a nasty combination of a militia group named the Army of Freedom, a mobile drug lab that's become a ticking time bomb, and a potential Ebola exposure, tonight's episode of ABC's Nathan Fillion-starring The Rookie isn't exactly lacking in action & drama. But did we also mention that it's Valentine's Day… and it's Lucy (Melissa O'Neil) & Tim's (Eric Winter) first. Which would explain why he seems a bit on edge in the following sneak preview for tonight's chapter. Of course, that whole "mobile drug lab" might also have something to do with feeing a little impatient regarding V-Day small talk…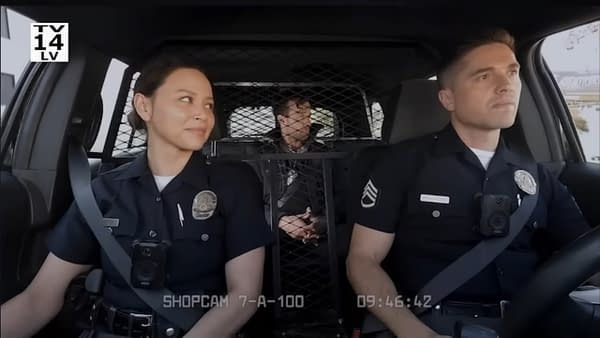 Here's a look at a sneak preview for this week's episode of ABC's The Rookie S15E16 "Exposed," followed by a look back at the overview, promo, and sneak preview that were previously released. But before we get to that, just a quick heads-up that S05E17 is (ominously) titled "The Enemy Within" and is listed for February 28th (though there is still no official overview yet).
The Rookie Season 15 Episode 16 "Exposed" Overview & Preview
The Rookie Season 5 Episode 16 "Exposed": The team must stop a militia from detonating a highly combustible truck in their possession. Meanwhile, Officers Nolan (Nathan Fillion), Thorson (Tru Valentino), Juarez (Lisseth Chavez), and Detective Harper (Mekia Cox) search for three men who may have been exposed to Ebola and detain them for quarantine.
The series stars Nathan Fillion as John Nolan, Mekia Cox as Nyla Harper, Alyssa Diaz as Angela Lopez, Richard T. Jones as Sergeant Wade Grey, Melissa O'Neil as Lucy Chen, Eric Winter as Tim Bradford, Shawn Ashmore as Wesley Evers, Jenna Dewan as Bailey Nune and Tru Valentino as Aaron Thorsen. Alexi Hawley is a writer and executive producer. Fillion, Mark Gordon, Michelle Chapman, Jon Steinberg, Bill Norcross, Bill Roe, and Brynn Malone are executive producers on the series. Entertainment One (eOne) is the lead studio on The Rookie, a co-production with ABC Signature.