The Rookie: So Did An Acting Studio's IG Post Just Confirm Season 6?
With Season 5 returning next week, we're trying to figure out if an acting studio just confirmed a sixth season of ABC's The Rookie.
---
With a week to go until ABC's Nathan Fillion-starring The Rookie returns with S05E18 "Double Trouble," there's still a question that fans would like answered sooner rather than later. Is the series coming back for a sixth season? Normally, considering how the series performs and its passionate fanbase, my natural reaction would be, "Of course!" But these are weird television times that we live in, so nothing is certain until it's "certain" in the form of an official announcement (and lately, even that can change for a show). But we came across a post on Instagram from an acting studio congratulating Dave Kumar (STARZ's Shining Vale, Hulu's How I Met Your Father) for "booking his role in the upcoming season" of the series. Whoah. Wait a minute. Does "the upcoming season" mean Season 6? It has to – except for one thing that has us arching our collective single eyebrows. Kumar appeared in an episode during this season before the end of the year. So now, we're wondering…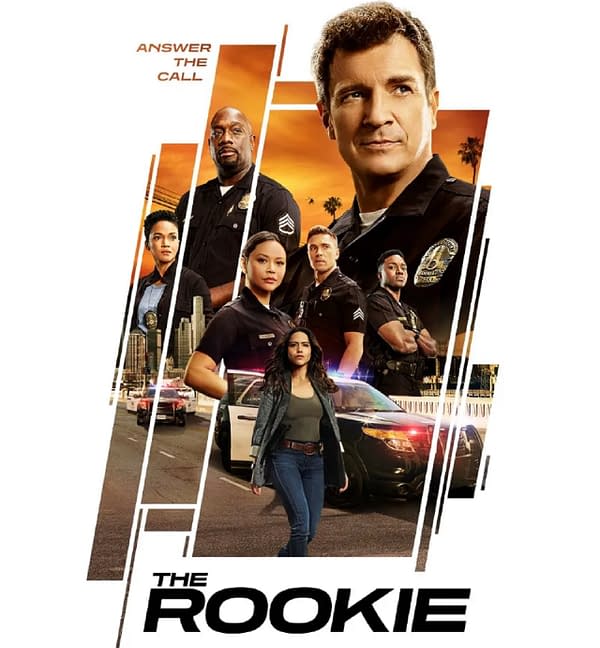 "Congrats to [Dave Kumar] on booking his role in the upcoming season of [ABC's The Rookie]!!!" read the caption to the Instagram post shared by acting studio Stan Kirsch Studios. Now, considering the post went live on March 14, 2023, and Kumar's appearance in S05E09 "Take Back" was back in December 2022, either this post is coming in a little late, or they're breaking some casting news for a still-unannounced sixth season:
With the popular series set to return on March 21st, here's a look at the promo for S05E18 "Double Trouble," offering a "mockumentary" look at the team in action:
ABC's The Rookie stars Nathan Fillion as John Nolan, Mekia Cox as Nyla Harper, Alyssa Diaz as Angela Lopez, Richard T. Jones as Sergeant Wade Grey, Melissa O'Neil as Lucy Chen, Eric Winter as Tim Bradford, Shawn Ashmore as Wesley Evers, Jenna Dewan as Bailey Nune, Tru Valentino as Aaron Thorsen, and Lisseth Chavez as Celina Juarez. Alexi Hawley is the series creator, writer, and executive producer. Mark Gordon, Nathan Fillion, Michelle Chapman, Jon Steinberg, Bill Norcross, Bill Roe, and Brynn Malone are executive producers of the series. Entertainment One (eOne) is the lead studio on The Rookie, a co-production with ABC Signature.