The Three-Body Problem Ep. 8 Review: Suddenly, Everything Happens!
The Three-Body Problem Episode 8 adds new bits and a new character to Liu Cixin's original book to have the plot suddenly explode.
---
The eighth episode of The Three-Body Problem suddenly goes into overdrive with all kinds of things happening after several episodes where nothing happened. It's about time, frankly. To try to review it is to give a shopping list of all the things that happened. Several changes and additions were made to Liu Cixin's original story to keep things running, which some fans have objected to, but mostly viewers are happy with the new bits. You can watch the episode via link to Tencent's YouTube link.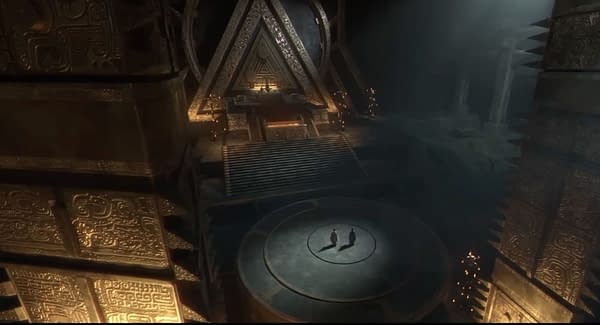 The Three-Body Problem: The Game's Endgame
Wang Miao's (Edward Zhang) first run in The Three-Body Problem VR game reaches its conclusion when three suns finally arrive in the sky and plunge the world into an apocalyptic ice age that destroys whatever civilization existed. The denizens all dehydrate their bodies to survive the end of the world, hoping to be revived when another stable era occurs. Wang Miao, Shi Qiang (Yu He Wei), and Xu Bingbing (Li Ze Hui) try to puzzle out what the point of the game is. They find out most of its players are scientists and intellectuals, many of them members of The Frontiers of Science. Xu Bingbing rounds out Wang Miao and Shi Qiang as the perfect foil that balances the two men out since she's savvier than the two of them and grounds them somehow. She even makes Shi Qiang more likable as his respect for her ability grows, and he expresses that in ways that are funny and very human. There's also a whole discussion about video game design and what it takes to make a game as data-intensive as The Three-Body Problem and why anyone would sink the expense and resources to do it.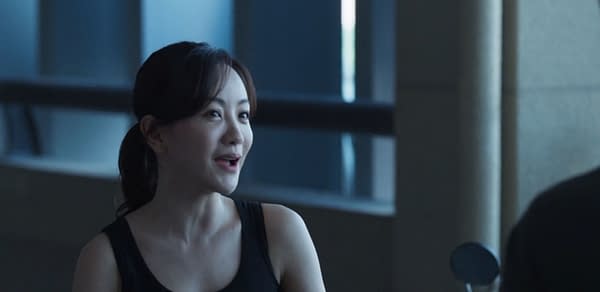 The Reporter Who's a Trope
Mu Xing (Yang Rong) is back stalking Shi Qiang, chasing a story on the Frontiers of Science. She tricks him into admitting he knows a lot more than what's been disclosed to the public about the scientists committing suicide, but even he's smart enough not to tell her anything. Mu Xing isn't in the book, but a new character was created for the TV series. She's a common trope: the reporter who's going to be a pain in the ass to the heroes, easily used by the bad guys to push their agenda. Pan Han (Johnny Zhang), a famous environmentalist and member of the Frontiers of Science, uses her to push an overtly polemical environmentalist message that's practically a Public Service Announcement to the audience about pollution and climate change.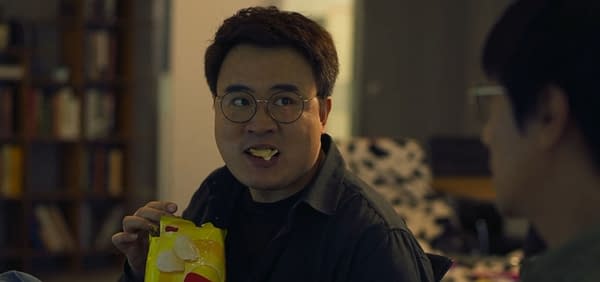 The Comic Relief Scientist
Sha Rui Shan (Kong Liang Shun), the astronomer at the observatory who witnessed the cosmic wayform fluctuation phenomenon with Wang Xiao, has become obsessed with trying to see if it can happen again. Kong Liang Shun plays Sha with a slapstick comic energy, full of nervous ticks like biting his thumb and perpetually stress-snacking. It's funny and sad as Wang Miao tells him the fluctuation won't happen again and watches Sha's disappointment. Sha has fallen into the rabbit hole of a scientist's narcissism, believing that scientists who make great discoveries are chosen ones, and is desperate to be one of them. Edward Zhang played Wang Miao's look of pity is priceless, especially since he couldn't tell Sha that the Frontiers of Science created the fluctuation for him alone. This is not the last time we'll see Sha Rui Shan. During the commercial break, the makers even shot an advert featuring him trying to recreate the flicker and becoming entranced by a TCL 4K flatscreen television. It's an expensive show and needs as many sponsors as possible. It's kind of fun that Tencent kept the commercials intact in their stream, so you feel like you might be watching a broadcast from China.
The Evil Plot Thickens
It's becoming clear that the Frontiers of Science isn't just a think tank but a cult, and possibly a global terrorist group, with a mysterious leader they call their "lord". All this is bad news, but Shi Qiang and General Chang don't have enough evidence to arrest any of them. They can't prove the dead scientists were murdered, but why would scientists kill themselves just because they were proven wrong? Scientists usually just pick themselves up and keep researching. Shi Qiang and General Chang (Li Yong Jian) figure out the dead scientists are all physicists who were making important discoveries, and their deaths are a loss to the future of humanity. Pan Han and Shen Yu Fei (Li Xiao Ran) give off a vibe that's so obviously Evil that it's a wonder anyone would go along with them at all.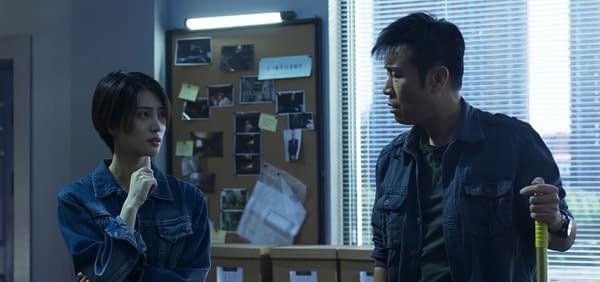 One of the most action-packed scenes in the episode is Shi Qiang and Xu Bingbing pushing Wang Miao to list all the scientists he met at the Frontiers of Science meeting. Shi egging Wang on like a toddler while Xu Bingbing looks on, deadpan, is hilarious and a character moment created for the show that off-sets the dryness of the book. When a disillusioned physicist throws himself out a window, General Chang decides to have the rest of the list taken into protective custody to prevent them from being influenced or coerced into suicide. This doesn't work – we finally see a hint that the suicides weren't necessarily voluntary. One of the scientists suddenly hallucinates lights and sparks that drive him so frantic that he throws himself face-first through a glass table.
The Frontiers of Science is now using Xu Ming as a useful idiot, tipping her off to the scientist's location so she can show up to film him being loaded into an ambulance and creating a conspiracy theory that might cause panic in the public. Shi Qiang, who had her under surveillance, catches her before she can livestream it and hauls her in for interrogation. Now he's pissed, and he's done being polite to her.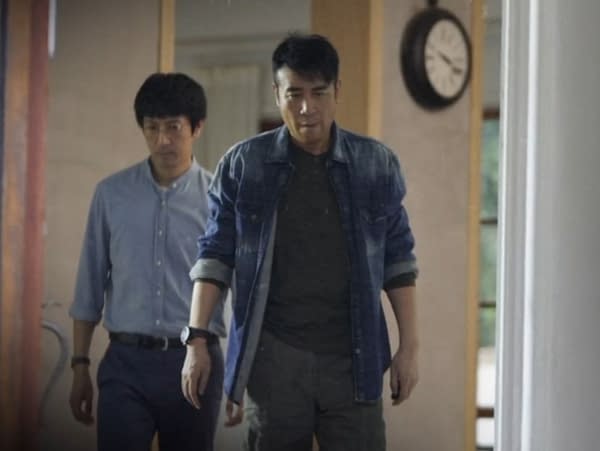 The Three-Body Problem's Propaganda Angle
The Three-Body Problem may be one of the most innovative new Science Fiction stories of recent years, but the TV series keeps the same pro-state, pro-government stance that all shows must support. The military and the police are good guys trying to protect society. Reporters are easily played because of their need for clickbait. Science is important, even if the notion that "Physics doesn't exist" is a misinformation campaign being waged by the bad guys as a commentary on fake news.
What the series does that no other show does is teach basic Theoretical Physics to the viewers whenever Wang Miao has to explore another aspect of science in his and Shi Qiang's investigation. What the show doesn't bring up is Heisenberg's Uncertainty Principle, which posits that the results of an experiment can be affected, even altered, by the people observing it, which seems to happen a lot. The series also takes a weirdly deterministic and fatalistic view of scientists where they commit suicide when their fundamental beliefs are proven wrong – if this were true in real life, there would be dead scientists all over the place. There's a hint that something deeper is going on that will hopefully pay off.
Episode 9 won't unlock for free until Sunday, so we won't be reviewing it till then.