The Three-Body Problem Episode 14: Dead Birds & Cold War Science
The Three-Body Problem Ep. 14 delves into Cold War science, politics, paranoia & dead birds falling from the sky in Science Grandma's past.
---
Episode fourteen of The Three-Body Problem has been unlocked to stream for free on Tencent's YouTube channel, so non-subscribers to their streaming service are experiencing the show at the same time as everyone in China who's watching it on broadcast television. This time we start going into Science Grandma's time at the Red Coast satellite base, where things get complicated… and interesting.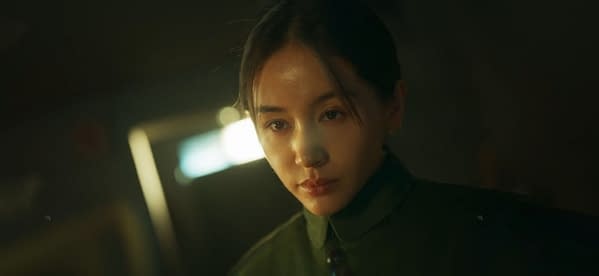 Young Ye Wen Jie (Wang Zi Wen) begins her time at Red Coast doing menial work cleaning the machines with a guard always accompanying her to make sure she doesn't sabotage them. Such is her and her family's reputation as enemies of the state. Her guard is actually a nice guy who can't believe someone as earnest and diligent as she would be considered a bourgeois counter-revolutionary. Things change when Ye sees the numbers on a computer she's cleaning are way off due to a glitch and reports it to Chief Engineer Yang Wei Ning (Tu Song Yan), so it can be fixed before the satellite's next transmission. Political Commissar Lei Zi Cheng (Zhang Fan), who initially objected to Yang pulling strings to get Ye out of imprisonment and almost certain death to work at the base, is extremely impressed with her. She's an astrophysicist with knowledge in computer science and mathematics, which enabled her to spot the computer's errors, making her an invaluable addition to Red Coast. Commissar Lei has been going crazy with Liu, the Head of Transmission, who should have caught the error but whom Lei feels is incompetent and slacking. Yang is reluctant to give Ye any more responsibility, but Lei insists on promoting her to Head of Maintenance.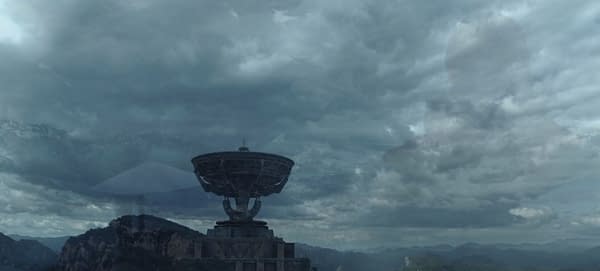 The Three-Body Problem Talks Lots of Science Again
This is an episode heavy in information and exposition. There's a lot of Science in it, but it's tied to the drama of the odd triangle of Ye, Yang, and Lei. The Three-Body Problem, in staying faithful to Liu Cixin's novel and keeping the pace slow, is finally paying off. You really need to stop and hear what's being explained. It's not just dry exposition about Science – all of it is grounded in the hidden agendas of Yang, Lei, and the Party, and Ye being kept in the dark. Lurking underneath Red Coast is the creeping serpent of politics, always threatening to burst out and eat them all, something Yang and Lei are acutely aware of, and even Ye can sense, but not as much as they do. The image of hundreds of dead birds falling out of the night sky is the aptest metaphor for the state's coldly ruthless pursuit of power.
Cold War Weapons
When one of the nightly satellite transmissions fails, Ye tries to report a fault she found in the maintenance reports and discovers that Liu had originally identified the fault in his daily report but crossed it out. Yang is unsurprised. Ye realizes that Liu is not lazy or incompetent but is deliberately negligent. And Yang is completely aware of this. Liu hates being at Red Coast and is doing everything passive-aggressive to rebel short of outright sabotage. Commissar Lei storms in, frustrated at the latest failure, and insists that Ye be promoted to Head of Transmission, replacing Liu. Yang isn't happy about that, but Lei reminds him that Red Coast must produce real results.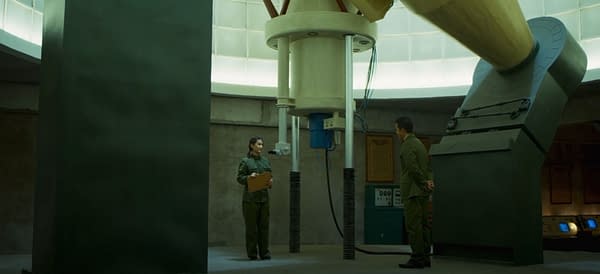 When Lei finds Ye applying to upgrade the outdated equipment at Red Coast, he takes her more into his confidence and tells her what the project is really about. The satellite transmissions every night are test firings of concentrated microwave beams – which explains why hundreds of birds fall dead from the skies during firing every night – designed to destroy the enemy's spy satellites. This being the Cold War, the enemy here is the West, specifically the Americans. Now he's brought her to the inner circle of the workings of Red Coast. She's happy to be useful and work. Yang isn't happy about any of this for reasons that will become clear later. Suffice it to say, Lei's story about Red Coast being a weapon is a cover story, and Yang's relationship with Ye becomes chillier.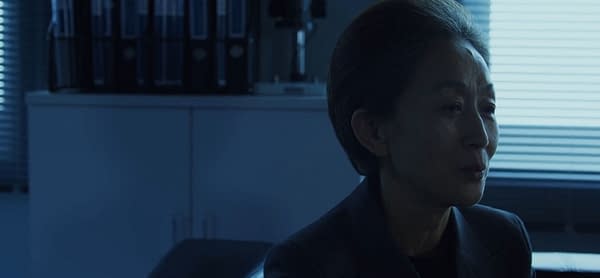 Wang Miao (Edward Zhang) asks the elder Ye, aka Science Grandma, what the real mission was since that's still classified. She tells him that's a story for another day. Ye had been willing to spend the rest of her life at Red Coast, so what happened in the intervening decades that saw her back in civilian life as a university professor and mother, then a retired old lady who tutors and babysits the local kids? Those answers will have to wait as well.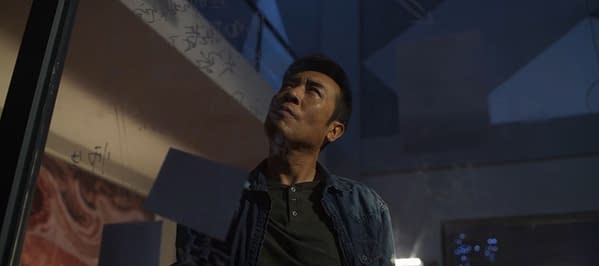 Lots of Clues, But Still Not Enough
Wang reports to Shi Qiang (Yu He Wei) and Xu Bing Bing (Li Ze Hui). Shi Qiang thinks Science Grandma is pivotal to the investigation. She's been uncommonly calm over her daughter Yang Dong's (He Du Juan) death. She seems to have been subtly guiding Wang Miao in his quest for answers, giving him tips on The Three-Body Problem and inviting him to ask her questions. Red Coast Chief Engineer Yang Wei Ning's family name is the same as Yang Dong's, so was he her father? When Xu Bing Bing shows Wang Miao a paper on flying stars and celestial bodies to help his research into The Three-Body Problem game, he realizes that Ye quoted a book called Stellar Structure and Evolution extensively (it's a real book, by the way), the same book she recommended to him before. Now he will have to read it as part of the investigation. To Shi Qiang, Science Grandma is the lynchpin of the whole case.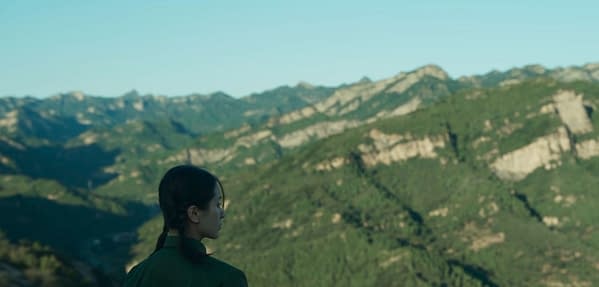 Wang Zi Wen: MVP of the Hour
The episode belongs to Wang Zi Wen as Young Ye Wen Jie. She says very little and keeps her face as still as possible, as befits a character trying not to reveal too much since the last time she trusted a man, he sold her out and brought her a death sentence. It's remarkable that Wang can achieve the same expression in her eyes as Chen Jin as the elderly Ye, aka Science Grandma, so the two of them convince us they're playing the same person. They both have that faraway look that Ye Wen Jie has when she gazes into the distance, thinking about the future. Exactly what that future remains the mystery to be solved.
The Slow Pace in The Three-Body Problem Finally Works
The first ten episodes of The Three-Body Problem could have been better at half that count, but episode fourteen is the first where the script concentrated on character, and information over pace makes the most sense. Only British television drama in the 1970s dared to spend entire episodes on character more than plot. No Western television show would do that now for fear of losing viewers, especially if it's on Netflix.