The Walking Dead CCO Scott M. Gimple on Animated, Miniseries Interests
When does the ending of a series not quite feel like the ending of a series? When you're AMC's The Walking Dead and you're the foundation for a franchise that includes on the television side two spinoff series (Fear the Walking Dead, The Walking Dead: World Beyond), and at least (???) two spinoff series after it ends its run with the upcoming 11th season (Daryl/Carol spinoff, Tales of the Walking Dead). The series isn't even going out on a light note, currently filming the six "extra" episodes that will bridge the 10th and 11th seasons before starting on a massive 24-episode final season. So when you're the chief content officer for TWDU like Scott M. Gimple is, your days are never boring- and we didn't even mention the Rick Grimes film(s), video games, books, etc.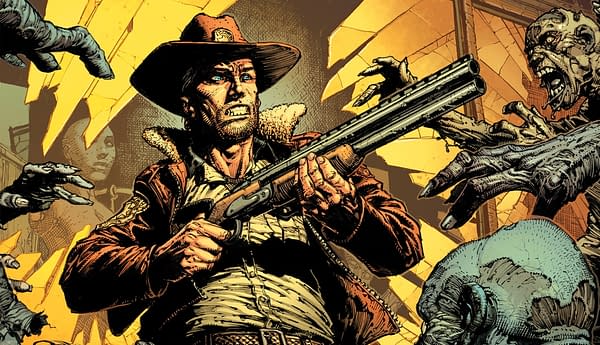 But holding a title as Gimple does, you don't have the luxury of just thinking about now (or even 2022 when TWD wraps up) when you're looking to expand the franchise into new ways of storytelling. For example, in a recent interview with THR, Gimple revealed that they're looking at how best to use the miniseries format, and that there's one currently being worked on that he's feeling really good about. "We're also looking at miniseries and how that can work; six-episode series that are just six episodes. And whether those are folded into Tales of the Walking Dead, whether they stand on their own," he explained. "There's one that we're working on right now that I absolutely love, and one of the Walking Dead writers is working on it, and it's amazing. It is just also a question of just how much we can do at once and what the need is over the next two years."
Another avenue of storytelling that Gimple sounds really high on is animation, and it sounds like TWD creator Robert Kirkman's upcoming foray into animation with his series Invincible could be the blueprint for bringing walkers to animated life. "I will say that one thing I'm looking at hard is animation. I mean, Robert [Kirkman] has a lot of talent around that ["Invincible"], so that's one-stop shopping for me," Gimple explained. "Matt [Negrete] and I actually come from animation. We worked initially together in animation back in the day. And then we also went to college together. … But I mean, Invincible is going to be a really interesting thing to see. Hourlong animation? And the comic is fun, but it's not a comedy and it gets super dark and dramatic, regularly. So I can't wait for that. And Kirkman might lead the way on that too. It may lead us right back to a 'Walking Dead' animated series."