For those of you who were planning your evening around Donald Trump's "Fake Media Awards", that's been moved to Wednesday. But there are still some good options if you're a fan of rock 'n' roll, football, antiques, or are still catching up on the Arrowverse shows. If you tune into the news, you'll find the top story for now is Oprah Winfrey's Golden Globes speech, which has folks buzzing about her running for President in 2020. The idea of a Oprah vs. Trump election sounds like something a science-fiction writer would've come up with in the late 1990s… maybe someone did. Anyway, lets check the schedule for our five things to watch on TV today.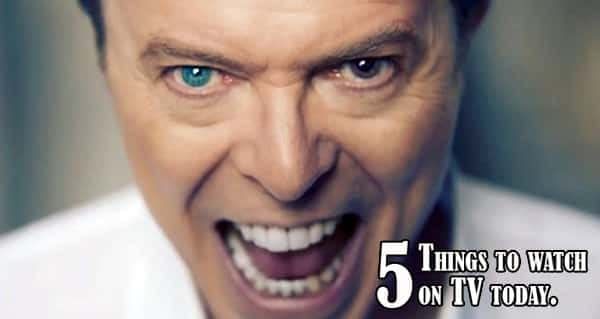 Just yesterday someone was telling me how much they miss David Bowie. If you're like them, then you might want to tune in to HBO tonight and watch David Bowie: the Last Five Years. The 95-minute documentary focuses on the late music icon's return to the spotlight over the last five years of his career. The premiere coincides with what would be his 71st birthday. The first airing is at 8 p.m. ET on HBO.
Over on PBS at 8 p.m. is the start of the 22nd season of Antiques Roadshow. The show debuted in January of 1997 and is based on the British version, which has been going for 40 years. The season kicks off in Harrisburg, Pa. with an emotional appraisal nearing $300,000.
This next one is actually two… if you haven't seen the Crisis on Earth-X crossover event for Arrowverse, the CW will be playing them again this week prior to the shows return next week. Tonight, starting at 8 p.m. is the Supergirl portion of the event that includes the attempted wedding of Barry Allen and Iris West, the introduction of the Reichmen, and the evil doppelgangers of some of our heroes and an important cameo for later in the season. That is followed up by Arrow at 9 p.m. with the second part as things go from bad to worse and the real reason the Reichmen are there is revealed.
And finally, for college football fans there is the BCS National Championship game starting at 8:15 p.m. on ESPN. And, of course, there will be a lot of build up shows prior to the game. It should prove to be a very exciting championship as the Alabama Crimson Tide take on the Georgia Bulldogs, live from the Mercedes-Benz Stadium in Atlanta. In a unique twist, both teams are from the SEC, which makes it even more interesting as they know each other pretty well.
Enjoyed this article? Share it!