'Titans' Season 2: Minka Kelly Catches Alan Ritchson Behind the Scenes [VIDEO]
Fans of DC Universe's live-action Titans series have one thing going for them between seasons that fans of a lot of other series don't: a cast that loves to hit up social media with some fun behind-the-scenes looks. Case-in-point: Minka Kelly (Dawn Granger / Dove), who took to Instagram last week to offer a brief yet revealing look at just how unglamorous the entire filming process can be – with unexpected "guest star" Alan Ritchson (Hank Hall / Hawk) along for the ride:
Here's a look at who will be joining Kelly and Ritchson when the second season of DC Universe's Titans premieres (hopefully) in late 2019:
● After decades of fighting crime as Batman, Iain Glen's (Game of Thrones) billionaire Bruce Wayne is just as driven to protect Gotham from evil as he was in his prime. Needing to reconcile his relationship with Dick Grayson, the duo hope to forge a new dynamic as Bruce tries to help his former sidekick and the Titans achieve success.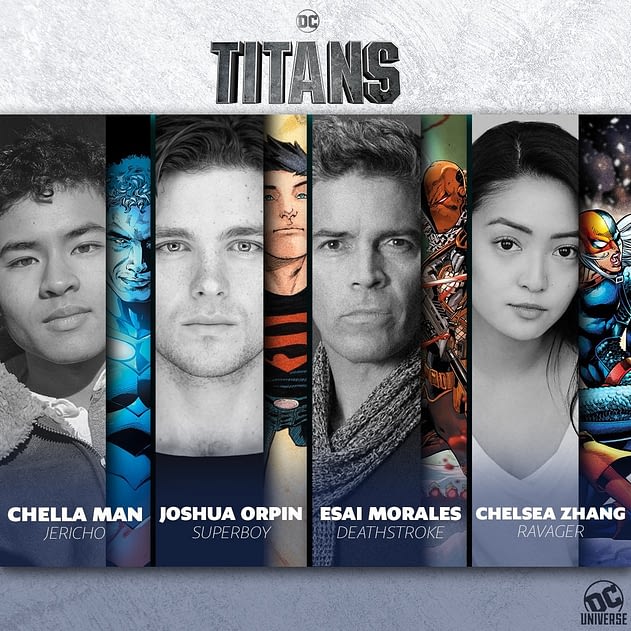 ● Esai Morales' (Ozark) Slade Wilson is known for being DC's deadliest assassin. While serving his country, Slade became an elite soldier before government testing enhanced his physiology to near superhuman levels, putting him on a path of darkness and revenge. To his family, Slade is a father and husband, but to the rest of the world, he is feared by many as the infamous Deathstroke; selling his services to the highest bidder as the ruthless assassin that never gives up and never misses.
● Daughter of the deadly assassin Deathstroke, Chelsea T. Zhang's (Andi Mack) Rose Wilson was forced to undergo the same procedure that granted her father nearly superhuman abilities, becoming a weapon known as Ravager. Ever resentful, she seeks out the Titans not only for their protection but to get back at her father. Knowing how dangerous it is to be the offspring of their deadliest foe, the Titans take her in but that doesn't necessarily mean they trust her.
● Mute after his father failed to rescue him from having his vocal cords severed by assassins, Chella Man's (YouTube influencer/activist) Jericho has the unique ability to possess anyone just by making eye contact.
● Joshua Orpin's (The Blake Mysteries: Ghost Stories) Conner Kent/Superboy is the angsty teenager of steel searching for purpose and the truth about his past. While looking for answers, he crashes into the world of the Titans where he finds an unlikely home and surrogate family as well as revelations that carry more complications than he ever bargained for.
DC Universe's Titans stars Brenton Thwaites (Richard "Dick" Grayson / Robin), Anna Diop (Koriand'r / Kory Anders / Starfire), Teagan Croft (Rachel Roth / Raven), Ryan Potter (Garfield "Gar" Logan / Beast Boy), Minka Kelly (Dawn Granger / Dove), Alan Ritchson (Hank Hall / Hawk), Curran Walters (Jason Todd / Robin), and Conor Leslie (Donna Troy / Wonder Girl).