AEW President Tony Khan is cleaning up the pro wrestling business, and he's starting with one of the industry's biggest problems: kidnapping. Last night on AEW Dynamite: Fyter Fest Night 2, AEW suspended Big Swole for her kidnapping of Britt Baker on Dynamite a few weeks ago. Swole stole the golf cart Baker's wheelchair was parked on and drove it to a nearby dumpster, throwing Baker inside. As a result, she was sent home from Daily's Place on Wednesday Night.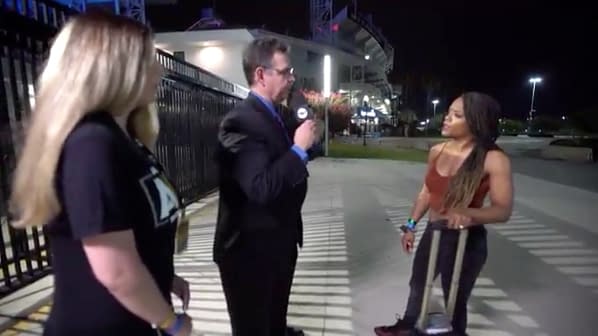 Once the order was delivered, Tony Khan took to Twitter to make his and AEW's, position on the matter clear. You can't kidnap people in wrestling. "As we just informed @SwoleWorld on #AEWDynamite via formal letter, Big Swole has been suspended from AEW for kidnapping Dr. Britt Baker," Khan tweeted. "Wrestlers can't kidnap each other. We asked Swole to go home to cool off. Swole's an important member of our team, and we'll see her back soon."
Khan's proclamation is a bombshell since kidnapping has been a significant part of pro wrestling for decades. The Dark Order has engaged in kidnapping in AEW in the very recent future. In rival wrestling organization WWE, even WWE executive Stephanie McMahon has been kidnapped. Twice! And the second time, she married her kidnapper!
If Tony Khan wants to get the kidnapping out of wrestling, he's going to have some work ahead of him, and that was obvious on Dynamite last night when Big Swole didn't even wait an hour before ignoring her suspension and returning to Dynamite to assault Britt Baker again. Baker walked away from the situation with a broken nose, but it was Tony Khan's authority that was truly injured.
Tony Khan was willing to be flexible in his definition of kidnapping, insisting that what Lance Archer does isn't quite the same thing. "Lance Archer assaults people and then throws them at or around the ring. That's different. This is wrestling. You have to draw the line somewhere, but assault isn't it," he tweeted. Swole and Khan got into a debate about the subject on Twitter, with Swole wondering, "So Britt can throw hot coffee in my face and nothing is done….ok Tony! #SuspendThatTrickToo." Khan responded, "Fair enough on the coffee, but take away the kidnapping, which we can't condone, and then I thought the coffee was offset by the garbage (twice) + then using your credential and an #AEW facemask to get back into the building under false pretenses, so I'd say call it even on that."
Tony Khan's position is firm. But will the wrestling world be willing to give up one of its most time-honored traditions? That will remain to be seen.
Enjoyed this article? Share it!