True Detective Season 3: Mahershala Ali's Timeless Search for Truth (TRAILER)
With only a month to go before its premiere, HBO's True Detective is giving fans a disturbing look at the scope of the third season's crime ("all the fatalities") with the second official trailer for the anthology series. Set to premiere on Sunday, January 13, at 9 p.m. ET/PT, the eight-episode season follows Academy Award Winner Mahershala Ali's (Moonlight) Detective Wayne Hays over three time periods as he struggles to get to the truth behind a haunting series of crimes. Joining Ali this season are Stephen Dorff, Carmen Ejogo, Mamie Gummer, and Scoot McNairy.
https://youtu.be/RZP6t1FmVO8
TRUE DETECTIVE Season 3 tells the story of a macabre crime in the heart of the Ozarks, and a mystery that deepens over decades and plays out in three separate time periods. Mahershala Ali stars as Wayne Hays, a state police detective from Northwest Arkansas. Carmen Ejogo and Stephen Dorff also star. Created by Nic Pizzolatto.
Due in part to the three distinct time periods that the season's narrative takes place in, the third go-around for True Detective boasts an eclectic mix of creative minds behind the camera. Series creator Nic Pizzolatto will make his directorial debut this season, while The Leftovers' Daniel Sackheim returns to the director's chair. Jeremy Saulnier (Green Room, Blue Ruin) also directed a number of episodes, and David Milch (Deadwood, Luck) is on board as a credited co-writer on the script for the fourth episode of the upcoming season.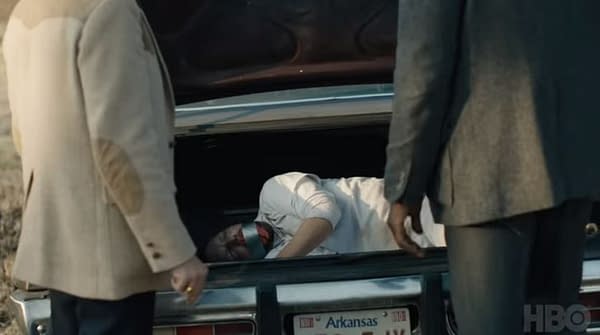 At a media event Q&A earlier this year, Pizzolatto explained the role the Ozark Mountains would play during the third season:
"The mystery of the deep woods. The fog over the mountains. The rivers. The water. The sense of scale when you get out to some of this nature. Also, what the buildings say about the lives behind them. So I feel like people will see it as an extension of character, something that embodies characters' emotional journeys while influencing those journeys."
True Detective returns to HBO for its third season on Sunday, January 13, 2019, at 9 p.m. ET/PT, with additional episodes airing on subsequent Sundays at that time.