The Walking Dead: Showrunner Angela Kang Confirms Heath's Fate
In the world of AMC's The Walking Dead, a brand new mystery can end up solving an old mystery – and then end up creating a whole new mystery to deal with. Confused? Completely understandable, so here are the details:
By now, you all know that Rick Grimes (Andrew Lincoln) shuffled off The Walking Dead by way of "The Mysterious Helicopter," heading to Parts Unknown with Jadis/Anne (Pollyanna McIntosh) – who used Rick as her "A" to buy their transport to this supposed "new world." But did you know that this human barter system between Jadis/Anne and "The Helicopter Powers That Be" also explains the random, unexpected disappearance of a character during the seventh season?
That's right: we now know what happened to Heath (Corey Hawkins) – and it looks like it might have him crossing paths with a certain Mr. Grimes.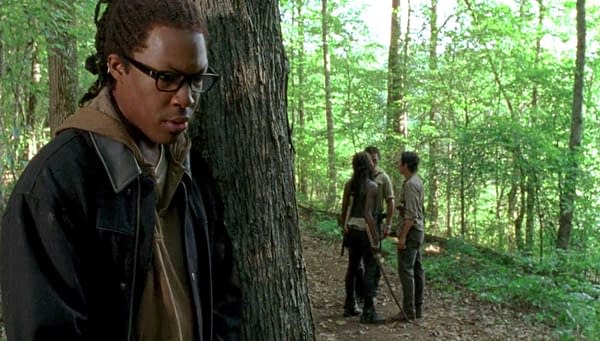 The first connection was made during this past Sunday night's editon of AMC's Talking Dead, when it was confirmed on screen that the RV Jadis/Anne drives in the current episode is the same one Heath and Tara (Alanna Masterson) were in during Heath's final episode. The possibility of a Heath-Jadis/Anne connection was addressed by The Walking Dead showrunner Angela Kang, who confirmed in an interview with Insider that Heath was taken away in "trade" for supplies.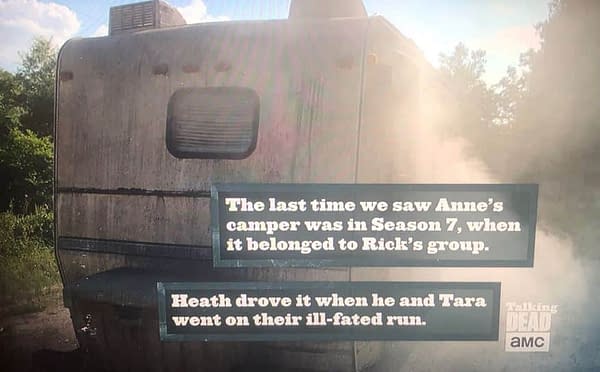 "That was kind of the intention that we had in the back of our heads this whole time. Even back in that season where you know we had to write the wonderful Corey Hawkins out because he had huge opportunities in the feature film world… those seeds were already set there."
Even if Hawkins (Straight Outta Compton, 24: Legacy) isn't able to return to the series, there is a strong possibility that the much-in-demand actor could find his way onto the newly-announced Rick Grimes films. When asked about the possibility of bringing Hawkins back into the Walking Dead universe, Kang sounded optimistic: "I hope so, too. He's a wonderful human being and a terrific actor."
At October's New York Comic Con (NYCC), The Walking Dead creator Robert Kirkman expressed his desire to see Hawkin's Heath back on the screen: "We are hoping to get him back and tell his story. There are definitely plans in place there. It's just a matter of making sure that everything can line up because it is somewhat complicated."