The Walking Dead's Lauren Cohan Returning for 6 of Season 9's First 8 Episodes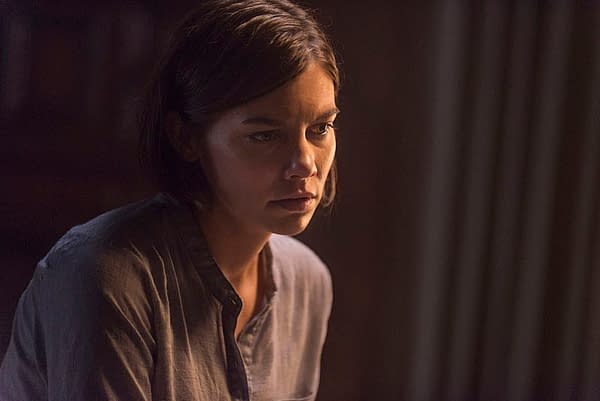 Though news of The Walking Dead's Lauren Cohan returning to the AMC series was first announced in April 2018, word that the actress' comedy-action pilot Whiskey Cavalier had been picked up for series by ABC reignited the "Maggie's leaving the show" rumor mill. To update the matter, AMC has confirmed that Cohan will be returning to the Hilltop for six of the show's eight fall half-season episodes.
It was Cohan herself who originally revealed the news of her return when speaking to Entertainment Weekly at CinemaCon in Las Vegas last month, where she was promoting her upcoming movie Mile 22 with Mark Wahlberg. When asked about her status with the series, Cohan responded: "I'm going back. There's a lot more Maggie story to tell." Asked what fans can expect moving into the ninth season, the actress teased, "You know we're not allowed to tell you anything, but it's good." Filming on The Walking Dead is currently underway.
Andrew Lincoln (Rick Grimes) and Norman Reedus (Daryl Dixon) recently signed for the ninth season, while Cohan took additional time to negotiate for a better deal. Adding fuel to the rumor fires at the time was news that Cohan had landed the lead role in her new ABC dramedy series, which called further into question her future with the Robert Kirkman-created series. Cohan is able to work on The Walking Dead during production hiatus on Whiskey Cavalier; while other filming considerations would have to be negotiated.
While many fans of The Walking Dead were at least a little guilty of assuming the absolute worst when it came to Cohan's negotiations, there was a cautious sigh of relief in the form of the show's eighth season finale and the dramatic weight they placed upon Maggie as the series moves forward. Denied her "right" to Negan's (Jeffrey Dean Morgan) head on a platter by Rick's commitment to "finding a better way," Maggie now sees Rick — and Michonne — as the enemy. And as you can see from the following clip from the episode, she's not alone: