WandaVision: Kat Dennings' Cautious Optimism or Wishful Thinking?
Late last week proved to be a rollercoaster one for Marvel Studios and Disney+. On the downside, it was reported that The Falcon and the Winter Soldier would not be on the streaming service's August calendar as once expected: another production impacted by COVID-19 shutdowns. On the upside, the Jeremy Renner-starring Hawkeye has tapped Troop Zero directors Amber Finlayson (Bert) and Katie Ellwood (Bertie), and Saturday Night Live director Rhys Thomas (Staten Island Summer, Comrade Detective, and John Mulaney & the Sack Lunch Bunch) to helm a block of episodes. Another series whose premiere date was set for this year and is now fueling "dumpster fires of speculation" is WandaVision, which was expected to resume filming this month in Los Angeles. With the state of California currently experiencing a spike on COVID-19 cases, the timeline for the show's production to meet the December 2020 debut seems in doubt.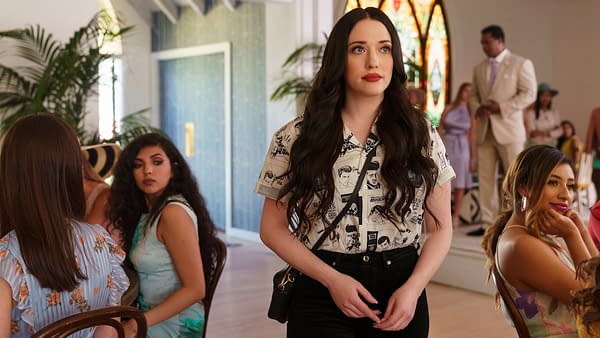 Now, we're kinda-sorta getting an update from series star Kat Dennings (Dollface), during an interview with People Now. When asked about the status of WandaVision and if it would be still be coming out as scheduled, Dennings responded, "If anyone can release something in the middle of a pandemic, it's them [Marvel]" before then saying she didn't know anything definite but that they had "filmed a lot" before production was shuttered. Dennings was then asked is she still had filming to do, which was followed by a, "I don't know… what?" response that screamed of "Marvel Studios and Disney+ have trained assassins listening to my every word so cut me some slack"- but that is mere speculation. We do know that Kathryn Hahn spoke of having a "little bit left to do" filming-wise during an interview last month. Here's the clip so you can interpret it for yourselves:
.@OfficialKat Reveals 'The Dream' is for Fran Drescher to Play Her Mom in Season 2 of 'Dollface' #PeopleNow pic.twitter.com/Wz0PdQVtLW

— People (@people) July 20, 2020
The news comes on the same day that Marvel Studios and Disney+'s first live-action series The Falcon and the Winter Soldier was forced to move its August 2020 premiere to sometime later this year. Only days before the news hit, series star Daniel Brühl revealed that he wasn't sure when he would be heading back to work on the series: "We were affected by the coronavirus whilst we were shooting the show, so hopefully we'll be able to return very soon. We were not able to finish and to wrap it up. That's still something that we have to do. Fingers crossed that it will happen, as soon as possible." With Falcon first, followed by WandaVision, Tom Hiddleston-starring Loki, and then Hawkeye, there's no way of knowing the extent of the ripple effects Falcon might have on series that follows.