We Review The Tres Comas Tequila From Silicon Valley
On occasion, we get a chance to drink some beer or spirits from HBO, mostly Game Of Thrones, but today we got a taste of Silicon Valley. As we all know, there are three commas in a billion dollars, so if you're going to act like a billionaire you might as well drink like one, right? Well… no so much. There are different brands of tequila in the world that actually run from five to seven figures depending on what was used to make it, the company who made it, whoever handled it at the time, how much quantity was made, and whether or not a celebrity like Johnny Depp recommends it. Aside from the fact that it was featured on HBO and that there isn't a ton of it being made, that's kind of where that aspect ends. But it wouldn't be fun to go get if it cost you a house payment just to own. So instead we have this version, which was bottled in Arandas, Jalisco, Mexico and imported by Diageo Americas in Connecticut. HBO was kind enough to give us a bottle to try out for review, so after some poor choices, we gave it a shot or five.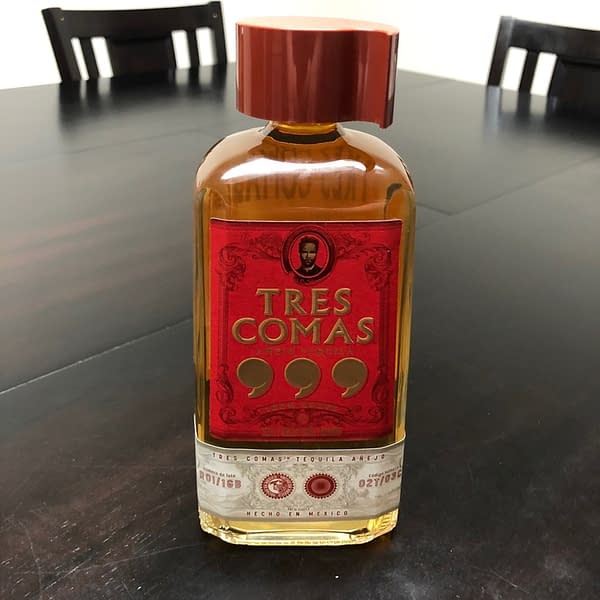 So first off, let's look at the design of this bottle. Clearly, if you're a fan of the show, you know this is not the design from the show. The first big giveaway is the plastic bottle top shaped like a brown comma. We're guessing this was a cost-cutting expense rather than make it wood or go out of their way to make a design that looked wooden. The bottle is also smaller than the one on the show. Seeing as how this is a 750 ml. bottle with nicely molded edges and a mess defined shape that will fit on a shelf a little better, just eyeballing it, we'd say it's half the size of the TV version. The label is also completely different as it has a gold trim rather than white and it has Russ Hanneman on the top where before it was basically his initials. So it's not a replica from the show, but you know what… it looks a hell of a lot better than what they made for TV. Which at second glance the TV version looks almost like it was a last-minute prop while this looks awesome. A little disappointed they didn't keep the size or getting the wooden top and instead have a screw-on cap. But all things considered, we're okay with it.
Getting to the Tres Comas tequila itself, this is a golden shade that, according to their own promotion for the item, was aged for a year in American Oak Barrels. The is 100% agave that's 80 proof with 40% ABV. As you can see from the pictures below, the gold stays defined even in a single shot. The aroma is pretty decent, not overpowering or offensive to the senses, but you definitely can smell it so it's not some subtle drink. it goes down pretty smooth but it's got a kick to it, little hints of vanilla and some species, a bit of smoke to it as well when you're shooting it straight without the salt and lime. When you do the traditional shot, the lime does give it a little added bite, but the salt doesn't add much to the experience sadly. It does go well with food as long as you don't overdo it, and the inebriation is a pleasant comfort the same as if you were doing shots of whiskey or rum. We had fun drinking this with friends over dinner and playing some board games, and really didn't have a hangover from it the next day.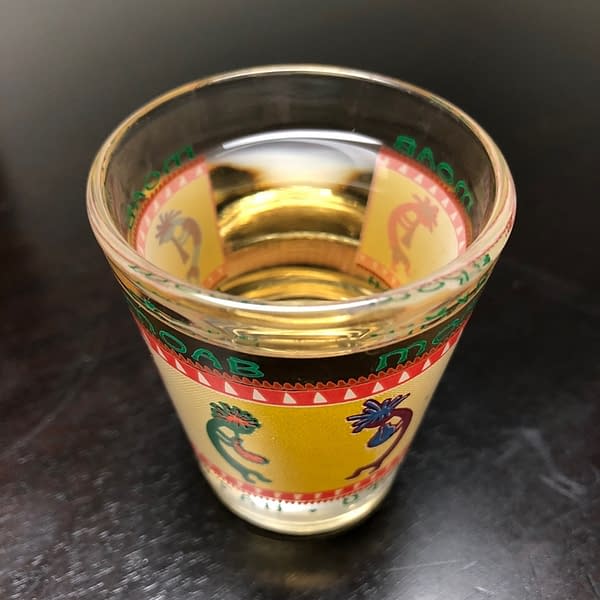 So the overall verdict on Tres Comas is a bit mixed for us. On the one hand, this tastes pretty good. It's not the kind of tequila that's going to kick your ass when you drink it, and it's not going to leave any kind of bitter aftertaste or leave you in a state where it will want to go back the way it came. So when it comes to tequila, it's pretty good for anyone to jump in and drink. That being said, there are people that would argue that if it doesn't mess you up, it's not tequila. This isn't going to mess you up unless you decide to follow through with Russ Hanneman's original plan to drink the entire bottle just doing shots in a single sitting. So for review purposes, we can say this was quite enjoyable. For hardcore drinker purposes, this is one that you'll either enjoy it for what it is or spit it out and complain about it. Which will you be? Depending on where you live, a single bottle costs $45-55. You can choose to buy one and find out.