Brandon Wainerdi went to Westworld for Bleeding Cool… or had he been there all along? He writes:
After going to South by Southwest (SXSW) for the past five years, it is very tough for an activation to impress me. This year, however, HBO pulled out all the stops, taking their much-hyped San Diego-Comic Con Westworld experience and placing it on acres of Austin, Texas land. Safe to say: they impressed me.
From the moment you enter your first "stop" after checking in (a local bar turned into "Mesa Gold Station"), you're greeted by white-clad servers and Delos employees serving cocktails and appetizers. Your first important decision of your trip is actually decided for you by a Delos employee: a white or a black cowboy hat (yours to keep).
Groups are called briskly, inviting you to board a bus (your "train") and go on a 20-minute drive through Austin traffic to the outskirts of the city. From there, the real magic happens: you are officially in Westworld, recreated over an entire sprawling town.
Entering through a stage coach populated with your first experiences with the local robot populace, you have multiple opportunities to learn from the very convincing locals. Telling stories, drinking bottles of booze, every character is a three-dimensional resident of Sweetwater.
Your story is your own at that point: you can decide to play a quick game of cards or grab a couple of drinks (or both). You can explore the town, checking every post office and graveyard for clues that (of course) something odd is happening in this normally quiet town of Sweetwater. You can even get pulled into the barbershop for a quick shave, like I did (partially against your will).
The clues scattered across the town end up taking you to a secret door, where you can get your first glimpse of the newest Delos creation. A samurai sword hanging in the blacksmith's shop — as well as an actual samurai patrolling the grounds unhindered — gives you even more hints toward the next season of the show. (But if you ask one of the "hosts" about these Japanese influences, they'll pretend they haven't seen anything at all, of course.)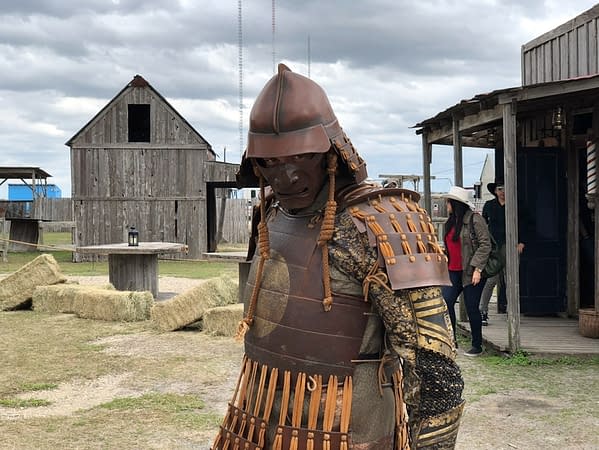 After about two hours of adventure, your time in Westworld reaches a climax with a gunfight between all of the locals, revealing that (spoiler) some of the characters you've been interacting with are actually just guests like you. Delos employees shuffle out and hit a hard reset on their characters, who return to how you found them hours before.
Even with all of the above, I feel like I'm understating how blown away I was by the effort and care that HBO put into this. My time in Westworld was immersive and exciting, and, besides an unplanned-for beard trim, made me more excited than ever for season 2.
Find Brandon on Twitter at @ActuallyBrandon.