We've only just learned the big news that Jonathan Hickman will relaunch Marvel's X-Men line, with his dual X-Men series, House of X and Powers of X, leading into a "new era" of X-Men comics, with Hickman writing the core flagship X-title starting this Fall. But that wasn't the only big news Hickman dropped in his interview with ComicBook.com, and we intend to milk every last tidbit for clickbait articles if it's the last thing we do.
Speaking about the offer he accepted to return to Marvel, Hickman revealed:
Well, I was sitting in a LA hotel room a year-and-a-half ago and I got a call from Dan Buckley asking me to consider holding on some other projects until he had a chance to make me an offer. I, of course, said 'of course' as both he and Marvel have been good to me over the years.

So, we got on the phone and talked about a lot of things: What I'd like to do if I came back, what he'd like for me to do, and some vertically-integrated opportunities at the company that were not available when I was there last.

And then, he basically told me that my mandate if I came back would be to just 'try things.' Which on top of everything he'd already said made it a pretty attractive proposition.

Obviously, I accepted.
Of course, those "vertically-integrated opportunities at the company that were not available when I was there last" is the line we're focusing on here. Since Marvel Comics no longer has any sway over Marvel's movie division, following the rift between Kevin Feige and Ike Perlmutter, that basically means that Hickman must be planning to work on something in TV or video games, or maybe both. Television seems most likely, as that seemed to be the direction Hickman's career was headed after Amazon picked Hickman's creator-owned comic book series East of West and Transhuman for development as shows, with Hickman writing the East of West show.
So if part of what lured Hickman back to Marvel were these "vertically-integrated opportunities," what TV shows might he be likely to write? The most obvious guess would be an X-Men series, especially since we now know Hickman will be essentially running the entire X-Men comic line starting in August. If Hickman's comic work is to be integrated with TV, then this could represent major evolution in Marvel's TV strategy, with the same writer working on both a line of comics and potentially a television show based on the same material, rather than adapting older stories.
Of course, another major possibility is that Hickman and Dustin Weaver's S.H.I.E.L.D. comic book, which rewrote the origins and history of the famous Marvel spy organization through the ages, could be integrated into the ongoing Agents of S.H.I.E.L.D. television show. Agents of S.H.I.E.L.D. Season 6 has just started, but the show has already been renewed for a seventh season… for some reason. Pracitcal joke maybe? We've never been able to figure it out.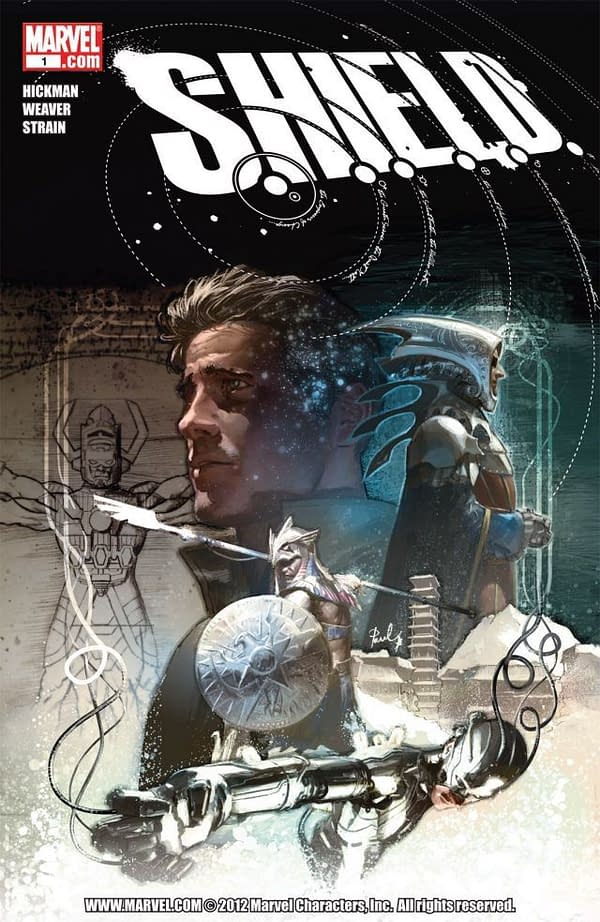 Anyways… if it's not one of those two, then the possibilities are basically endless. Hickman's talents for crafting a deep, epic story would be perfect for just about any Marvel TV show, and between Disney+ and Disney taking full control of Hulu, Marvel could probably create a TV show about just about anything Hickman was interested in. Fantastic Four? Stilt-Man? Sky's the limit.
So you've heard our speculation… now we want to hear yours. Let us know what you think Hickman will be working on, or what you're like to see him work on, through "vertically-integrated opportunities" in the comments.
Enjoyed this article? Share it!