What We Do in the Shadows: How Mark Proksch Thrives in FX Series
Mark Proksch considers himself fortunate to be cast as energy vampire Colin Robinson on the popular FX comedy What We Do in the Shadows. Based on the 2014 film of the same name from Jemaine Clement and Taika Waititi, the television series shifts to a separate group of vampires living together in Staten Island, New York shot in a mockumentary format similar to the film. Colin's roommates in the house are Nandor (Kayvan Novak), Nadja (Natasia Demetriou), and Laszlo (Matt Berry), who are all traditional vampires. Guillermo (Harvey Guillén) is Nandor's human familiar who dreams of becoming a vampire himself and grossly underappreciated. What sets Colin different than his traditional counterparts is that he literally feeds off of boredom and sapping their energy. It's such a unique ability, he even uses it on his fellow vampires. Proksch spoke to Collider about how he's having the time of his life on the series.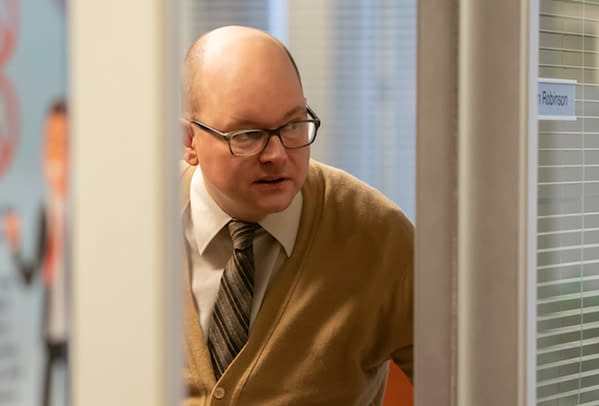 "Yeah. It's that dream job for a comedic actor," Proksch said. "Which is getting to work with people that you liked before you ever met them and got to work with them. You just know that their talent is bringing exactly what you want to see, every time that you start acting with them. That's not always the case. Sometimes in comedy there are different levels of what people consider perfection, and with these guys, it's the highest level of perfection for them, every time." The actor admits how important creativity is during the performance. "I'm always trying to get out of my head, but it's a very comfortable set," he said. "We all know that we're trying stuff, and some stuff will work and some stuff won't work, but you never feel pressure not to do something because you may look foolish, or you're worried about what someone will think, which is rare. In real life, we're constantly thinking, 'Should I do this? Should I not do this? Will people make fun of me for this? For wearing that?" Luckily, on set, (executive producers) Paul Simms and Jemaine [Clement], and those guys, have really allowed us to feel very comfortable, and we can ad-lib and improvise, all we want. In fact, they encourage it, sometimes over what's written, and you have to say, 'No, this is actually really funny, what you guys wrote.' They're also just fans of watching us come up with our own stuff, so they're very encouraging that way."
What Makes Colin Unique in What We Do in the Shadows
One of the things Proksch enjoys playing Colin is how relatable the character is. "Yeah, he's one of those people that you really do meet in real life, he said. "For me, what I've learned to appreciate about him is really how he is able to maneuver relationships and use that to its advantage. There are other energy vampires in his world, and he knows that people see that in him and recognize that, but he still has to keep up some sort of relationship, for them to buy into it, each time that he opens his mouth. I worked a lot on that, this year, and that was a revelation to me, after watching Season 1. People are aware and they know what he is, to some extent. They just don't know that he's a literal energy vampire. That balance was fun to work with, this season." You can read the rest of the interview here. What We Do in the Shadows airs Wednesdays on FX.