What We Do in the Shadows Season 2 Review: The Stakes Are Raised Again
On Wednesdays, it is no longer about wearing pink: we dress up in black to watch What We Do in the Shadows. This episode was much more surprising than I expected, especially with how quickly they addressed the growing concerns Guillermo (Harvey Guillen) had about his crumbling relationship with his master, Nandor (Kayvan Novak). It drove a metaphorical stake into the heart of the problem and started what feels like the beginning of a turn in their dynamic.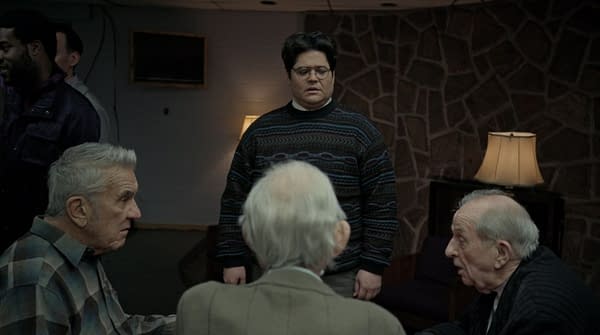 In this week's episode "Collaboration", Guillermo has a pretty rough awakening and looks into his future when Nandor's old familiar shows up. Things take a turn when Guillermo requests to speak to his master and asks him the question: when will he get turned into a vampire, as it has been a bit over a decade since he first became Nandor's familiar. He realizes that Nandor will not turn him and decides to end the already frail relationship, leaving for good to serve a friend who has supposedly been turned into a vampire. Let me just say, that was the vampire life I wanted to lead. That is until things go really, really bad.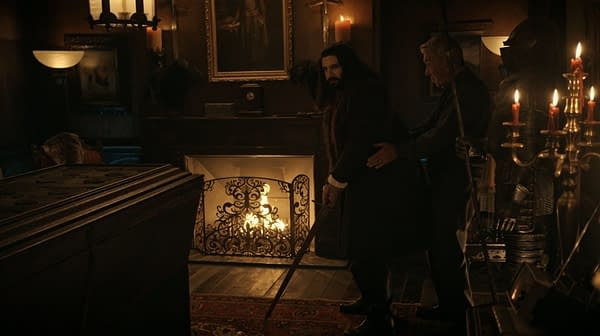 It was both sweet and heartbreaking to see Nandor's struggle play out. It was a fascinating little emotional rollercoaster that started with his anger towards Guillermo and everything he "did for him", to then telling him he was making a mistake, to asking Guillermo's new master to be kind to him. It was quite bittersweet and I am so glad we got to see this side of Nandor because it made him more "human" and relatable. I mean, I am sure I am not the only one who struggles to voice my feelings with those closest. Unfortunately over at Guillermo's end of things, it turns out his new lavish lifestyle turns out to be a lie. His new master was not really a vampire and the party gets shut down when her real master shows up and turns it into a blood bath. My favorite part was the little talk Guillermo and Nandor had after Guillermo escaped the mass slaughter. It was touching to see Nandor agree to Guillermo's terms, even promising to turn his familiar into a vampire. My heartfelt full and happy after this, and I really hope this leads to some permanent changes in their relationship. Still, I have to say that the "vampire slayer" thing still has me worried.
Over on the other side of the house, Colin (Mark Proksch) has wound up Nadja (Natasia Demetriou) and Laszlo (Matt Berry) to take their act to an open mic night (for purely selfish reasons). These two are a constant source of laughter for me, mainly because of their almost total lack of filter and consideration (especially Nadja). They both can make the silliest storylines funny without even trying. I also like that everything seems to always work out for them at the end, and this was no different. While their show started off pretty rough (offering Colin a buffet of energy to feed off of), people took to their version of "Kokomo" and Colin was left really disappointed. But for me, it was the storyline evolution with Nandor and Guillermo that made this a "must watch" for me and I cannot wait to see where this is heading. As for next week's What We Do in the Shadows? Things get a little witchy…