Former WCW and WWE wrestler Psicosis made headlines this week after saving a man from drowning after a car crash, according to various clickbait websites that cover wrestling including ComicBook.com and now Bleeding Cool. The former Cruiserweight champion was travelling in a car with fellow wrestler Robin Lekime, who was driving, and wrestling promoter Danny Warren in Canada when the car spun out of control, flipping over into a ditch and trapping Warren inside, underwater.
On Facebook, Warren wrote:
Literally in what had to be less than a split second I am almost completely underwater with just my nose, mouth, and surface of my face above water trying to breathe. I remember screaming in urgency that I was stuck and couldn't get my belt off. Then something awful happens. In what felt like weight shifting in the entire car in what was either one of the boys getting out of the car or trying to get at me, now completely forces my side of the vehicle and me COMPLETELY under water.

The fight for my life was on as I am now desperately trying to get my head above water but there is no above water in that space and I'm literally grabbing anything and anywhere trying to post my head up and survive all while still fighting with this seat belt. The same seat belt that saved my life was now turning heel and costing me it.
Thankfully, Psicosis and Lekime saved the day.
Thank you Robin Lekime and thank you Psicosis. You saved my life. Literally. If I say nothing in public ever again. Thank you. Thank you forever.
All of this, of course, begs the question: does this mean Psicosis will sign with AEW and appear at Double or Nothing in Las Vegas later this month? Sure, there technically isn't any reason to connect these two things, but Psicosis is a wrestler people have heard of, and he's in the news, so it's basically our journalistic duty to ask the question. What do you think? Let us know in the comments.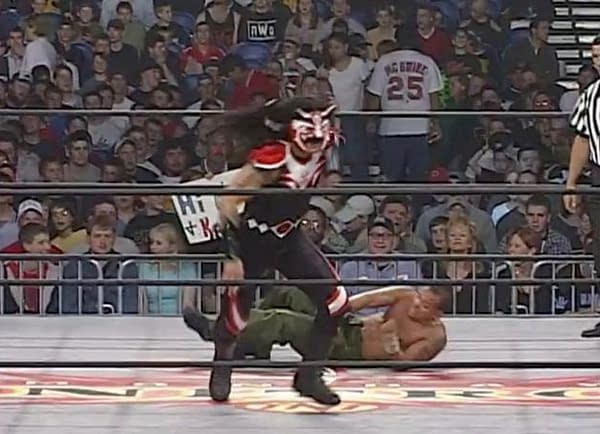 Enjoyed this article? Share it!