[#WonderCon] What We Learned About 'Into the Badlands' Season 3
[Editor's Note: This Into the Badlands piece from WonderCon comes to us from Bleeding Cool contributor Dana Han-Klein.]
Based on the trailer for the third season of AMC's Into the Badlands, it looks like we're going to get some Game of Thrones-esque politicking. Though unlike Westeros, the world of Badlands is populated by a cast (and extras) who are more diversely reflective of the world we actually live in.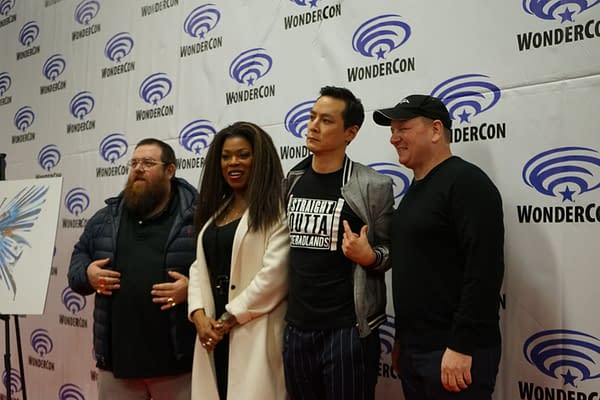 During their WonderCon panel, we found out that this season's big bad is revealed to be a warlord named Pilgrim (Babou Ceesay), and his hand of the king — I mean… powerful right hand — is Cressida (Lorraine Toussaint). Toussaint described their relationship as complicated and "quite Greek" — which leads me to believe we're going to get some Lannister-level parallels between Pilgrim and Cressida.
We find Sunny (Daniel Wu) on his own as a "samurai single father." Having a baby as a device for constant peril can go over well, or it can become rather annoying (I'm looking at you, Judith from The Walking Dead), but given how many storylines are actually being woven together on the show, it's possible we'll only have palatable doses of infant screen time.
Show co-creator Alfred Gough also addressed the lack of guns on the show (particularly in light of the current conversation about gun control):
"It's a martial arts drama, and sort of when we were conceiving it we knew we didn't want to do something historical. Guns were always going to be an issue in that.

Look, I've done these things as well with Shanghai Noon and whatnot. Somebody has a gun, the guns get kicked out of their hands, and then they fight. And that's not what we wanted to do, we wanted something where the martial arts was integral to the storytelling.

Given the introduction of Pilgrim and Cressida, and their Azra roots (Azran?) it sounds like we're going to see a shift from fighting warlords, to fighting gods. Now that we've got people with powers we can expect more comedic fights… more brutal hand on hand close action fights… Because of the dark energy type thing — that opens up the Super Saiyan type stuff."
Gough pointed out the extra care they enjoy taking with representing diversity on the show — how the women (in this season in particular) will be the power players to look out for. He talked about how they've had strong characters of many races as well as those with disabilities, and how martial arts is a great equalizer when it comes to fighting.
On other shows, according to Gough, every vision of the future you see looks like 18th Century England, whereas Into the Badlands understands that "the future isn't going to be a bunch of white people."
Gough said, "You can walk into any movie studio in town and say, 'I want to have a diverse cast and I want to be inclusive.' And they will absolutely go 'Yes, nobody's standing in your way.'" Toussaint chimed in with, "That is bullshit." Gough continued, "Because then you actually have to do it from the ground up. You have to say, 'I'm casting these roles a certain way.'"
If Cressida is half as charming (and imposing) as Toussaint is in person, we're in for quite the clash between her and The Widow. She expressed how excited she was to "play dress up and wield swords." We found out we can look forward to dead octopi nunchucks, Bajie (Nick Frost) to have to face his Azra associations, the return of Nathaniel Moon (who's back with an upgraded Steampunk meets Klaw of Black Panther style hand), and M.K. to face questions of loyalty. Characters who've not interacted to this point will suddenly come face to face as the past two seasons converge.
And of course, we'll some see some badass fights.
Into the Badlands returns to AMC on April 22nd.