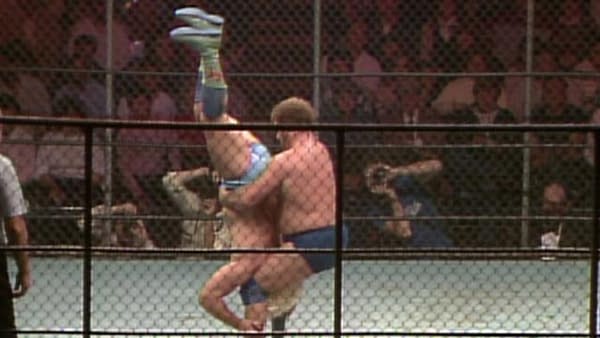 Legendary wrestler Harley Race has passed away, Race's official Twitter account confirmed on Thursday.
Today at 12:50, we lost the man that fought up until the very last of his existence. More information will be released soon, but just know that he loved pro-wrestling and the fans that loved him.

Harley Race, we love you

— Harley Race (@8XNWAChampion) August 1, 2019
Race was hospitalized on July 12th after experiencing difficulties, where he remained for eleven days before being reportedly released on July 23rd. At that time, Race's condition was said to be improving.
For the fans attending #fanboyexpo, Mr. Race was en route to Knoxville and while travelling, showed some signs that needed to be checked out. Currently, he is waiting on the OK to leave and then – well-being pending – he will proceed to Knoxville to fulfill his appearance.

— Harley Race (@8XNWAChampion) July 12, 2019
It's been a quiet past few days. Great news came yesterday. Today, we are being transported back home to continue care and treatment.
Thanks to everyone for their support but keep it coming. There are only be a few more shirts left to orderhttps://t.co/2lFs14Lx7C pic.twitter.com/EJpvwMN7K4

— Harley Race (@8XNWAChampion) July 23, 2019
However, fellow wrestler Dustin Rhodes shocked the world on Thursday when he tweeted that Race had passed away, prompting tributes from more legends of the sport.
RIP to one of the greatest performers there ever was. He was a friend. You will be missed #HarleyRace #RIP

— Dustin Rhodes (@dustinrhodes) August 1, 2019
Rest In Peace to a true king, Harley Race. #RIPHarley #HarleyRace

— Booker T. Huffman (@BookerT5x) August 1, 2019
So Sad To Hear Harley Race Has Passed😔Wonderful Man That I Admired & Loved❤️He Taught Me So Much In & Out of The Squared Circle #RIP Champ🙏🏻

— SGT SLAUGHTER (@_SgtSlaughter) August 1, 2019
As well as from promotions All Elite Wrestling and the National Wrestling Alliance.
AEW is saddened to learn that Pro Wrestling Hall of Famer Harley Race has passed away. Our thoughts are with his family, friends and fans at this difficult time. pic.twitter.com/Ik29DwZIQ4

— All Elite Wrestling (@AEWrestling) August 1, 2019
Today the world lost one of the toughest men ever to walk God's green earth.

RIP Harley Race!
8X NWA Worlds Heavyweight Champion.

The entire sport of professional wrestling and the National Wrestling Alliance sends its deepest condolences to the family and friends of Harley. pic.twitter.com/rEiHknbYn1

— NWA (@nwa) August 1, 2019
Race began his career in 1960 and went on to win the NWA Championship eight times, and continued to wrestle in WWE and WCW until 1995, when a car accident prevented him from working matches. After that, Race continued to make non-wrestling appearances for WWE, TNA, and NJOW, and others. He was on his way to a convention to meet with fans when he fell ill in July.
As fans and colleagues continue to remember Race's storied career on Twitter, you can find dozens of classic matches featuring Race on YouTube.
Enjoyed this article? Share it!